Theater Mode
Large Font
Save Program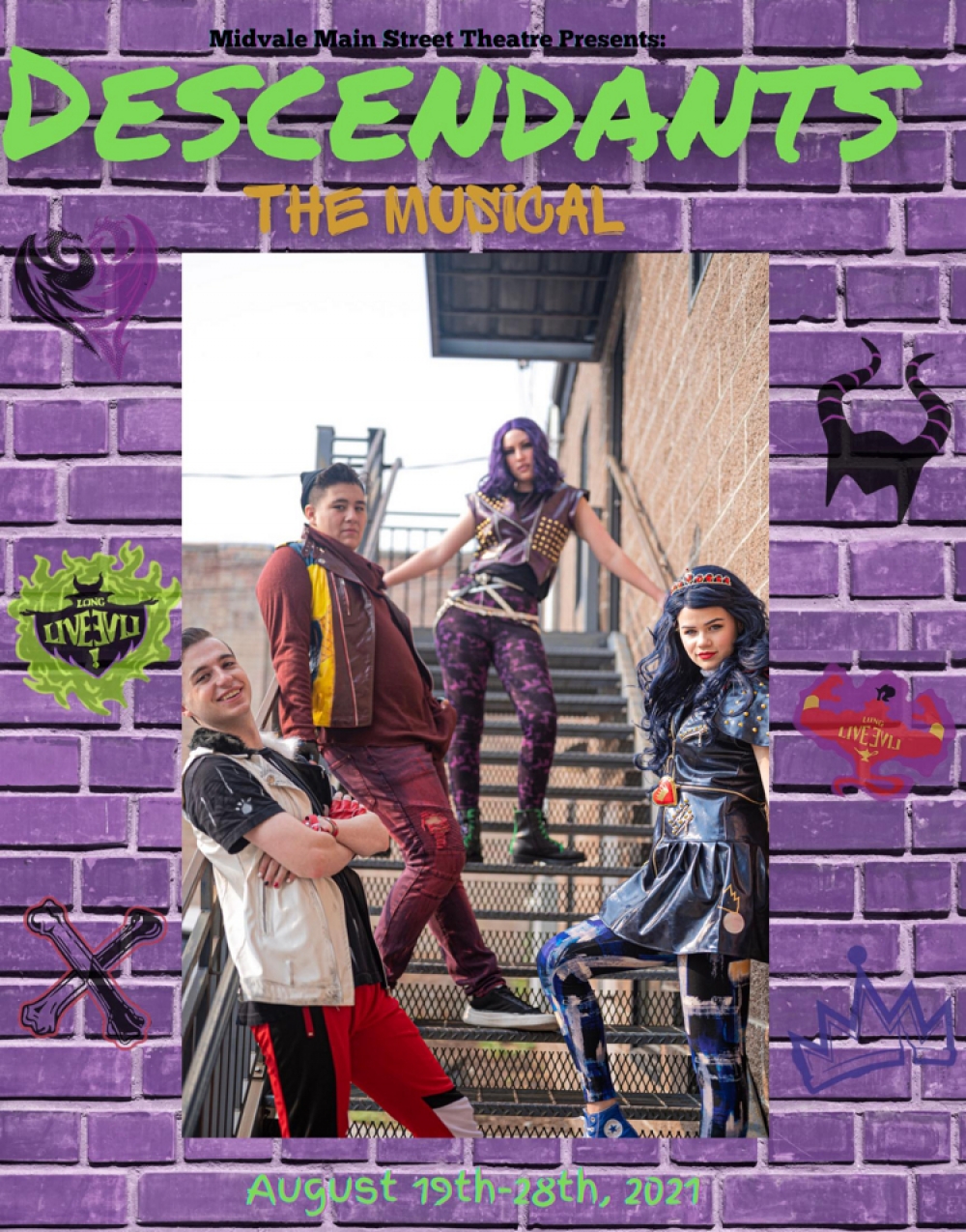 Descendants

the Musical

at Midvale Main Street Theatre

Book by

Nick Blaemire

Music Adaptation by Madeline Smith

Vocal Arrangement by Madeline Smith

Additional Lyrics by Nick Blaemire

Orchestrations by Matthew Tishler

Music Produced by Matthew Tishler

Songs by: Johan Alkenas, Adam Anders, Aristeidis Archontis, Antonina Armato, Howard Ashman, Peer Astrom, Stephen Mark Conley, Doug Davis, Charity Daw, Andrew C. Dodd, Josh Edmondson, Pipo Fernandez, Nikki Hassman, Samuel Hollander, Ben Hostetler, Tim James, Hanna Jones, Jack Kugell, Craig Lashley, Andrew Lippa, Jeannie Lurie, Alan Menken, Grant Phillip Michaels, Anthony Mirabella, Shayna Mordue, Chen Neeman, Susan Paroff, Shelly M. Peiken, Joacim Persson, James K. Petrie, Adam Schlesinger, Adam Schmalholz, Tyler Shamy, Jodie Shihadeh, Nikki Ann Sorrentino, Thomas Armato Sturges, Ali Dee Theodore, Matthew Wong, David Zippel

Based on the Disney Channel Original Movies written by Josann McGibbon and Sara Parriott
---
---
Song List
Act 1
BETTER TOGETHER (PRELUDE)
ROTTEN TO THE CORE
EVIL LIKE ME
BE OUR GUEST
GOOD IS THE NEW BAD (PREPRISE)
GOOD IS THE NEW BAD
EVIL LIKE ME (REPRISE)
ROTTEN TO THE CORE (PARENTS' REVENGE)
GOAL
GOOD IS THE NEW BAD (REPRISE)
WAYS TO BE WICKED (PREPRISE)
DID I MENTION
Act 2
BETTER TOGETHER (PRELUDE 2)
SPACE BETWEEN
CHILLIN' LIKE A VILLAIN
GOOD IS THE NEW BAD (REPRISE 2)
IF ONLY
WAYS TO BE WICKED
GO THE DISTANCE
EVIL LIKE ME (REPRISE 2)
BETTER TOGETHER
BREAK THIS DOWN
---
---
Meet the Company
Multimedia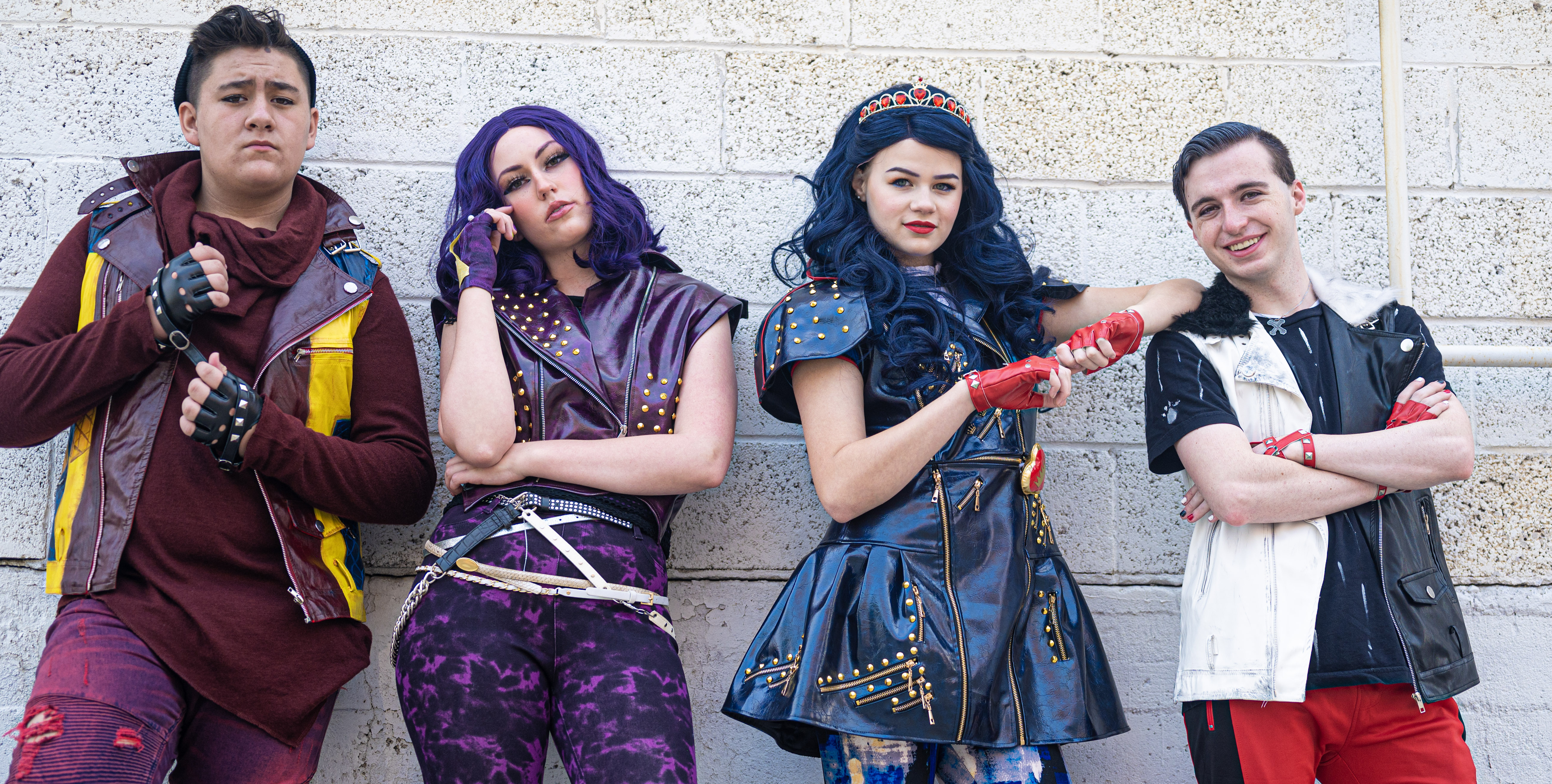 ---
We have tried our best for the past 2 and a half years to keep our actors and community safe by keeping our doors closed for as long as possible and taking every safety precaution we could. Despite all of our dedication and efforts, our options dwindling.
We have always prided ourselves on creating a safe space for kids to come be creative and let their talents shine at no cost to them. As many of you know, we had to cancel 6 sold out shows due to the pandemic. Our staff was very passionate about bringing the show back so that these kids could show off all the hard work they put into this show. Due to scheduling, we were only able to bring the show back for the 6 performances that we had canceled. But remounting a show also costs money. This is why we are asking for your help. If you can, we are asking for the community to help contribute to our little theatre and this program to help us keep our doors open and shows running.
To many people, our theatre has become a second home. We would love to continue to be that safe haven for these kids, and more to come.
Donations can be dropped in the box in the lobby or sent to our Venmo below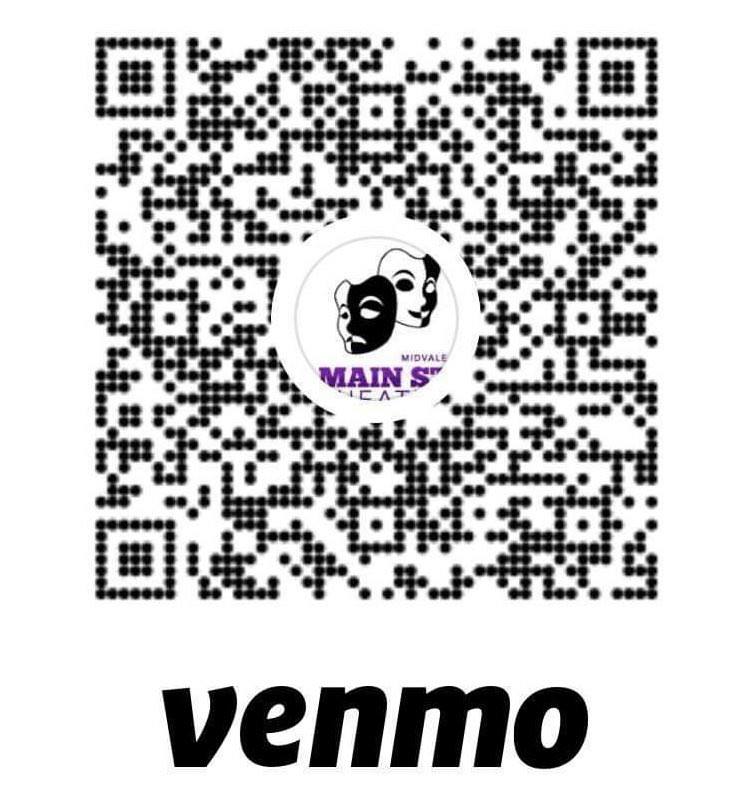 https://venmo.com/code?user_id=2444596944568320831&created=1629433558.988944&printed=1
Advertisement