Theater Mode
Large Font
Save Program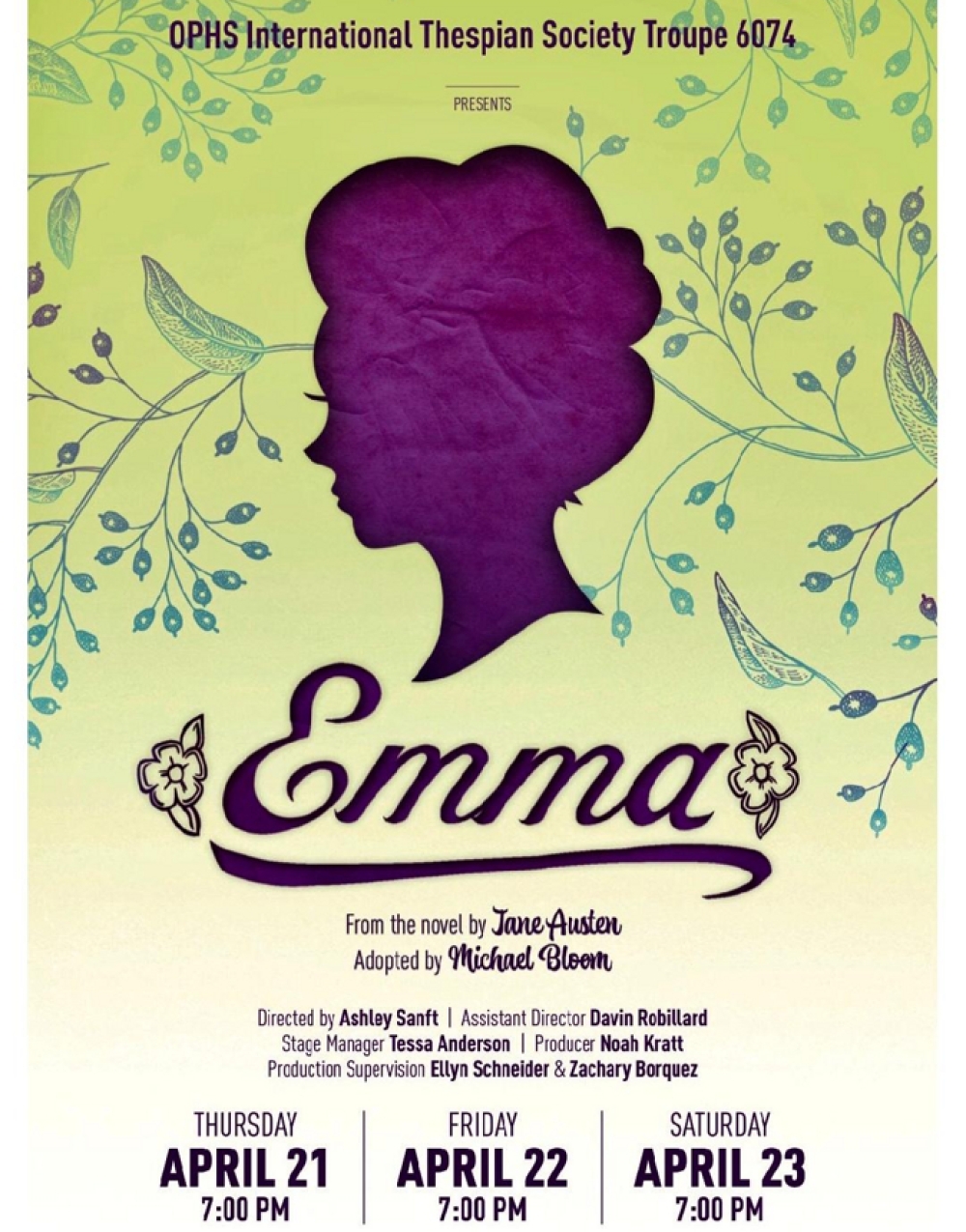 EMMA

From the novel by Jane Austen

Adapted by Michael Bloom

presented by

Oak Park High School Thespian Troupe 6074

Directed by
Ashley Sanft

Producer
Noah Kratt
Assistant Director
Davin Robillard
Stage Manager
Tessa Anderson

Starring

Elizabeth Dusek
Nick Ferrante
Nico Heard

Jayden Howell

Celeste Goldes

Danika Koscelnick

Dominic Land

Mia McCabe

Krishanu Nigam




Viktoriia Rudenko
Emily Salzman
Polina Sysoeva

Andre Will

Garrett Wilson

"Emma" is presented by arrangement with Concord Theatricals on behalf of Samuel French, Inc.

www.concordtheatricals.com
| | |
| --- | --- |
| Follow Us: | |
---
---
Scene List
ACT 1
Scene 1 The Wedding of Mr. and Mrs. Weston
Scene 2 The Drawing Room at Hartfield
Scene 3 The Hartfield Garden
Scene 4 The Hartfield Home
Scene 5 The Drawing Room at Hartfield
Scene 6 The Drawing Room at Hartfield
Scene 7 The Hartfield Home decorated for Christmas
Scene 8 Path to Miss Bates' cottage / Miss Bates' cottage
Scene 9 The Drawing Room at Hartfield
Scene 10 Beneath an awning during a thunderstorm
Scene 11 The Drawing Room at Hartfield
Scene 12 The Randalls Home
INTERMISSION
ACT 2
Scene 13 A Continuation of the party at Randalls
Scene 14 The Drawing Room at Hartfield
Scene 15 The Ballroom at the Royal Oak Inn
Scene 16 The Hartfield Garden
Scene 17 The Picnic
Scene 18 Miss Bates' cottage
Scene 19 The Hartfield Garden / The Randalls Home
Scene 20 The Hartfield Garden
Scene 21 The Drawing Room at Hartfield
Scene 22 The Drawing Room at Hartfield
Scene 23 A Wedding
---
Who's Who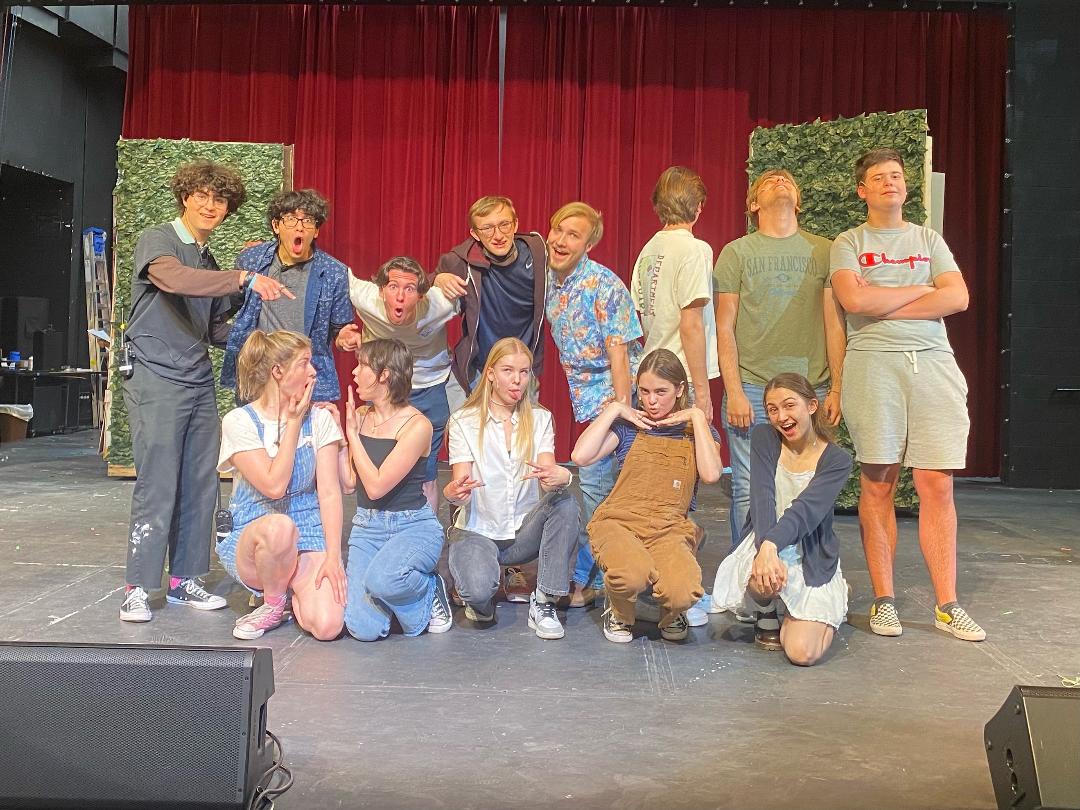 Congratulations Class of 2022!!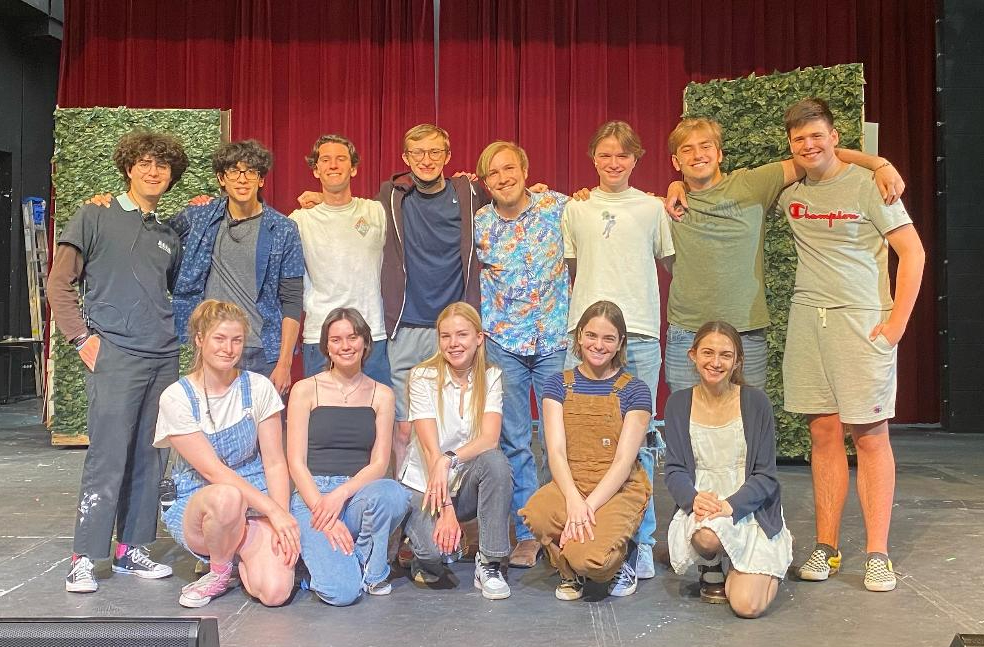 (back) Cameron Lambe, Davin Robillard, , Nick Ferrante, Zac Pelc, Nico Heard, Garrett Wilson, Dominic Land, Andre Will, (front) Tessa Anderson, Em Salzman, Vika Rudenko, Celeste Goldes, Ashley Sanft

COSTUME TEAM: (back) Garrett Wilson, Em Salzman (middle) Elizabeth Dusek, Mia McCabe, Charlotte Vogt, Krishanu Nigam, (front) Addison O'Grady, Giah Milo, Abby Leduc, (not pictured) Nico Heard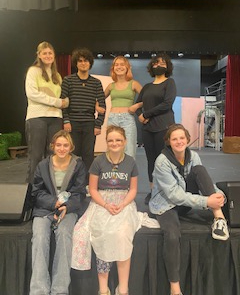 SET & TECH TEAM: (back) Tessa Anderson, Cameron Lambe, Kadyn Freid, Sadie Berger, (front) Eden Yelinek, Addison O'Grady, Noah Kratt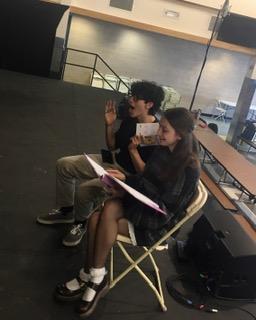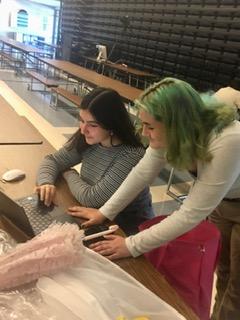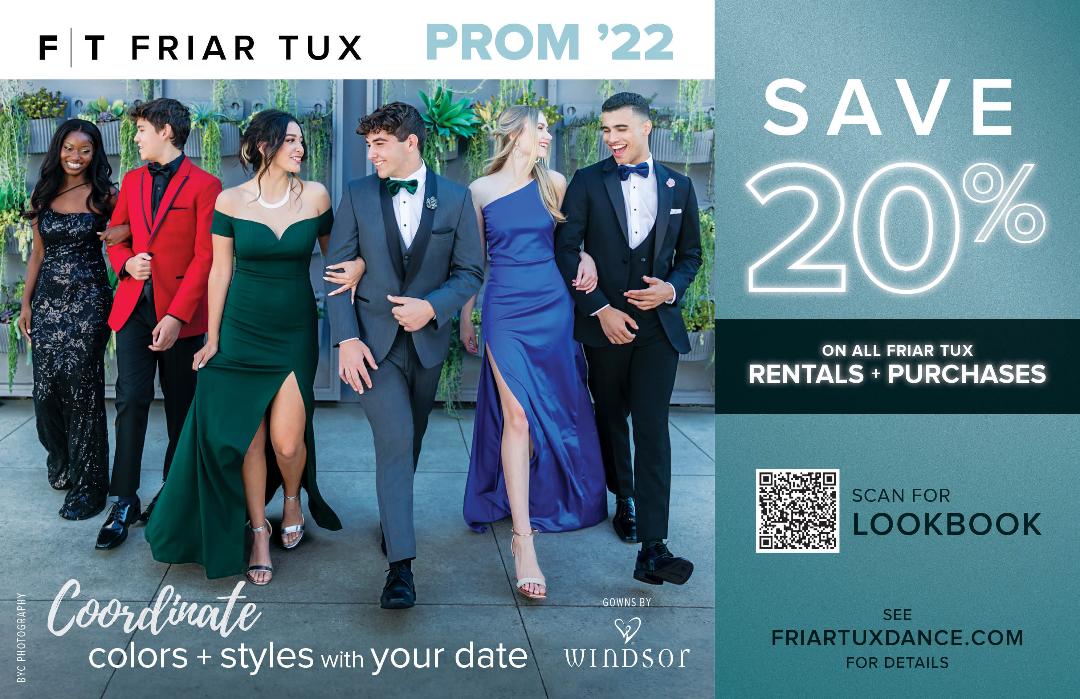 Tuxedo rentals generously donated by Friar Tux
---
SPECIAL THANKS
Personal Ads
Congratulations Dominic on your 33rd play. 60+ productions in all. We have loved every single one of them. You have had an amazing theatrical career, can't wait to see what comes next. Love your family.
---
So proud of you Celeste. Break a leg! Love, Mom and Fadre (Celeste and Garrett in Peter Pan at Red Oak Elementary 2013)
---
Elizabeth, We are very proud of you! Break-a-leg! Love, Mom & Dad
---