Theater Mode
Large Font
Save Program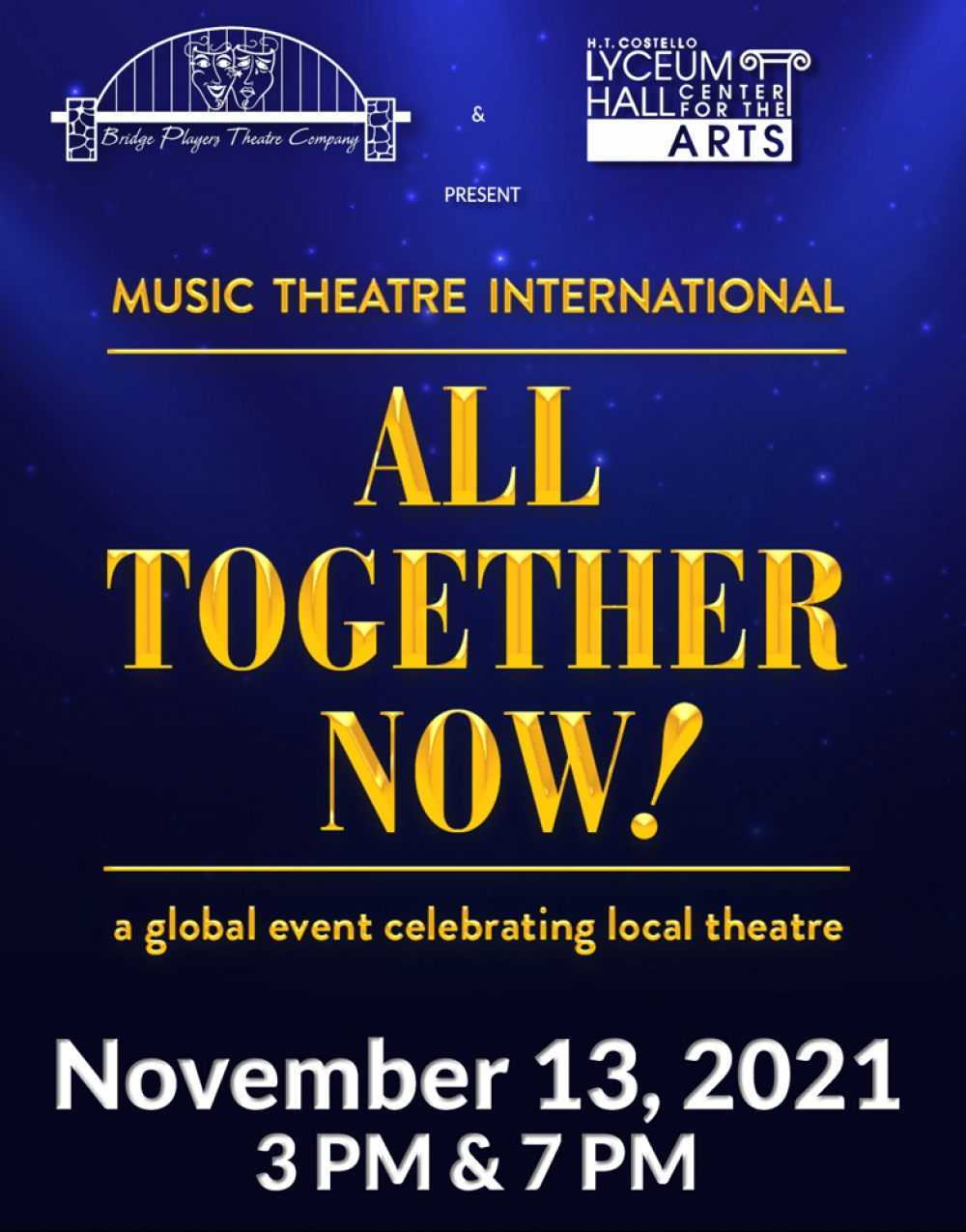 Bridge Players Theatre Company & Lyceum Hall Center for the Arts
present
MUSIC THEATRE INTERNATIONAL'S
ALL TOGETHER NOW!
— A Global Event Celebrating Local Theatre —
Featuring Songs by (in alphabetical order):
Lynn Ahrens • Kristen Anderson-Lopez • Benny Andersson • Billie Joe Armstrong • Howard Ashman • Sara Bareilles • Lionel Bart • Jerry Bock • Leslie Bricusse • Jason Robert Brown • Johnny Burke • Martin Charnin • Mindi Dickstein • Jack Feldman • Stephen Flaherty • Matthew Gerrard • Zina Goldrich • Green Day • Sheldon Harnick • David Hein • Marcy Heisler • Jason Howland • Herbert Kretzmer • Jonathan Larson • Alan Jay Lerner • Frank Loesser • Frederick Loewe • Robert Lopez • Alan Menken • Tim Minchin • Robbie Nevil • Anthony Newley • Benj Pasek • Justin Paul • Tim Rice • Irene Sankoff • Dick Scanlan • Claude-Michel Schönberg • Stephen Schwartz • Marc Shaiman • Richard M. Sherman • Robert B. Sherman • Glenn Slater • Stephen Sondheim • Charles Strouse • Jeanine Tesori • Björn Ulvaeus • Jimmy Van Heusen • Frank Wildhorn • Scott Wittman •
November 13, 2021
at
Lyceum Hall Center for the Arts
ALL TOGETHER NOW! Is presented through special arrangement with Music Theatre International (MTI). All authorized performance materials are also supplied by MTI. www.mtishows.co.uk • www.mtishows.com • www.mtishows.com.au
---
About Bridge Players Theatre Company
About Lyceum Hall Center for the Arts
---
Song List
1. "Pure Imagination" from Charlie and the Chocolate Factory
Music and Lyrics by Leslie Bricusse and Anthony Newley, Book by David Greig
Performed by Dave McGrath
---
2. "You Could Drive a Person Crazy" from Company
Music and Lyrics by Stephen Sondheim, Book by George Furth
Performed by Nicole Manning, Gina Petti, and Kori Rife
---
3. "Back to Before" from Ragtime
Music by Stephen Flaherty, Lyrics by Lynn Ahrens, Book by Terrence McNally
Performed by Jillian Renbjor
---
4. "Gimme, Gimme" from Thoroughly Modern Millie
New Music by Jeanine Tesori, New Lyrics by Dick Scanlan, Book by Richard Henry Morris and Dick Scanlan, Original Story and Screenplay by Richard Morris for the Universal Pictures Film
Performed by Shelby Loewenstern
---
5. "Life Is So Peculiar" from Five Guys Named Moe
Music and Lyrics by Jimmy Van Heusen and Johnny Burke, Book by Clarke Peters
Performed by Don Robbins, w/Dave McGrath
---
6. "Empty Chairs at Empty Tables" from Les Misérables
Music by Claude-Michel Schönberg, Lyrics by Herbert Kretzmer, Book by Alain Boublil and Claude-Michel Schönberg
Performed by Aaron Reid
---
7. "The Human Heart" from Once on This Island
Music by Stephen Flaherty, Book and Lyrics by Lynn Ahrens
Performed by Yvette Burroughs Myles, w/Lori Gilmore, Dave McGrath, and Don Robbins
---
8. "She Used To Be Mine" from Waitress
Music and Lyrics by Sara Bareilles, Book by Jessie Nelson
Performed by Danielle DeCarolis
---
9. "Seize the Day" from Newsies
Music by Alan Menken, Lyrics by Jack Feldman, Book by Harvey Fierstein
Performed by Gina Petti and Amber Stolarski, w/Hannah Dougherty, Amanda Hoffman, Kori Rife
---
10. "Children Will Listen" from Into the Woods
Music and Lyrics by Stephen Sondheim, Book by James Lapine
Performed by Gwen Ricks-Spencer
---
11. "Take a Chance on Me" from Mamma Mia!
Music and Lyrics by Björn Ulvaeus and Benny Andersson, Book by Catherine Johnson
Performed by Regina Deavitt and Brian S. Rothman, w/Nicole Manning and Gina Petti
---
12. "Astonishing" from Little Women
Music by Jason Howland, Lyrics by Mindi Dickstein, Book by Allan Knee
Performed by Cassie Matteo
---
13. "Sit Down, You're Rockin' the Boat" from Guys and Dolls
Music and Lyrics by Frank Loesser, Book by Abe Burrows and Jo Swerling
Performed by Brian S. Rothman, w/Danielle DeCarolis, Lori Gilmore, Shelby Lowenstern, Cassie Matteo, Gina Petti, Kori Rife, and Amber Stolarski
---
14. "Seasons of Love" from Rent
Book, Music and Lyrics by Jonathan Larson
Performed by Allyssa Winkelspecht, Don Robbins, Yvette Myles, and Lori Gilmore, w/Regina Deavitt, Hannah Dougherty, Amanda Hoffman, Nicole Manning, Dave McGrath, Aaron Reid, and Jillan Renbjor
---
15. "You Can't Stop the Beat" from Hairspray
Music by Marc Shaiman, Lyrics by Marc Shaiman and Scott Wittman, Book by Thomas Meehan and Mark O'Donnell
Performed by Amber Stolarski, Aaron Reid, Cassie Matteo, Tom Freeman, Nicole Manning, and Yvette Myles, w/full cast
---
---
Meet the Cast
---
THANK YOU
Thank you for joining us for "All Together Now." It has been a pleasure performing for you today. Please be sure to visit Bridge Players Theatre Company and Lyceum Hall Center for the Arts' websites and sign up for our enewsletters. Plus, follow and like us on social media to stay up-to-date on awesome arts happenings in Burlington.
About All Together Now! - A Global Event Celebrating Local Theatre