Counting Down:
Theater Mode
Large Font
Save Program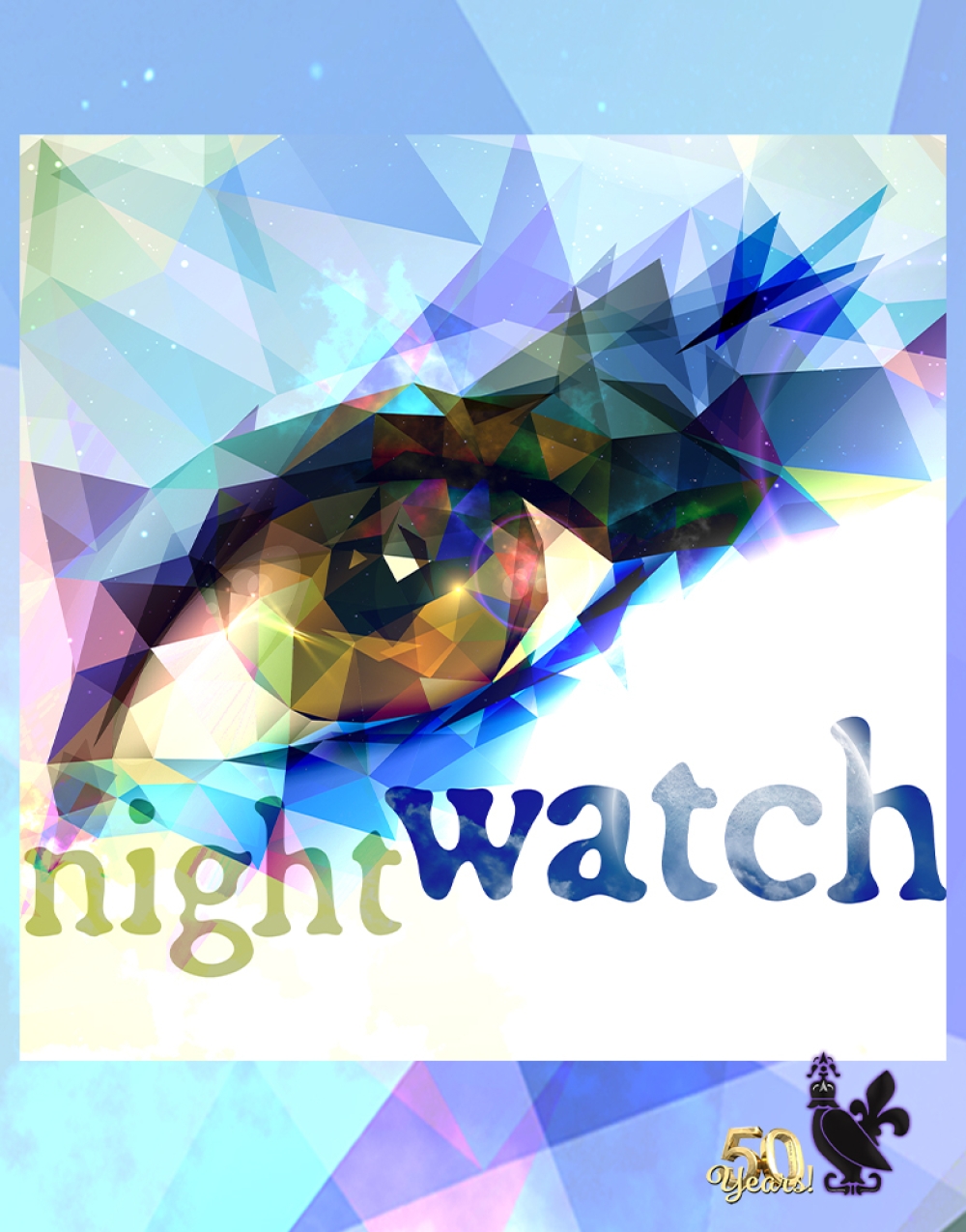 By Lucille Fletcher
Cockpit in Court Summer Theatre
F. Scott Black Theatre
June 11 - 26, 2022
Directed by
LINDA CHAMBERS

TraceyAnn Tokar Smith
Stage Manager

Lisa L. Boeren
Properties Manager

Eva Grove

Costume Designer

G. Maurice "Moe" Conn, III
Scenic and Lighting Designer

Night Watch is presented through special arrangement with
Dramatists Play Service, Inc., New York


ANY VIDEO RECORDING MADE OF THIS PERFORMANCE IS AUTHORIZED FOR PERSONAL, AT-HOME,
NON-COMMERCIAL USE ONLY. THE SALE OR DISTRIBUTION OF SUCH RECORDING IS STRICTLY PROHIBITED UNDER FEDERAL COPYRIGHT LAW.

Cockpit in Court Summer Theatre is supported in part by the Maryland State Arts Council. To discover more about the Maryland State Arts Council and how they impact Maryland, visit msac.org.

Cockpit in Court Summer Theatre would also like to thank our Season Sponsor Towson University. To discover the Arts and Culture offerings at Towson University, visit www.towson.edu/campus/artsculture/
---
5oth Anniversary
---
Director's Note
Scene Breakdown
SETTING
A sitting room in a townhouse in New York City.

TIME
February, 1972

ACT ONE:
Scene 1: 5 AM
Scene 2: 5 PM, evening of the same day

ACT TWO:
Scene 1: Twenty minutes later
Scene 2: Three days later
---
---
---
Meet the Company
---
Theatre Patrons Association
Be an Angel! – Your gift to Cockpit in Court helps us keep quality theatre alive in our community. Ticket Sales cover only a portion of the cost of the season, so even a small gift can make a big difference. Become a TPA member, and help keep the magic alive!
Kings and Queens | $200 and above
Kathleen Anderson
Dave Guy
Beth Shane

Royal Family | $100 – $199
J. Suzanne Elmore
Tim & Carol Evans
Michael Styer
Steven Mantegna
Thom & Lori Peters
William & Dori Watson

Regents | $50 – $99
Tom & Sophia Montgomery

$50 for 50th Anniversary
F. Scott Black | The Boeren Family
Jennifer Comotto | J. Suzanne Elmore
Robert & Estelle Harris | Ronald Lockwood
Nancy Skinner
Friends of the Court | $10 – $49
Frances Bochenek | Penny Brown
Lee Hager | Linda Klingmeyer
Colleen Kuhn | Barbara Melfa
Cynthia Pyle
---
COCKPIT IN COURT 2022 PRODUCTION STAFF
Artistic Managing Director | James Hunnicutt
Administrative Manager | Lisa L. Boeren
Producer | Dr. William Watson
Executive Producer | Dr. Anne M. Lefter
Technical Director | Jason Randolph
Box Office Manager | Lisa L. Boeren
Box Office Assistant | Thom Purdy
Business Manager | Johanna Lawrence
Communications Assistant | Cathy Kratovil
Production Photographer | Trent Haines-Hopper
THsquared Photography
Production Liaison to the Board | John Chrzanowski
COCKPIT IN COURT BOARD OF DIRECTORS
James Hunnicutt | Artistic Managing Director
Lisa L. Boeren | Administrative Manager
John Chrzanowski | President
Thomas Hessenauer | Vice-President
Patricia DeLisle | Recording Secretary
Sophia Montgomery | Corresponding Secretary
Robyn Alvarez | Kacey Conn | Dave Guy
Estelle Harris | Louise Higgins | Cathy Kratovil
H. Ray Lawson | Jennifer Otero | William Pheil
Sam Ranocchia | R. Christopher Rose | James Shirk
SPECIAL THANKS
Dr. Sandra L. Kurtinitis, President, CCBC
Dr. Joaquin Martinez, Provost & Vice President of Instruction
Melissa Hopp, Vice President, Administrative Services
Dr. William Watson, Dean of Arts & Communication
Nicholas Van Horn, Chair, Performing Arts and Humanities
Dr. Anne Lefter, Director, Performing Arts
Lisa Hetrick, Graphic Designer
Marc Smith, Technical Director, CCBC Dundalk
Moe Conn, Technical Director, CCBC Catonsville
Marc Ershler, Campus Director, Essex
CCBC Essex Foundation
Upcoming Events