Theater Mode
Large Font
Save Program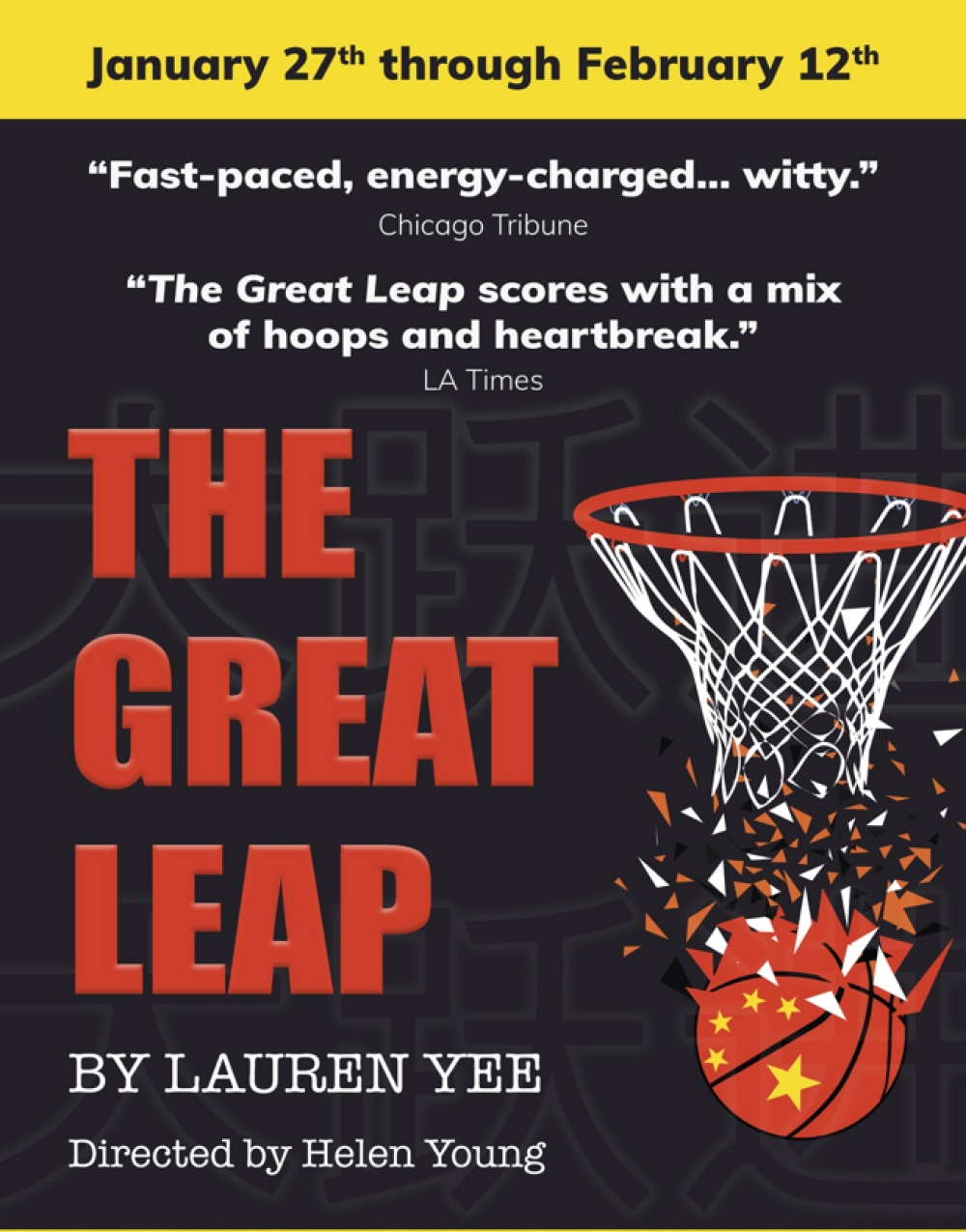 Advertisement

FARMERS ALLEY THEATRE
presents

by
LAUREN YEE
Directed by
HELEN YOUNG
The Great Leap is presented by arrangement with Concord Theatricals on behalf of Samuel French, Inc. www.concordtheaticals.com
The Great Leap was originally developed and produced by Denver Center for the Performing Arts Theatre Company, Chris Coleman, Artistic Director.
New York Premiere Presented By Atlantic Theater Company New York City, 2018
The Great Leap was developed with the support of The Playwright's Center.
Developed in the New Strands Residency, a program of the American Conservatory Theater, Carey Perloff, Artistic Director- Peter Pastreich, Executive Director.
A workshop production of The Great Leap was presented by New York Stage and Film & Vassar at the Powerhouse Theater, Summer 2017.
Setting: San Francisco, California and Beijing, China
Time: May/June 1989 and Summer/Fall 1971
There will be a 15 minute intermission.
---
---
Farmers Alley Theatre Staff
Advertisement
---
---
Crew
Meet the Company
Multimedia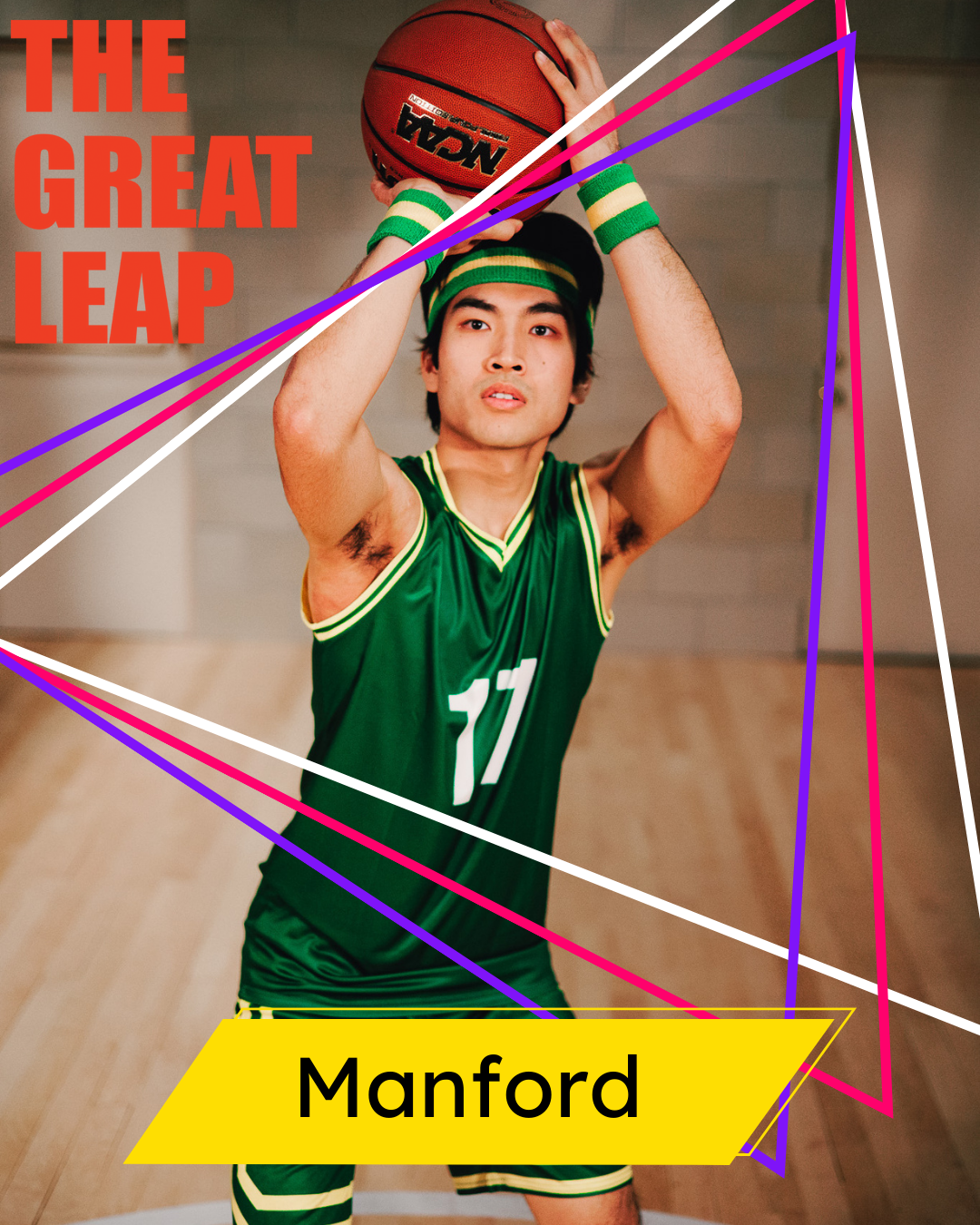 Photo: Kat Mumma/VDA Productions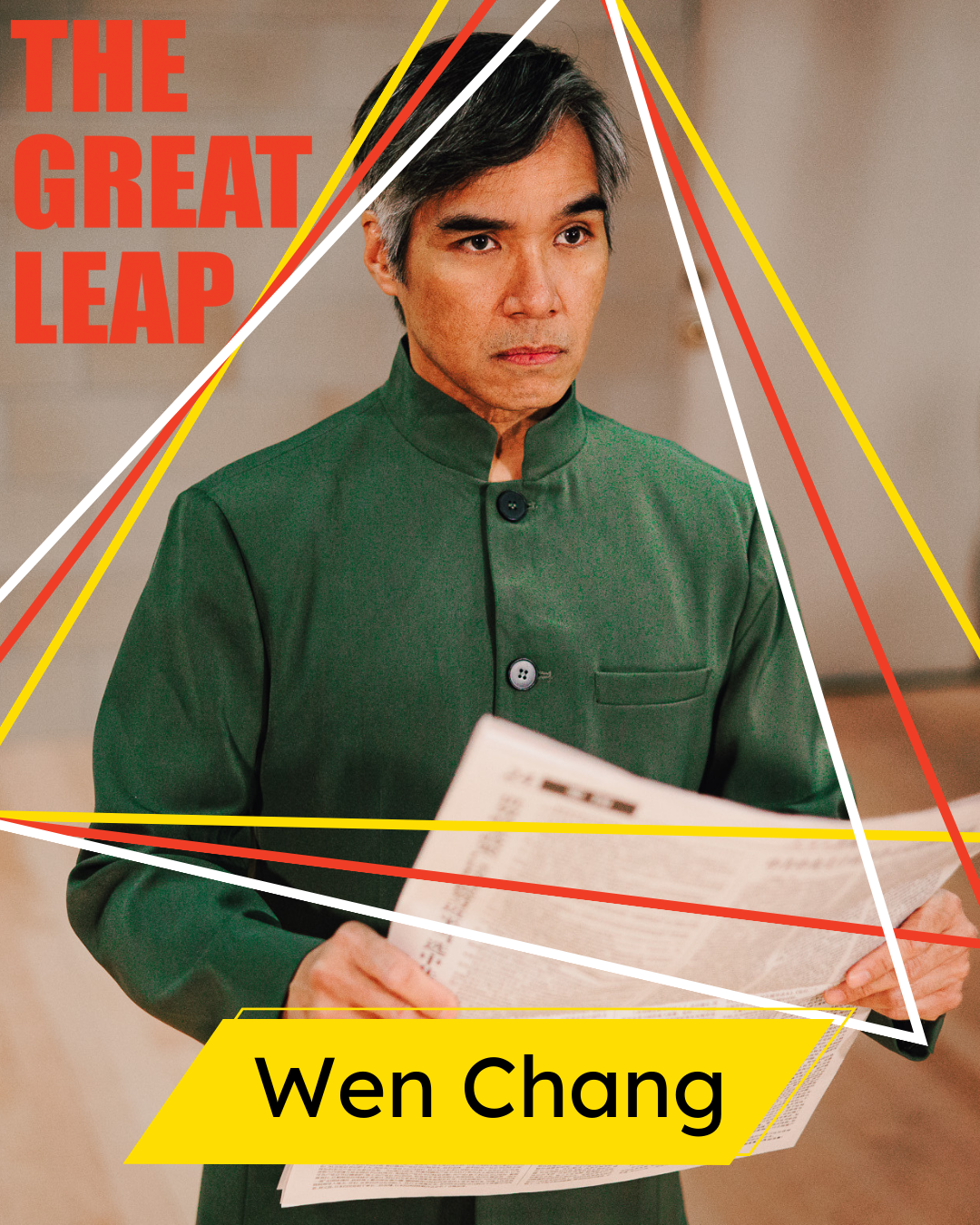 Photo: Kat Mumma/VDA Productions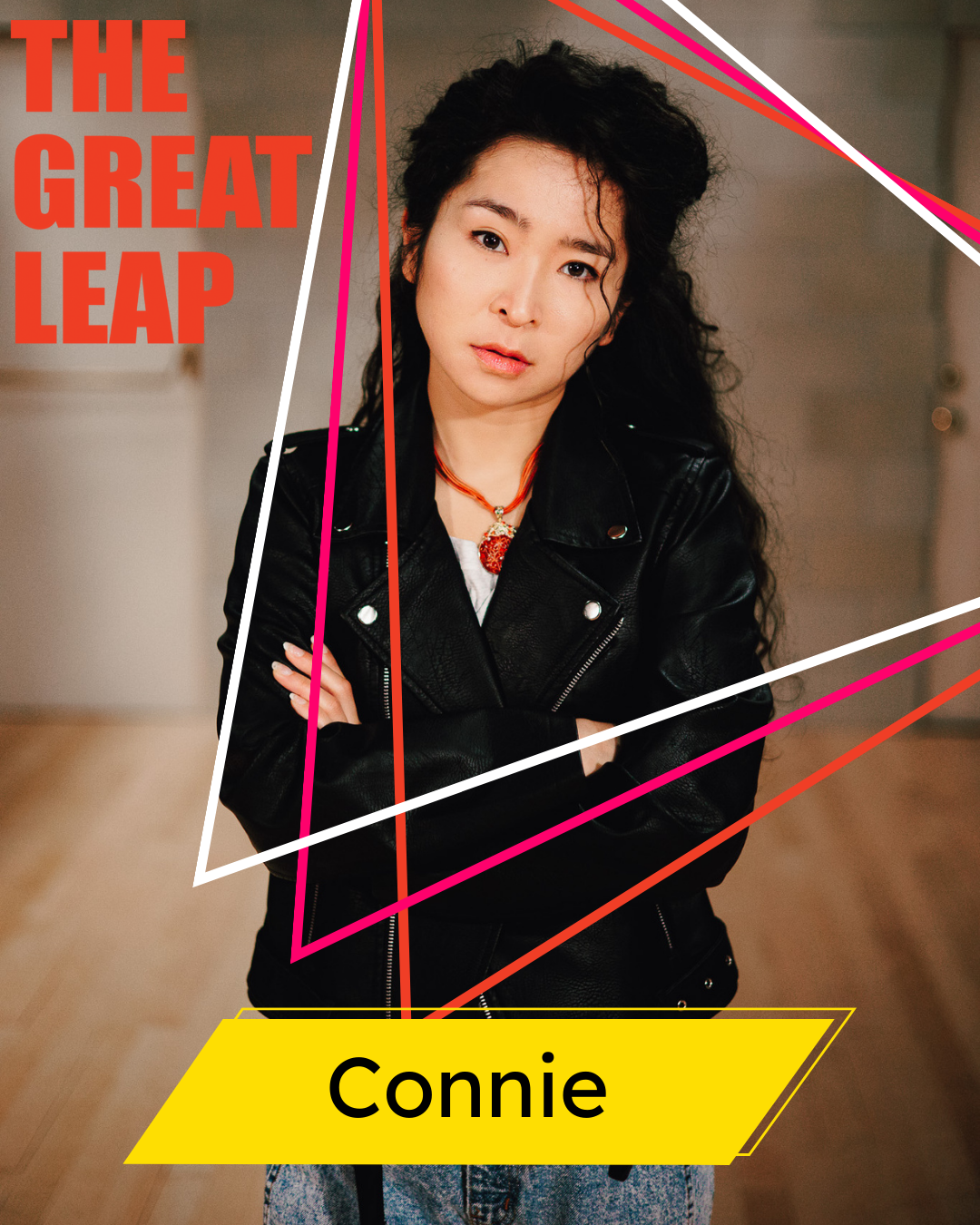 Photo: Kat Mumma/VDA Productions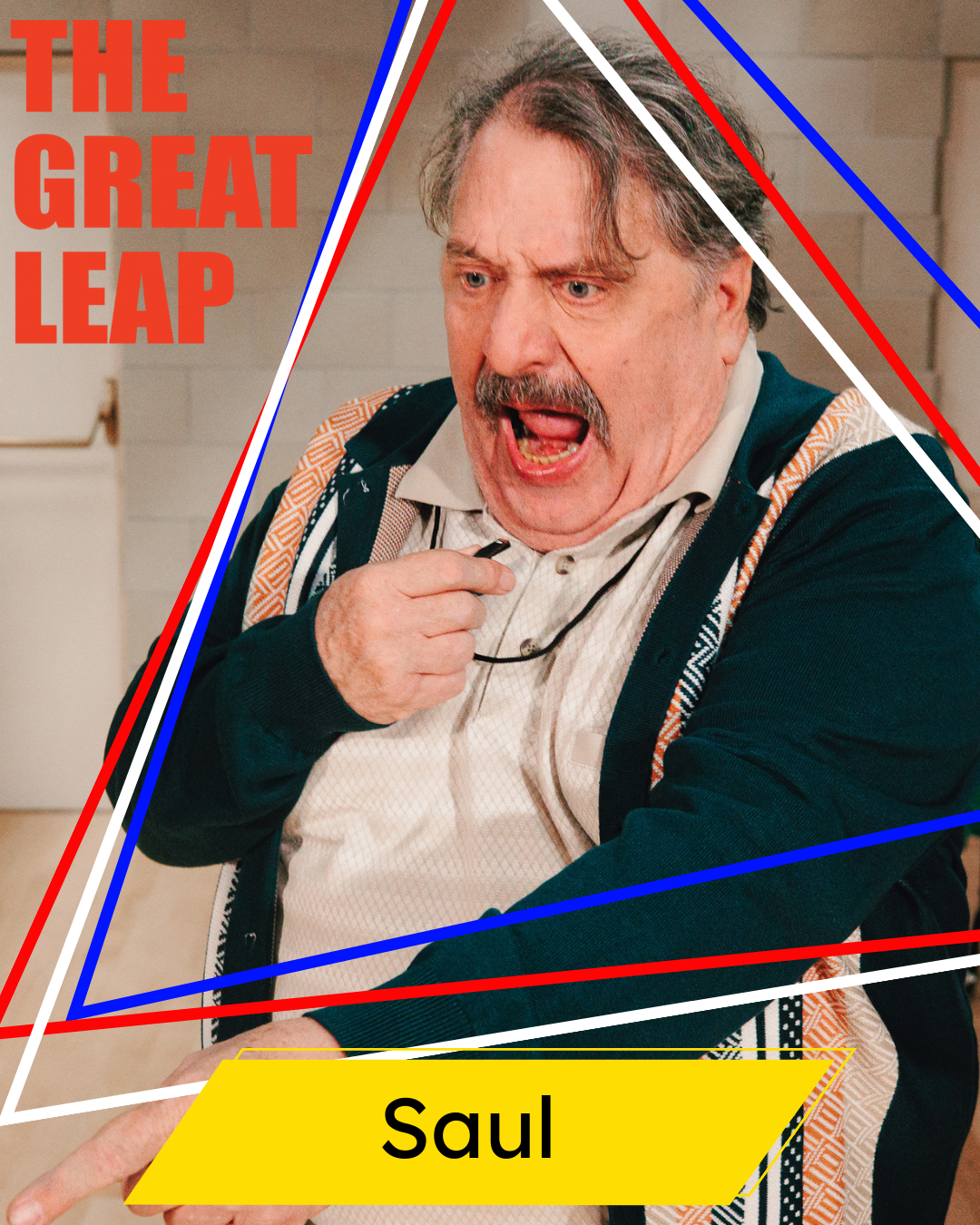 Photo: Kat Mumma/VDA Productions
Advertisement
---
---
Donors
2022-2023 Donors
Farmers Alley Theatre profoundly thanks all the following donors and sponsors for their generous contributions from 9/1/22 to 1/11/23
| | |
| --- | --- |
| VISIONARY ($5000+) | Ken and Paula Manley |
| ANONYMOUS | Sue Ann Mater |
| Dement & Marquardt | Prudence McCabe |
| First National Bank of Michigan | Dennis and Jan McNally |
| Harold & Grace Upjohn Foundation | Jamie and Amy Melvin |
| Irving S. Gilmore Foundation | Ralph and Jeanette Meyer |
| David Isaacson | Robert Miller and Shelagh Miller |
| Keyser Insurance | Julia Minar |
| Morrision Jewelers | Scott and Heather Moore |
| Marvin and Rosalie Okun Foundation | Charles Nelson |
| Art Nemitz | |
| Peregrine Company | Melanie Oudsema |
| Diane S. Robertson | Timothy and Louann Palmer |
| Suzanne Parrish Foundation | Don and Ann Parfet |
| Shubert Foundation | Barbara Page and Roger Prior |
| Tyler Little Foundation | Donna Parr |
| Williams Capital Management | Douglas Plaut |
| Zhang Financial | Martha Poolman |
| | Thomas and Linda Powell |
| EXECUTIVE ($2500 - $4999) | Richard and Sherry Ramsdell |
| Patti and Bob Huiskamp | Barbara Ray |
| Bill and Jeanette Maxey | Arlene Reitz |
| Mickey McDonald and Timothy Aaron | Dale and Ethel Resh |
| Kathy Mulay | Jim and Diane Rikkers |
| Rose Street Advisors | Barry and Jane Ross |
| | Judith Sarkozy |
| PRODUCER ($1000 - $24999) | Richard Schmiege and Jan Stoner |
| Tom and Carol Beech | Janette Schoenherr |
| Linda Harrington | Jim and Gail Sholl |
| Dori Kunkle | Joellen Silberman |
| Shayne and Kevin Plemmons | Jerry and Judy Sivak |
| Jeff K. Ross Financial | Jerry Tilmann and Gary Steiner |
| Michael and Laurel Scheidt | Jon and Jane Streeter |
| Michael and Sharon Seelye | Baiba Stepe |
| Jim and Betsy Sell | Linda Taylor |
| Southern Michigan Bank and Trust | Jim and Marcie Telfer |
| Adam and Allison Weiner | John and Linnaea Thomas |
| Weissert & Kakabeeke Retirement and Wealth Management Group | Grace Tiffany |
| D. Terry and Sharon Williams | Bill and Susan VanDis |
| | Paul and Karen Vellom |
| DIRECTOR ($500 - $999) | Marilyn Vineyard |
| Daniel and Anne Bitzer | Wanda Wallis |
| Phil Borozan and Kim Marineau | Pamela West |
| Samuel and Carole Cupps | Henry and Ellen Winter |
| Nancy Ford Charles | Frank and Janet Wolf |
| Sandra Gagie | Christina Woytal |
| Cindy and Kevin Kole | |
| Bob and Becky Kramer | ENSEMBLE ($50 - $99) |
| Charles and Laurel Ofstein | Terese Banner |
| Pfizer | Steven & Nancy Bielak |
| Tim and Tammy Timmons | Carol Black |
| Elizabeth Upjohn Mason | Marilyn Breu |
| Martin and Katy Velten | Duane and Betty Brown |
| Liz Walker | Dennis and Carol Chandler |
| Phyllis Westerman | Jacqueline Corak |
| | Paul and Judy Davidoff |
| PRINCIPAL ($250 - $499) | "Benny DiCarta's, LLC" |
| Andrew and Lisa Ambrosio | Linda Diller |
| Steven and Kathy Barry | Deborah Dingwall |
| Chris Beaver | Douglas & Son Inc. |
| Martha Beverly | Glen and Greeta Douglass |
| Gregor and Sandy Blix | Lisa Falk |
| Rena Brooks | Gayle Finder |
| James and Carol Carter | Gay Frew |
| Michael Clark | Stephen Friedman |
| Lou and Helen Coleman | Beverly Gahan |
| Robert and Nancy Cretsinger | John Geisler |
| Carl Doerschler | Lori Hatfield |
| Jim Keeler and Merry Ellen Eason | Ralph M. Hodges |
| Gregory Elfring | Doug and Sue Hoopingarner |
| James Escamilla and Brenda Longman | Judy Imanse |
| Gary and Anne Fergemann | Jeanette and Wayne Johnson |
| Anne Fischell | Andrew and Pamela Knight |
| Gary and Stephanie Giguere | Mark Kraai and Linda Lesniak |
| Geoffrey and Beverly Grambau | Blaine and Bobbie Lam |
| Daniel Guyette | Ann Lamble |
| Al and Kris Hovestadt | Anne Laurence |
| James and Kathy Justen | David and Amy Lehr |
| Dave and Deb Keenan | Mark and Pam Liberacki |
| Kay Lennon | Judith Loudin |
| Paul and Cathy Mejia | Michael and Mary Ann March |
| Maggie Mosby | Michael and Barbara McMann |
| Bill Pierce and Ann Paulson | Mary Miyagawa |
| Howard and Georgia Potrude | Melissa Napier |
| Arthur and Janet Riley | Kay and Ann Perry |
| Jane Schley | Doug and Pam Phillips |
| Jacob Schupan | Michael and Lisa Phillips |
| Bob and Pat Terwilliger | Don and Jeri Price |
| Dick and Aina Thomas | Kathleen Rabbers |
| Stephen and Irene Trivers | Bonnie and David Riddle |
| Bo Van Peenan and Mel VanPeenan | Rick and Carol Riddle-Wallus |
| Nik Zumburs | Martha Schinderle |
| | Brian Smith and Maria Maki |
| SUPPORTING ($100 - $249) | Daniel Smith and Jeanette Greselin |
| Cornell and Julie Abod | Luanne and Edward St. Peter |
| Julie Andersen-Zelnis | Bob and Linda Van Dis |
| Anne Anderson | Jan Versaw |
| Kerry Lake and Paul Arkinstall | Von and Frances Washington |
| Jennifer Arvanigian | Katie Winner-Weitzel and John Weitzel |
| Gary and Nancy Ausema | John and Mary Whyte |
| David and Sandy Badt | Ron and Ruth Wiser |
| Harold Ballen | |
| Harry and Mary Bird | FAN ($1 - $49) |
| Donna and James Bishop | Tammy Bailey |
| Donald Bremer | Cheryl Balmer |
| Bruce and Cheryl Briney | Diane Boley |
| Faith A. Burleigh | Eileen and Michael Burke |
| Mervin and Kay Burtis | Steve and Marlene Denenfeld |
| Christine K. Castle | Jim and Mary Ann Dechnik |
| Carol Coverly | Frances Denny |
| Ted and Stacy Dent | Linda Derfiny |
| Mary and Robert Doud | Sherril and Ken Dettloff |
| Thomas Drinan | Jan Drake |
| Scott and Kathy Everett | Carol Eddy |
| Molly Fairbanks | Michael Ehlers |
| John Fink and Zaide Pixley | Global Clinical Connections |
| David Ford | Ron and Molly Hamilton |
| Pamela Fox Obed | Jay and Dianne Heckler |
| Ed and Nan Goldenthal | Jeff and Sue Henshaw |
| Robert and Marilyn Geil | Jeanne Hess |
| Janet Gover | Ralph M. Hodges |
| Daniel Smith and Jeanette Greselin | Thomas Kaiser |
| Bruce and Jeanne Grubb | James and Janet Karle |
| Dan and Barbara Gustin | Deborah and Michael Killarney |
| Tim and Debra Hanna | Martha King |
| Mary & Jim Heaton | Thomas Lundquist |
| Dennis and Susan Hollar | Mary Jane Mapes |
| John and Peggy Hopkins | Shaun Martin |
| Robert and Lynn Horton | Craig and Kim Melvin |
| Laurel Hyames Sayre | James and Donna Menchinger |
| E. Heather Ingram | Michael Powell |
| Stephen and Kathy Jepson | Nancy Repp |
| Judy Jolliffe | Elizabeth Rohs |
| Linda Kanamueller | David Fransen and Jennifer Smith |
| Joan Khaled | Barbara Soda |
| Martha King | David and Linda Wagner |
| Susan Knox | Cathie Weir |
| Karen Kruse | Bill White |
| Ken and Sue Kuchenreuther | Jodi Wiersma |
| Norm and Bonnie Langeland | Kelly Wietfeldt |
| Wayne and Toni Leblong | Joellen Zimmerman |
---
Special Thanks
Steve Hodges
Hayden Lane-Davies
Tony Holewinski
Julie Nemitz
Stacy Bartell
Kat Mumma/VDA Productions
Becky Klose/Klose2U Photography
Paul Stroili/Touchstone GraphicDesign
Steve Brubaker/Twenty20 Productions
Laurie McDonald/Allegra Creative Marketing Group