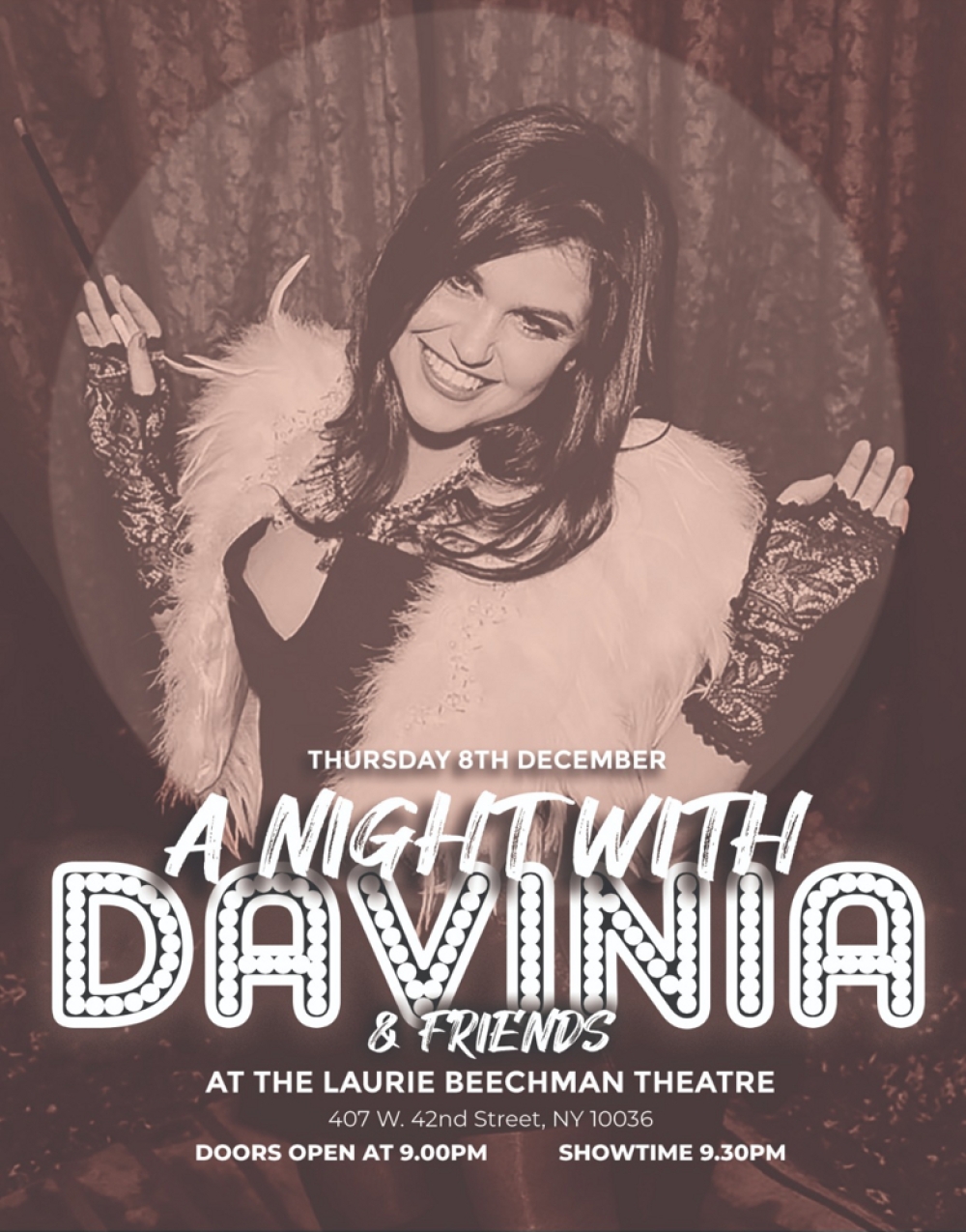 A Night with Davinia & Friends

A Cabaret Show

Creator

Davinia Pace

Musical Director
Dan Pardo

Choreographer

Karolina Larion

Co-Written by


Millie Gibbons

STARRING

Davinia Pace

Millie Gibbons

Marie-Louise Boisnier

Karolina Larion

Logan Schmucker
Zgjim Baraliu


Musicians

Dan Pardo

Matt Sweeney

Léo Dupire
Follow Us:
A Night with Davinia & Friends is a Cabaret Show by Davinia Pace, Co-Written by Millie Gibbons with Music Directed by Dan Pardo and Choreography by Karolina Larion.
A night full of your favourite hit songs, with comedic skits and dance for everyone to enjoy. Our Cabaret has been formed amongst a group full of enthusiastic Artists who are excited to share their talents with you. Expect to be entertained as you join us on our journey through laughter, emotion and adventure.
Special thanks to those at the Laurie Beechman Theatre, for making this Show possible.
Cast
Logan Schmucker
Presenter/Ensemble
Millie Gibbons
Roxy/Ensemble
Marie-Louise Boisnier
Ronnie/Ensemble
Karolina Larion
Choreographer/Dancer
Zgjim Baraliu
The Man That Got Away
Dan Pardo
Musical Director
Alice Jamal
Stage Manager/Ensemble
Meet the Company
Davinia Pace
Singer
Davinia is from the island of Malta, she is a New York based Singer and Actress with an impressive background in the Arts, one of them being a finalist in the Malta Eurovision Song Contest. Davinia has several number 1 Radio Singles and recently took part as a Lead in the Comedy show 'A Sketch of New York'. Davinia graduated from the American Academy of Dramatic Arts in 2021 and has always wanted to produce and write her own Cabaret show with her fellow alumni and friends! Davinia thanks you all for coming tonight and supporting her dreams. www.daviniaofficial.com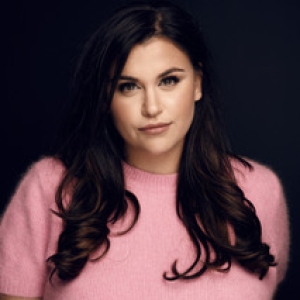 Logan Schmucker
Presenter/Ensemble
Logan Schmucker is ecstatic to join fellow AADA alum for the night! Starting off a classically trained violinist, Logan is a 2019/ 2020 American Academy of Dramatic Arts Company Alum. Recent credits include Ash in Jackie Xings violin suspense thriller "E7 Spicatto" originating the role of Mike in New Circle Theatre Company's Production of The Hearing, a new play by KJ Steinberg, Don John in Much ado About Nothing and Cleon, First Fisherman and others in Hip to Hip Companies production of Pericles, where he also composed an original score for the Shakespearean classic. Big thanks to the cast and musicians for making this happen!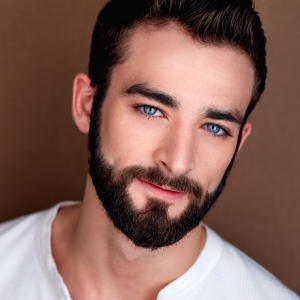 Millie Gibbons
Roxy/Ensemble
Millie Gibbons is a British Actress based in NYC. She is a graduate of the American Academy of Dramatic Arts. Her Theatre credits include Lisa in A Wonderful World Of Dissocia, Various in Love & Information and Olivia in Twelfth Night. Film credits include Justin Souriau Levine's 'Back to The Present', Gabriele Altobelli's 'Art of Diversion III' and Alex Kruz's 'In Search of The Peacock Angel'. Millie is excited to be a part of this fabulous Cabaret Show, and would like to thank her family and friends for their never-ending support. www.milliegibbons.com
Marie-Louise Boisnier
Ronnie/Ensemble
Marie-Louise Boisnier is a New York based Actress and Singer. After graduating from Lee Strasberg earlier this year Marie-Louise went on to perform in multiple plays around Manhattan, those include Marilyn Monroe in Jackie Marilyn Marilyn Jackie. A southern belle as Miss Sherlene the new play At Least He Didn't Die with No Antlers On His Head, and has just closed a Musical at the Tank as an Ensemble Member in Staten Island The Musical. Marie-Louise is hugely passionate about singing and has recently started writing and releasing her own music, and has recently released her third single Little House on The Clouds, which can be found on both spotify and apple music. www.marie-louiseboisnier.com
Karolina Larion
Choreographer/Dancer
Karolina Larion was born in Ukraine and grew up in Berlin, Germany before she decided to turn her life around and move to NYC. One of her big passions is dancing Latin American Ballroom professionally for 15 years. She was the Berlin Champion twice and came under the top 20 in the German Open Championship. She had a special training at one of the most prestigious acting schools in Moscow, the Mikhail Shchepkin Higher Theater School and finished her Conservatory program at the American Academy Of Dramatic Arts in New York. Through dancing and acting she expresses her soul and wants to tell powerful stories which may provoke critical thinking. She is excited to be dancing back on stage with friends for the Cabaret and helped with the creation of choreographies.
Zgjim Baraliu
The Man That Got Away
Zgjim Baraliu is an Albanian actor educated at The American Academy of Dramatic Arts (2022) and made his off Broadway debut in production of "In the Room". He has been part of numerous short and feature films and his most recent tv/film work includes a co-starring role in Law & Order.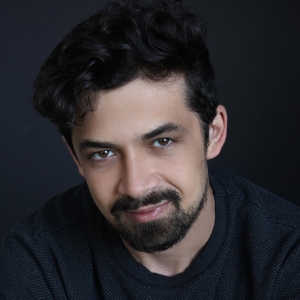 Dan Pardo
Musical Director
Dan Pardo is a NYC-based pianist, music director, arranger, and educator. He made his Broadway debut in 2015 with Amazing Grace at the Nederlander and has worked off-Broadway at St. Clement's, the York, New Ohio, Lucille Lortel, and St. Luke's, in addition to helming numerous cabarets, concerts, and workshop productions. Regional favorites include Company (starring Aaron Tveit) at Barrington Stage, Fun Home at the Weston Playhouse, How to Succeed at the 5th Avenue Theatre, and A Connecticut Christmas Carol at Goodspeed Musicals, where Dan was on staff for three seasons. Also: John Mulaney and the Sack Lunch Bunch, for Netflix.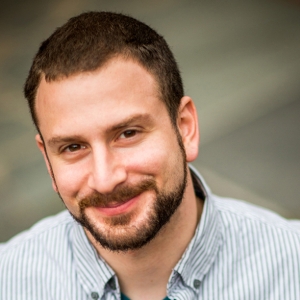 Matt Sweeney
Drummer
Matt Sweeney is a NYC-based actor/musician, with a BFA in Musical Theatre from Rider University. He has played for over 15 years, and has professionally in the city and around the country. As an actor, he has performed in companies such as Forestburgh Playhouse, Oregon Cabaret Theatre, St. Vincent Summer Theatre, and more. Thanks to Davinia for the opportunity to bring this music to life!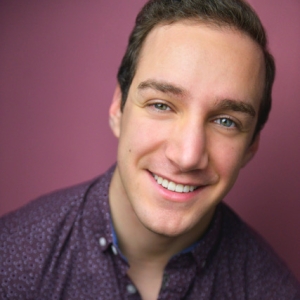 Léo Dupire
Guitarist
Léo Dupire is a French-Swedish computer & data scientist at NYU. He spent his early years in a medieval village on the French riviera until moving to New York City. He is a model, composer, guitarist, pianist, and singer. Léo is affiliated with the Opera Foundation, helping up and coming singers through the Björn Eklund Scholarship at the Berlin Opera. He is an interdisciplinary creator, his latest work revolving around autonomous music generation using generative deep learning models (AI).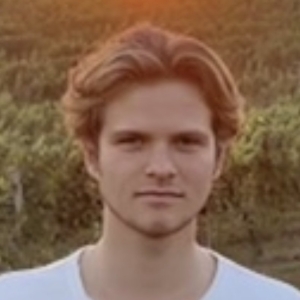 Alice Jamal
Stage Manager/Ensemble
Born in London to a French-British mother and Arabic father, Alice found her love for performing at a young age. Her first starring role was as Captain Hook in her school's performance of Peter Pan at aged 8. Alice is a graduate of the American Academy of Dramatic Arts, her theatre credits include Maria in Describe The Night, Jennifer in Youth and Mel in Adaptive Radiation. This year she starred as Chelsea in Sassafras and The Captain. Alice is a loving dog-mum to Cosmo, when not chasing him around the bark parks of NYC, Alice can be found reading tarot for herself and friends, analysing astrological charts and adding to her crystal collection.