Antigone 2.0

Hillcrest High School

Black Box Theatre

by

Sophocles

adapted by

Senior Theatre

directed by

Brian Blader
About the Production:
This play is based on the original script of Antigone, by Sophocles, written 2400 years ago in Ancient Greece. It was written as when democracy was brand new as warning to the ruling general against tyranny. While reading the play with the class we explored the ethical dilemma Antigone faces--should you bury your brother in a world where burials are the only way to the afterlife and risk certain death? The class explored themes of fate vs. free will, the laws of god vs. laws of man, power, ambition, civil disobedience and all the issues the play explores. We reimagined the what the play would look like in present day Queens and the whole class adapted sections of the play. The final result is our own original adaptation, Antigone 2.0. As a result of the pandemic, the last time these seniors performed was in their freshman year, and many have had limited exposure to theatre since the theatre world is just now beginning to reopen. For students with limited theatre experience and exposure, the journey the class undertook coming together as an ensemble, adapting this classic play, and presenting this show is nothing short of incredible.
Cast
Darryus Clark
Phillip/Teiresias
Vanessa Kilpatrick
Chorus
Mya Hughes
Director/Chorus
Creative Team
Mark Schulte and Period One Stagecraft
Technical Director
Adesh Rambharose
Sound and Light Technician
Heiley Lora Tobal
Playbill Artist
Meet the Company
Nia Desouza
Constance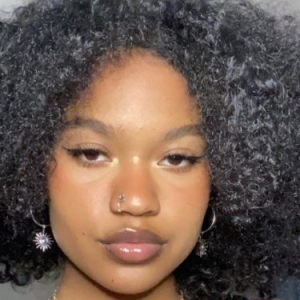 Nia Desouza is a senior at Hillcrest high school who aspires to actually have fun in life while figuring out what she wants to do. She has passions for fashion and art. She states that " We worked pretty hard on this play. It was definitely an experience that we all contributed to and it was great working with our cast."
Ariel Barrett
Angelica
Ariel Barrett is a senior in the theater institute who is an aspiring Psychologist. She is also a makeup artist. Enjoys making people smile and feel good about themselves. Spends her free time sleeping in and relaxing.
Da-Maiyah Dungee
Allison
Da-Maiyah Dungee has always been a very creative & artistic person. Since young she's gone to plays and musicals with her family on and off Broadway. She enjoys singing, drawing, acting, designing, etc. Antigone will be her first thorough play that she has participated in, & is happy for this experience.
Denaya Davis
The Guard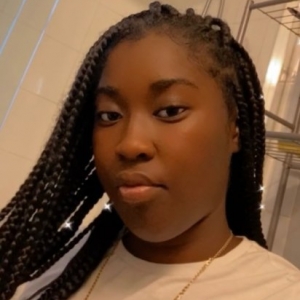 Denaya Davis is a senior in the theatre institute of Hillcrest High School, who aspires to be a nurse after she graduates. She likes to watch movies on her free time and listen to music. She plays Savannah (the guard) in Antigone 2.0, and has developed a new interest in Greek tragedy and ancient plays. The guard is portrayed as a male but we wanted to change the gender to a female to bring an entirely different perspective to the play.
Jose Alvarez
Elias
Jose Alvarez is a very productive person, he is always bringing energy into the room. He loves to play sports such as soccer, basketball, and handball, he is such a caring person as well. This is also his first play production. He is somewhat nervous but he can pull this play off as if he's done other plays before.
Darryus Clark
Phillip/Teiresias
Darryus Clarke is a 17 year old high-school senior. He enjoys hanging out with his friends, Playing video games and football and watching anime and movies. He also enjoys writing and acting and has acted in multiple plays throughout the course of his life. He hopes to someday take his acting abilities off the stage and onto the big screen.
Dejorn Belcher
Harrison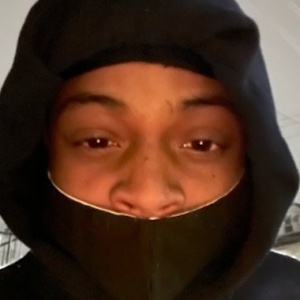 Dejorn Belcher is a very enthusiastic and charismatic individual. He states "I am very excited about this play. I hope you enjoy it as much as I do. This is Antigone 2.0. The play is fun and I like it."
Lakyisha Pedlar
Chorus
Lakiysha Pedlar is 18 years young and will be playing in the senior theatre play with the chorus.
Taijwantie Siwdat
Chorus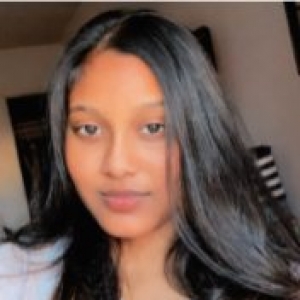 Taijwantie Siwdat goes to Hillcrest High School. She is in the 12th grade. She loves to hang out with her family because it is always a fun time with them. She loves going on drives; it doesn't matter where to. She gets tired very easily. She sleeps and still wakes up tired. She procrastinates a lot. That's like the biggest thing she does. She's hoping to graduate high school this year and start college. She also wants a job but doesn't know where to work. She is in the area of trying to figure out who she is and what she wants to do in the future.
Remelia Partap
Chorus
Remelia Partap is a 17 year old senior looking forward to graduating and starting a new chapter of her life as she works towards chasing success and fulfillment. She's an avid tea drinker that's either daydreaming or doodling in her notebook, while also thriving off of watching foreign dramas and trashy reality tv.
Vanessa Kilpatrick
Chorus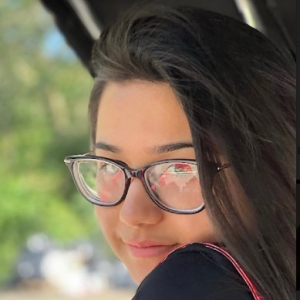 Vanessa Kilpatrick is an aspiring actor and this is the first production she's participated in. She's always liked everything that has to do with theater since she was little and always tries to involve herself in any acting opportunity she can. She also loves New York even though she was born in Las Vegas, she plans on staying here forever.
Jaynee Heinsen
Chorus
Jaynee Heinsen is a 17 year old athlete who has given theater a chance aside from basketball. She has never acted nor performed on stage therefore this is her first theater experience. She plays her part in the chorus in this play. She is also very proud to say she has participated in at least one school play during her years of school because she is not great with crowds. Jaynee can now leave this school and graduate with a newly learned skill/experience in theater that she can use to help her in her own real life situations.
Shaniece Bradley
Chorus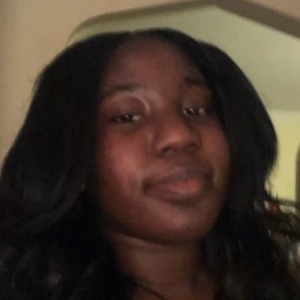 Shaniece Bradley is a senior in Hillcrest and you can usually find me laughing a lot and being crazy with my friends.I am short, love junk food and my favorite color is pink. These are a few things to get to know me better. Being part of this wonderful journey as we created this play for you we have had many laughs and fun memories creating it and will be a precious memory for us seniors forever.
Dajonae Linton
Chorus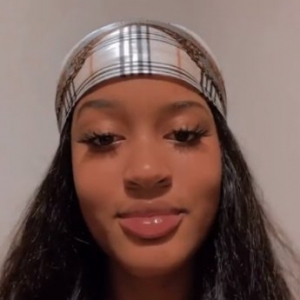 Dajonae Linton traded in the sunny skies and oranges in Florida for the big apple, New York and its bright city lights. By radiating positive vibes, she's admired for being able to create a comfortable and cheerful environment for her loved ones.
Mya Hughes
Director/Chorus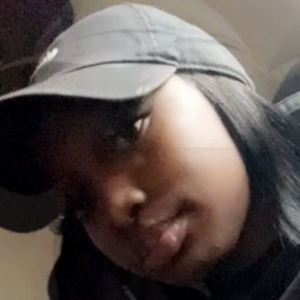 Mya Hughes is the co director of the play she wants to be a director in the future and wants to study at buffalo state University
Mark Schulte and Period One Stagecraft
Technical Director
Mark Schulte and Period One Stagecraft enjoyed the process of designing the technical elements of this original adaptation.
Adesh Rambharose
Sound and Light Technician
Adesh Rambharose has been instrumental in the technical side of this production. His lifelong goal is to help people through Biology and Environmental Science. He will be operating the light and sound for this show.
Heiley Lora Tobal
Playbill Artist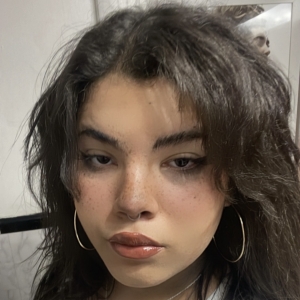 Heiley Lora Tobal is a freshman who is an aspiring make up artist ands costume designer. Heiley created the image for the flyer.
The director would like to thank: Mr. Milczewski and Mr. Binet for their commitment to the arts at Hillcrest and administrative support, Mr. Schulte and his first period class for building the set and tech support, Mr. Thompson, Ms. Mendoza, and all of our fantastic theatre teachers for supporting all the theatre students, my theatre freshmen coming out to see their first Hillcrest production, all the teachers who are taking their classes during period 6, the senior theatre class of 2022, my main man William Stormont, my mom and brother, and most importantly my girls, Natalie, Frida and Ruby. I'd also like to especially thank you--for taking the time to come here today and keeping theatre alive by seeing live shows.
Theatre is coming together with actors and technicians to create another world where people come together to listen to actors tell a story. William Shakespeare believed that The purpose of playing, whose end, both at first and now, was and is, to hold as 'twere the mirror up to nature: to show virtue her feature, scorn her own image, and the very age and body of the time his form and pressure. Essentially, the whole reason for creating and producing plays was to hold a mirror up to the world around us and reflect truths, good and bad, of the society in which we find ourselves. I think this production accomplishes that goal and is just as relevant as when it was first produced 2400 years ago.
-------------------------------------------------------------
Ms. Mendoza's Message
Welcome to the first Hillcrest Senior Production of the 2021-2022 school year!
Congratulations to the Senior theater group for writing and performing an adapted version of the classical drama, Antigone. Special thanks to Mr. Blader for his outstanding directing skills and to Mr. Schulte for his creative vision and craft on the set design.
Year after year, since its inception 50 years ago, the theatre program at Hillcrest High School has delivered exceptional in-person performances to our students, family and staff. This year, 2022, is not an exception to this tradition. Despite the unique circumstances faced by all during this time in history, Senior theatre has pushed through to continue the great legacy of our small learning community and to exemplify what it means to stay resilient!!!
Thank you to all staff and students for supporting our actors with your presence.
Enjoy the Show!!
Jessica Mendoza
Director, Academy of Performing and Visual Arts
If you would like to leave a review for the cast and crew, click here: https://forms.gle/vLAdZXe34j2vzed76