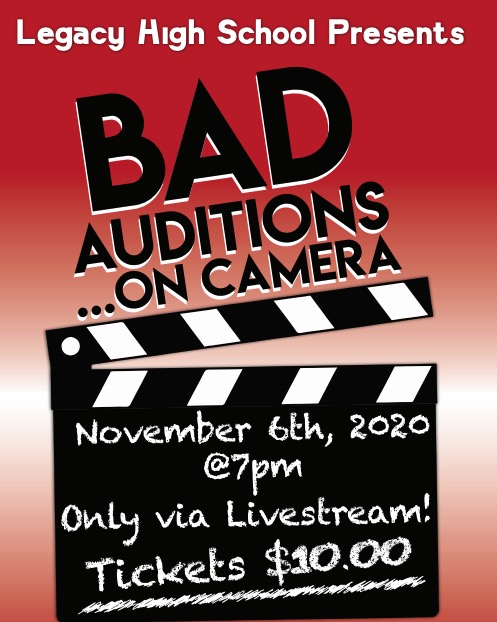 Bad Auditions... On Camera

at Legacy High School

Produced by Special Arrangement with Playscripts, Inc.
www.playscripts.com

by
Ian McWethy &
Carrie McCrossen
Follow Us:
A casting director has one day to find an actor to fill the role of a lawyer in a crime procedural. But what seems like a simple task proves impossible when the pool of actors includes stage thespians who can't tone it down for the screen, performers completely unable to keep themselves in frame, and an actor who seems to believe this is a toothpaste commercial. Find out who will get the role when you step behind the doors of a casting session in this hilarious comedy.
Acknowledgements
A special thank you to the following:
• The Thespian Legacy Foundation for their financial support of our drama program. Without you, we would not have been able to pull off this amazing show!
• Laura Medina McCarthy for your incredible graphic design help with our program.
• Kevin Lavery for creating our wonderful poster
A HUGE thank you to ALL parent volunteers!!! Although we cannot list all of you, we could not have done it without you!!!
Cast
Brianna Gress
Casting Director
Grace Rodriguez-Cole
Rory
Creative Team
Karen Stacks
Director/Producer
Eric Stacks
Technical Director/Set Design/Construction
Learn More About Stage Mag