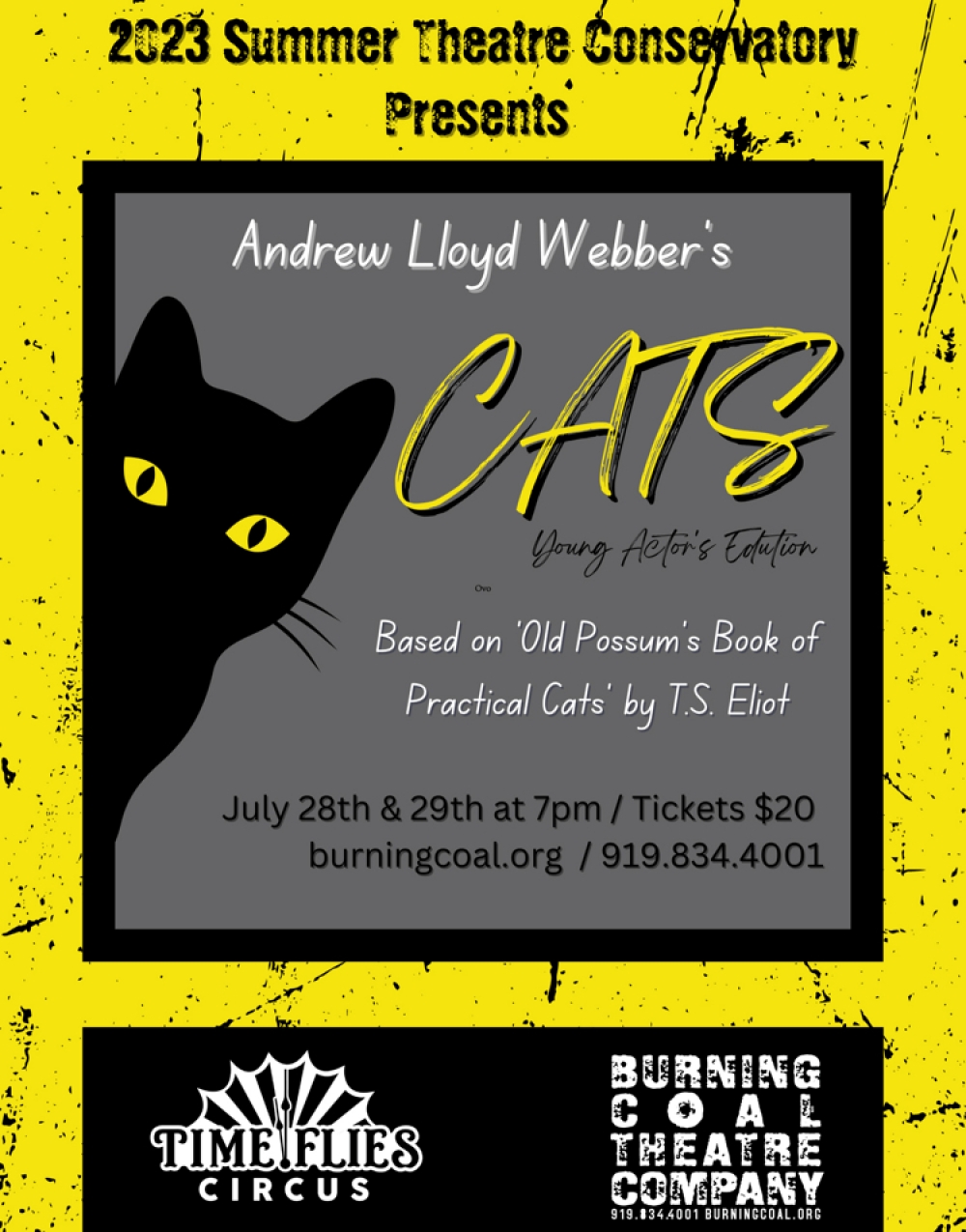 JEROME DAVIS,

ARTISTIC DIRECTOR

SIMMIE KASTNER,

MANAGING DIRECTOR
P R E S E N T S
CATS
CO-DIRECTED BY: Elliott Gittelsohn and Ayal Prouser
MUSIC DIRECTED BY: Diane Petteway
CHOREOGRAPHER:

Mary Schindler

MASTER ELECTRICIAN:

Barry Jaked

COSTUME DESIGN:

Marissa DeVries
ASSISTANT DIRECTORS :

Dean Bruce

Ellias Koppen

Regan Sellers

STAGE MANAGER:

Zeke Rezzarday

ASSISTANT STAGE MANAGERS:

Sania Aldridge

Cairo Smith
MAKEUP:

Natalie Wykle

LIGHT BOARD OPERATOR:

Ariana Richardson

SCENIC DESIGN/RIGGING:

Tanner Avery
STARRING:

Rain Readling
Mila Isabela
Emma Butler

Toby Green

London Lee

Sally K. Abete

Callum Coysh

Wanda Kung

Kat Cupp
Hazel Henderson
Elliott Ries-Kinney

Lemony Wood

Emmett Wells

Tennyson Florer-Bixler

Sasha McGinley

Clair Elkins Tyndall

Hazel Stevens

Taite Capes
Mira Hallman Poran
Jane Fitzpatrick

Kees Keech

Shiela Awashti

Sage Lovere

Annabelle King

Alastor Morse
Follow Us:
Meet the Company
Kat Cupp
Grizabella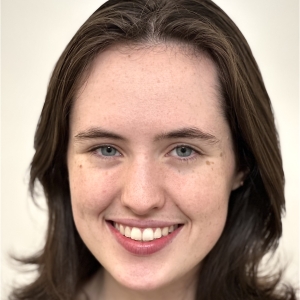 Kat is a junior at NC State University studying Communication and Sociology. They have been doing theater for four years. NCSU University Theatre credits include The Spongebob Musical ("Sandy Cheeks") and The Crucible ("Abigail Williams"). Other credits include You're a Good Man, Charlie Brown ("Snoopy"), Les Misérables ("Éponine"), and Titanic: The Musical ("Alice Beane"). Kat wants to thank their friends and family for all of their support, and hopes you enjoy the show!
Rain Readling
Old Deuteronomy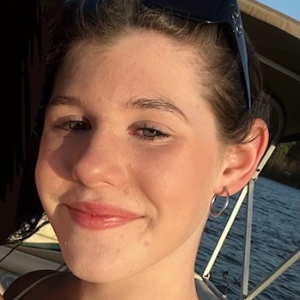 Rain Readling is thrilled to be in her first show at Burning Coal Theatre Company as Old Deuteronomy. Some of her previous shows include Mean Girls (Mrs. Heron) with NCT Conservatory, Aladdin Jr. (Babkak) with Raleigh ACT, and Oliver Jr. (Nancy) with Raleigh ACT. She is immensely thankful for the past few weeks she has spent with this cast and crew and she hopes you enjoy the show!
Taite Capes
Munkustrap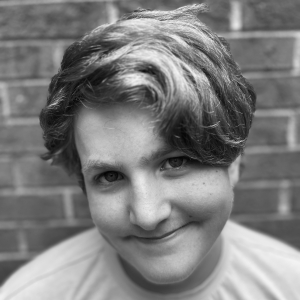 Taite Capes is a rising freshman at Millbrook High. He loves musical theatre, dance and voice and performed in several productions at Starbright Little Players through middle school. He is now part of the Field of Dreams Performing Arts program, with ensemble roles in Matilda, and most recently as Charlie Brown in You're a Good Man, Charlie Brown. Taite is interested in a career in literature, music, or performance.
Mila Isabela
Bombalurina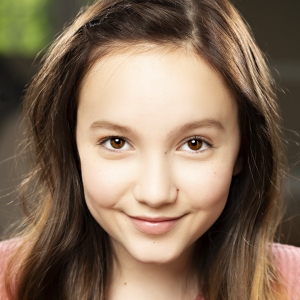 Mila is an old soul with a background primarily in singing and dancing. Several years ago she started pursuing acting, but she has always known, since she was little, that she had a need to perform. She is thrilled to be a part of this cast and production, and would like to thank her family, castmates, directors and coaches. Special thanks to Terri and Julie; and to Susan Durham-Lozaw, you helped me find my voice, I would not be here without you.
Hazel Henderson
Demeter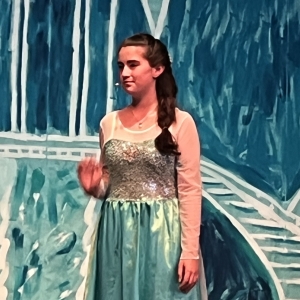 Hazel is a trained soprano, actor, and dancer. Recent performances include Guys and Dolls, Burning Coal's Cemetery series, and starring as Elsa in a production of Frozen, Jr. Hazel is eager to represent Native Americans in the performing arts.
Mira Hallman Poran
Jellyorum
Mira attends the Exploris School. She loves anything and everything music related- especially singing and playing piano. She's excited to be part of STC this summer!
Emma Butler
Rumpleteaser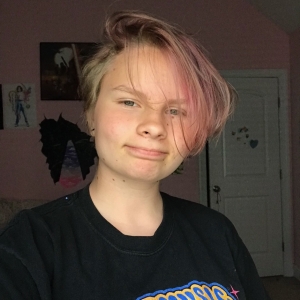 Emma's heart beats with a passion for theater, art, and creativity. Emma loves acting, writing and making art. Yet, it is not only their love for the arts that defines them, it is their extraordinary spirit of kindness, generosity, and care that sets them apart. Emma is always ready to lend a helping hand, living with an open heart. Emma is loving, gentle and empathetic towards all people.
Elliott Ries-Kinney
Mungojerrie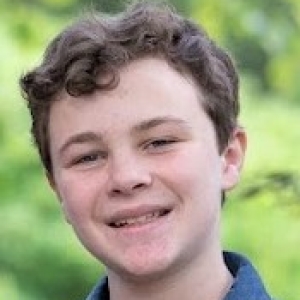 Elliott is excited to be working with Burning Coal Theatre Company for the first time. He has been active in the Carroll Middle School theatre department, and his favorite role was playing Seymour in Little Shop of Horrors. Elliott is a rising 9th grader at Enloe High School, and lives in Raleigh with his parents, two younger sisters, and mischievous dog.
Jane Fitzpatrick
Skimbleshanks
Jane is a ninth grader at Garner Magnet High School. Since she was little, she has been in love with acting and being in the spotlight. She has done many other shows in Raleigh including Let The Right One In as Eli and A Christmas Carol as Christmas Past and Martha Cratchit, both with Theatre In the Park. She was also in Annie and many other shows.
Toby Green
Macavity
Toby is very excited to be performing in his third-ever show! Previously he has worked in the Rolesville High School Fall Arts Festival, as well as the Spring Musical, Shrek! He is optimistic about learning new skills in this class!
Kees Keech
Mistoffeles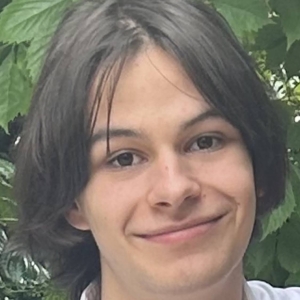 Kees Keech is a rising 12th grader who is very excited to act once again at Burning Coal. Previously, he performed in The Tempest as Caliban. He hopes you enjoy the show.
Lemony Wood
Rum Tum Tugger
Lemony Wood is an aspiring actor, voice actor, music artist, composer, game developer, YouTuber, and filmmaker, and is currently working on her YouTube Channel, a Web series, a (crappy) feature-length film, and is writing a musical on the side. She's extremely excited, as this will be her first time performing in a musical. She thinks you should all play Viva Piñata on the Xbox 360.
London Lee
Jennydots
London is a rising seventh grader. She is highly creative and loves acting, singing, art, ice-skating and soccer. Although she has been singing and performing since she was small, this is her first musical. It has been a wonderful experience and she would like to thank her parents for supporting her dreams and everyone at Burning Coal for making this so special.
Emmett Walls
Asparagus
Emmett Walls is a rising 8th grader at Ligon Middle School. Recent credits include his school's productions of WILLY WONKA & THE CHOCOLATE FACTORY and YOU'RE A GOOD MAN CHARLIE BROWN. He also enjoys singing in the Ligon Honors Chorus, competing in tournaments with the Ligon Chess Club, playing flag football, and reading in his spare time.
Sheila Awasthi
Sillabub
Shelia feels passionate about the performing arts. Her spark for acting began years ago when she joined the cast of Annie Jr. in a summer camp. She continued to act in theater, participating in Madagascar Jr., and Footloose the Musical. Additionally, Sheila's on-screen credits include roles in Ms. Marvel and Army of the Dead. She also sings in her school choir and plays the piano.
Sally K. Abete
Cassandra
Sally has been dancing, singing, performing, leaping, and acting since she was in diapers. She loves all things to do with the stage, performing arts, music, crocheting, sculpting, pottery, and acting.
Tennyson Florer-Bixler
Quaxo
Tennyson Florer-Bixler is a regular part of theater productions with Raleigh ACT where she has played roles in Oliver!, Newsies, and Aladdin. Tennyson is also the founder of her middle school drama club. In addition to theater, she enjoys rock climbing and is a leader in her church youth group. She loves singing, penguins, and spending time with her friends.
Sage Lovere
Bill Bailey
Sage has performed in Burning Coal's presentation of Shakespeare's "The Tempest" as well as in summer projects with Justice Theater Project ("Willy Wonka's Chocolate Factory"), Raleigh Little Theater, and Le Cirque Center in Ashland, Oregon where he performed aerial silk routines. He has also been in many school productions beginning at the age of six. Sage also sings baritone in the Cary High Chorus.
Callum Coysh
Admetus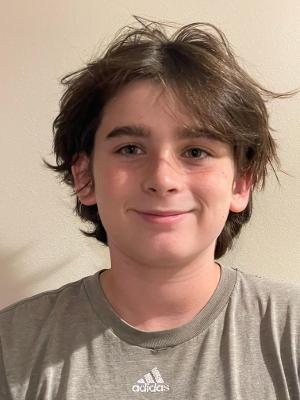 Callum is excited to be a part of the Summer Theatre Conservatory. He has done shows with his school in the past, but this is the first time being involved in something outside of school.
Sasha McGinley
Pouncival
Sasha McGinley is so excited to return to Burning Coal after appearing in Spoon River Anthology last summer. She is a rising junior at Apex High School where she has been on the Cross Country team and has served as dramaturge for four productions with Peak Players. Sasha studies voice and dance, and in her free time enjoys reading, gaming, and spending time with her dogs. She hopes to study medical anthropology in college.
Annabelle King
Tantomile
Annabelle is an 8th-grade student at East Cary Middle School. She has been in multiple productions. Her favorite roles were Olaf from Frozen and Roxanne from A Christmas Story. She enjoys singing, reading, and playing volleyball. She is excited to be participating in the Summer Theater Conservatory at Burning Coal Theater. She appreciates the support of her friends and family!
Wanda Kung
Coricopat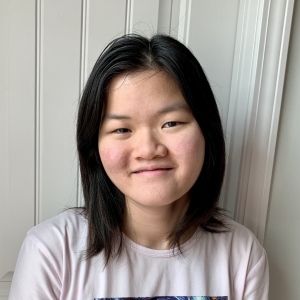 Wanda is excited to be performing in Cats! She attends high school at Wake Young Women's Leadership Academy. She aspires to study theater in college and pursue a career in acting. Aside from theater, she enjoys art and playing the guitar.
Clair Elkins Tyndall
Carbuckitty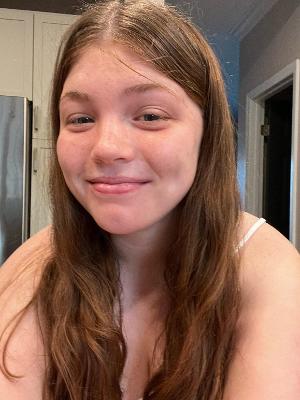 Clair has a passion for all things theater. She discovered her love of acting and musical theater while participating in Carroll Theatre Company's production of The Day The Internet Died in which she played Clarice, a frustrated H&M Salesperson. From there she joined other Carroll productions including Little Shop of Horrors. She has participated in Raleigh Act's Camp Cabaret, where she sang the role of Jesus in Godspell. She is currently a rising sophomore at Sanderson and has acted in the ensemble in both Sanderson productions this year.
Alastor Morse
Alonzo
Alastor Morse He has been acting since 3rd grade. He hopes to pursue baking and acting as a career.
Hazel Stevens
Victoria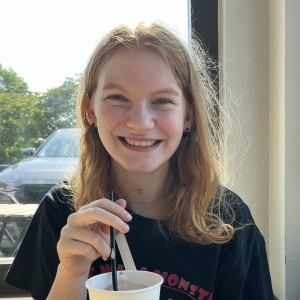 Hazel Stevens is excited about her first performance with Burning Coal Theatre Company. Hazel was a part of the Encore acting program at Ligon Middle School where she performed a lead role in "All The Ways The World Would End." She also acted in Macbeth, The Witch's Princess, and Antigone 3021. In addition to acting, Hazel performed several solos with Ligon's Treble Choir. She's grateful to the directors and her family.
Tanner Avery
Tech
Tanner is new to the theater world but has some DJ experience and is very creative in using different medias of art to create 3D models. She is excited for this opportunity to grow and learn in the technical theater world and will be taking a technical theater class this year in high school.
TIME FLIES CIRCUS
Time Flies Circus is a mobile circus initiative for educational and arts institutions who wish to provide innovative, fun, physical programs to their students. We are a full-service program, handling all aspects of equipment, curriculum, staffing, making it completely stress-free for the partnering administration. Our decades of experience guide them in providing industry best practices. Partnering organizations will see not only see demonstrable skills performed by participants, but smiling faces from all.
https://www.timefliescircus.com/
COMING SOON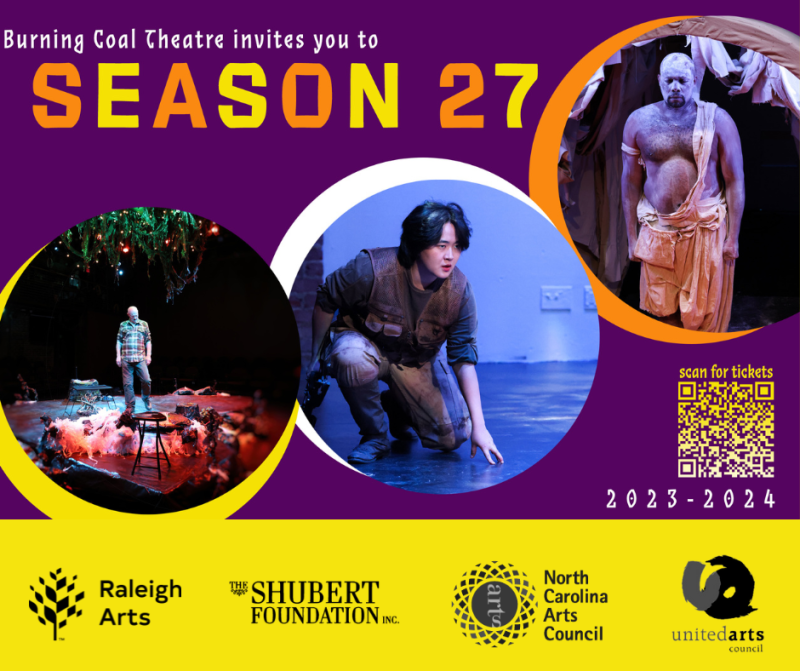 Additional thanks to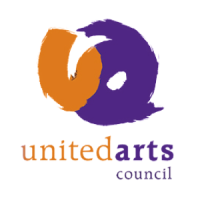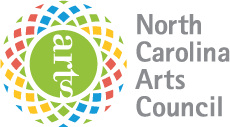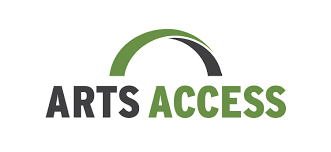 ---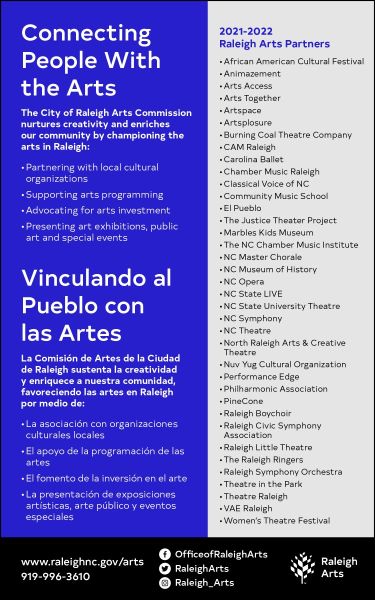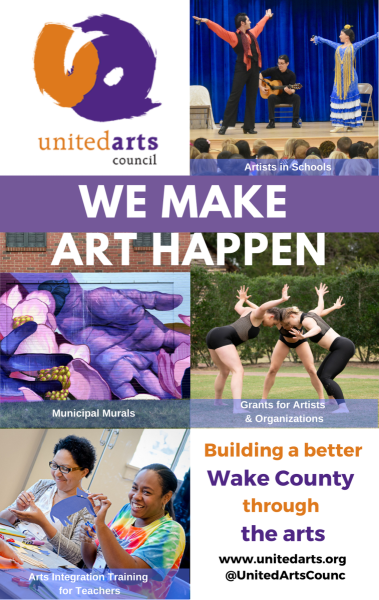 Burning Coal Theatre Company is supported by the United Arts Council of Raleigh and Wake County.
Burning Coal Theatre is funded in part by the city of Raleigh based on recommendations of the Raleigh Arts Commission.
This project was supported by the N.C. Arts Council, a division of the Department of Natural & Cultural Resources. NCArts.org