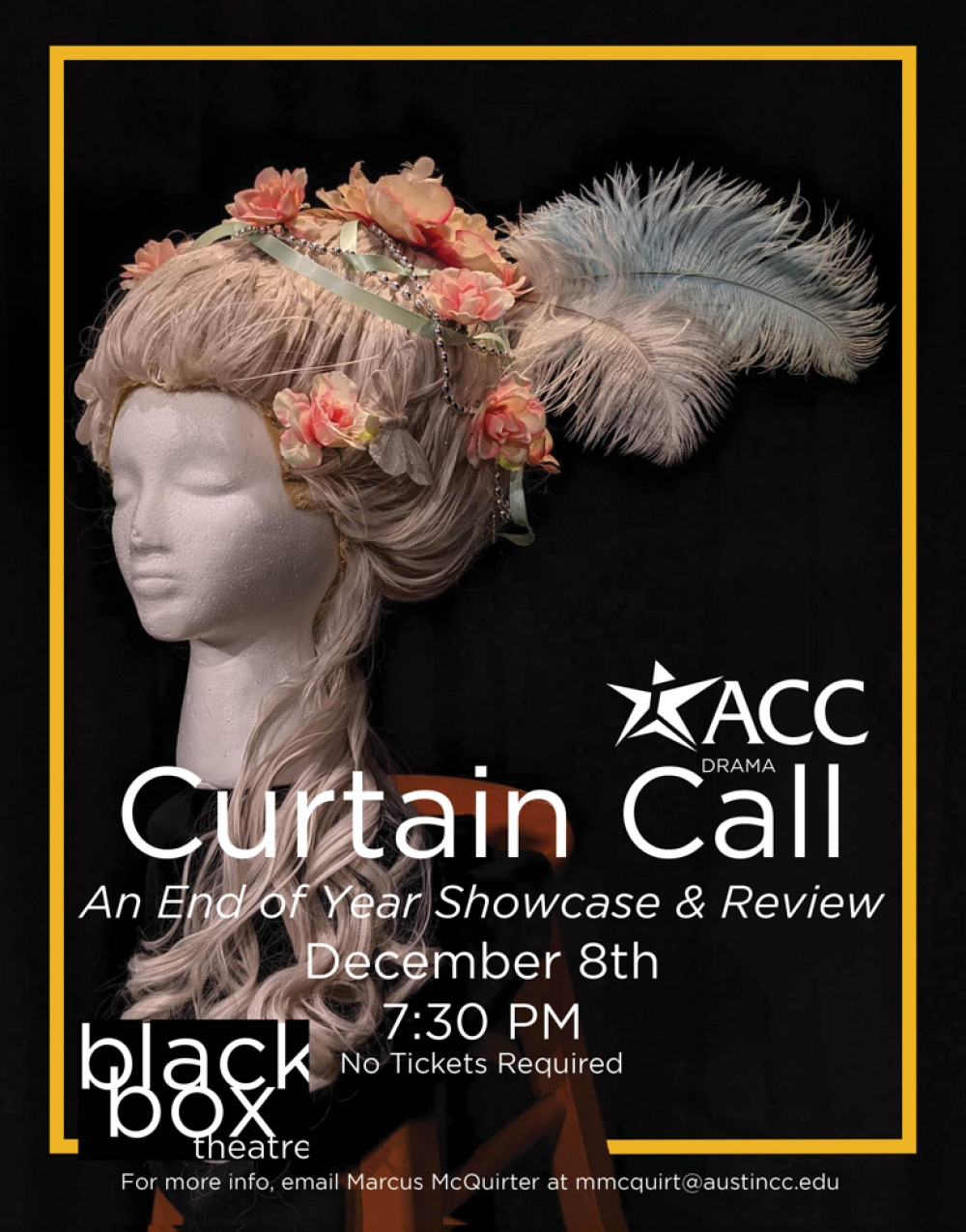 Curtain Call: An End of the Year Showcase and Review

at Austin Community College Drama Department

The Cast & Design and Technical Students

Hosted by Glampus (Bert Keefer)

Connor Austin
Bella Kent
Evan Martinez

Anthony Saldana

Avery

Rafael De La Cruz

Bert Keefer

Jaz Pintar

Ella Schmitt

Jose Manuel Garcia Suarez

Sarah Ferguson
Khalil Khalifa
Evelyn Morgan

Rebecca Yuhas

Sam Coldiron

Freddie Demps

Deseree Garcia

Isabella Rowland

Tania Silver-Diaz

Marcela Valadez

Sofia Forsberg
B. Sherman Knox
Carly Saad

Jillian Vincent

Miguel De Hoyos

Brigid Ferris-Hughes

Ulises Garcia

Khalia Sacko

Ollie Sofield
Follow Us:
We deeply appreciate your patronage for the performance. Please consider making a donation to our ACC Drama Department Scholarship fund at the link below. Your contribution will help ACC Drama students pay for their tuition, books and course materials.
https://secure.touchnet.com/C20395_ustores/web/product_detail.jsp?PRODUCTID=673&SINGLESTORE=true
Welcome to Curtain Fall with your host: Glampus
Monologue: Bella Kent, Alcott: A Play by Adam Szymkowicz
Monologue: Evelyn Morgan, Kodachrome by Adam Szymkowicz
Video: Stage Makeup
Scene: Khalil Khalifa & Jillian Vincent. Medea by Euripides
Monologue: Evan Martinez, Boy's Life by Howard Korder
Host: Outfit and Wig sponsored by the AAS in Technical Theater Degree…
Scene: Khalil Khalifa & B. Sherman Knox. Fences by August Wilson
Monologue: Sofia Forsberg, The Woolgatherer by William Mastrosimone
Video: Fade Trailer Fall 2022
Fade CREATIVE TEAM
Direction: Yesenia Garcia Herrington | Set Design: Tomas Salas | Costume Design: Stephanie Dunbar | Lighting Design: Luis Sandoval | Prop Design: Joe Kelley | Sound Design: Phillip Owen | Stage Management: Lindsey Ollinger
Scene: Connor Austin & Carly Saad. Almost Maine, by John Cariani
Host: An Invitation to Browse the Gallery
INTERMISSON/DESIGN GALLERY VIEWING
Scene: Sarah Ferguson & Sofia Forsberg. Crimes of the Heart by Beth Henley
Monologue: Carly Saad. Oleanna by David Mamet
Video: Entertainment Technologies
Scene: Bella Kent & Evan Martinez. Lend me a Tenor by Ken Ludwig
Host: The ACC Dance and Drama Scholarship
Monologue: B. Sherman Knox, A Raisin in the Sun by Lorraine Hansberry
Video: Introduction to Collaborative Design
Scene: Anthony Saldana & Rebecca Yuhas. Stop Kiss by Diana Son.
Monologue: Sarah Ferguson. The Art Room by Billy Aronson
Video: The Snow Teaser Spring 2023
Host: The Snow & "Never Fall in Love with an Elf"
END OF PROGRAM
ACC DRAMA PRODUCTION STAFF
Technical Director, Tomas Salas
Master Carpenter, Joe Kelley
Master Electrician, Channing Schreyer
Costume & Makeup Shop Head, Christina Montgomery
Graphic Designer, Rachel Atkinson

SHOWCASE PRODUCTION TEAM
Maddison Fleetwood, Stage Manager
Effrain Torres, JR, Sound Board Operator
Khalia Sacko, Light Board Operator
Poster Image: Avery from DRTE 1374 course
SPECIAL THANKS:
Rachel Atkinson
Florinda Bryant
Stephanie Dunbar
Cynthia Gage
Yesenia Garcia Herrington
Joe Kelley
Christina Montgomery
Marcus McQuirter
Jamie Rogers
Tomas Salas
Channing Schreyer
Assoc. VP Workforce Education, Gretchen Riehl
Interim Dean of Arts & Digital Media, Perry Crafton
ACC Highland Campus Management, Linda Morrison & Riley Davis