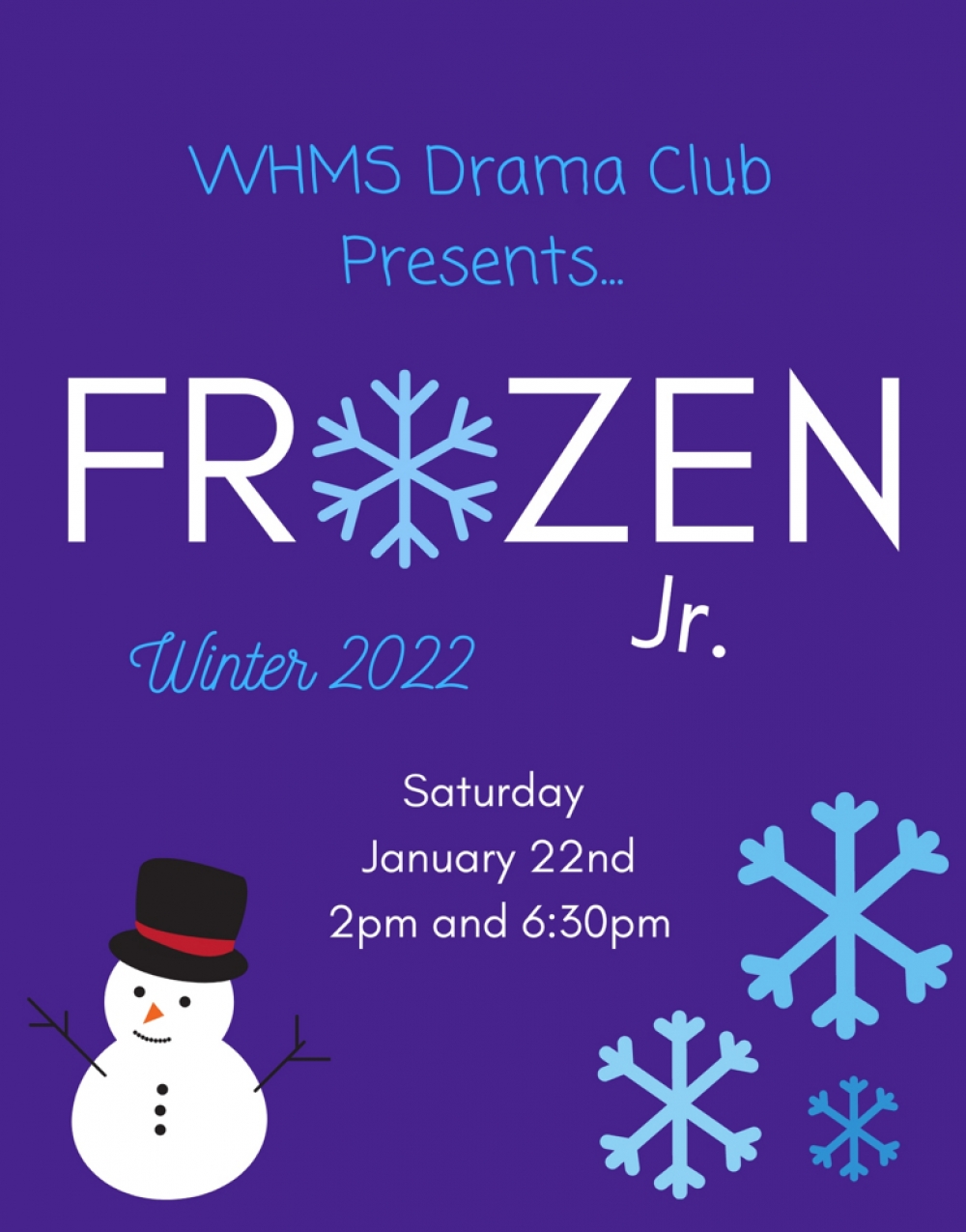 Frozen Jr.

Music & Lyrics by

Kristen Anderson-Lopez & Robert Lopez

Book by

Jennifer Lee

at Warren Hills Middle School Cafeteria Stage

Directed and Choreographed by Nicole Labrit-Petrewski
Music Direction by Lauren Voight

Student Assistants (HS)

with Choreography for Hygge by Cherise Graham and Julianne Magistrado

Sound, Props and Set Assistant Connor Farrington

Stage Manager Claudia Fleming

Based on the Disney film written by Jennifer Lee and directed by Chris Buck and Jennifer Lee
The original Broadway production of Frozen was directed by Michael Grandage and produced by Disney Theatrical Productions

Original Broadway Orchestrations by

Dave Metzger

Original Broadway Music Supervision and Arrangements by

Stephen Oremus

Additional Broadway Dance Arrangements by

David Chase

Frozen JR. Music Adapted and Arranged by

Madeline Smith

Frozen JR. Script Adapted by

Sara Wordsworth

Disney's Frozen JR.

Is presented through special arrangement with Music Theatre International (MTI).
All authorized performance materials are also supplied by MTI.

www.mtishows.com
Cast List
Cast List
(In alphabetical order)
Sophia Antonelli….…..…... ….Ensemble B/ Oaken Family Member 3
Olivia Betancourt…….…….…. Ensemble B/Oaken Family Member 4
Olivia Beto…………….……….…...…….Townsperson 5/ Ensemble A
Abigail Cagnassola….………. Ensemble B/ Oaken Family Member 2
Julia Cagnassola.…….....…....………………………....…………. Anna
Eli Castillo……….…….....…..…………………………..…………. Hans
Annika Colandrea.……..…..….…… Young/Middle Anna/ Ensemble A
Sierra Coombs…..……...…… Ensemble B/ Oaken Family Member 1
Sophia Coscia.…….…... Queen Iduna/ Oaken Family 5/ Ensemble A
Daniel Coutinho……..………….….….……………..…………… Kristoff
Milo Dominguez……..………….….….…………………………….. Olaf
Francesca Eggart …..…………………………………..…. Ensemble A
Makenzie Falzone…..…….…….….………………………...…. Pabbie
Joshua Farrington…...…….………. King Agnarr/ Oaken/ Ensemble A
Gavin Fink……………..…..………...…………….. Bishop/ Ensemble A
Juan Garcia……………..…..…………… Townsperson 6/ Ensemble A
Hennessy Greer…….…..………..……… Townsperson 1/ Ensemble A
Louden Heller…………..…………………………….……………… Sven
Taniyah LeSaine………..………...……… Townsperson 3/ Ensemble A
Madigan McGourty……..………..……… Townsperson 2/ Ensemble A
Emily Renfors………………...……..….... Townsperson 4/ Ensemble A
Gianna Romano………….…..………………………..……………. Bulda
Jessica Ruela…………………………….…………. Young/ Middle/ Elsa
Payton Silpoch …………….…………….…..…….. Young/ Middle/ Elsa
Nico Skolimowski….………….……………….....…… Duke of Weselton
Christian Valente …………...…..…………….……..………. Ensemble A
Johan Venegas Mosos ……………………….……...…....... Ensemble A
Jadyn Wright ………………..….…………….…………..….. Ensemble A
Ensemble A: Townspeople/ Hidden Folk
Ensemble B: Snow/Summer Chorus/Extended Oaken Family
Crew List
Crew List:
Olivia Camporini.... Curtain, Backstage Crew, Sets, Costumes, and Swing
Olivia Groff.... Costumes
Hunter Guido....... Set, Props, and Sound Cue Operator
Chloe Leon.... Costume and Backstage Crew
Molly Lunger..... Costumes and Light Operator
Charlotte Noreen.... Sets and Costume Crew
Sean Nucum..... Sets, Props, and Light Operator
Aisosa Ochieng..... Sets, Costumes, and Backstage Crew
Cassandra Orenstein.... Scenic Artist, Assistant Stage Manager, and Spotlight Operator
Tamara Rodriquez.... Sets, Costumes, and Costume Crew
Amelia Roberto.... Sets and Lights Operator
Song List
Musical Numbers
ACT ONE
"Let the Sun Shine On"
"A Little Bit of You"
"First Joik"
"Do You Want to Build a Snowman?"
"For the First Time in Forever"
"Dangerous to Dream"
"Love is an Open Door"
"Reindeer(s) Are Better Than People"
"You're Hired"
"In Summer"

ACT TWO
"Hygge"
"Let It Go"
"For the First Time In Forever - Reprise"
"Mountain Fall"
"Kristoff's Joik"
"Fixer Upper"
"Colder by the Minute"
"Finale (Part I)"
"Finale (Part II)"
"Bows"
2022 Warren Hills Regional Board of Education
Mr. Corey Piasecki, President
Mr. Christopher Cannavo, Vice-President
Mr. Joseph Bodenschatz
Mrs. Molly Fraumeni
Mrs. Jean Hansen
Mr. Eric Horton
Mr. Sam Knutson
Mrs. Lisa Marshall
Mr. Eric Walls
District Administration
Mr. Earl C. Clymer, III, Superintendent of Schools
Mr. Dennis H. Mack, Director of Human Resources
Mrs. Donnamarie Palmiere, Business Administrator/Board Secretary
Mr. Michael Jones, Director of Athletics & Student Activities
Mrs. Mary Louise Rowlin, Supervisor of Special Education
Mrs. Amanda Brown, Supervisor of Fine Arts, Physical Education/Health, World Languages
Mr. Keith Dennison, Supervisor of English & Social Studies
Mrs. Heather Apple, Supervisor of Mathematics & Science
Mr. Timothy Jaw, Technology Coordinator
Mr. Anthony Sbriscia, Director of Plants & Facilities
Special Thanks
Special Thanks
Ms. Jennifer Cagnassola
Mrs. Ruela
Ms. Maureen Eick and the Custodial Staff for all their help
Mr. Jones, Ms. Conaboy, and Ms. Page in the Athlethics Office
Ms. Amanda Brown
Mr. Adam Slack and the High School Woodworking Class
And of course to all the families who have helped support our program this year!
Learn More About Stage Mag