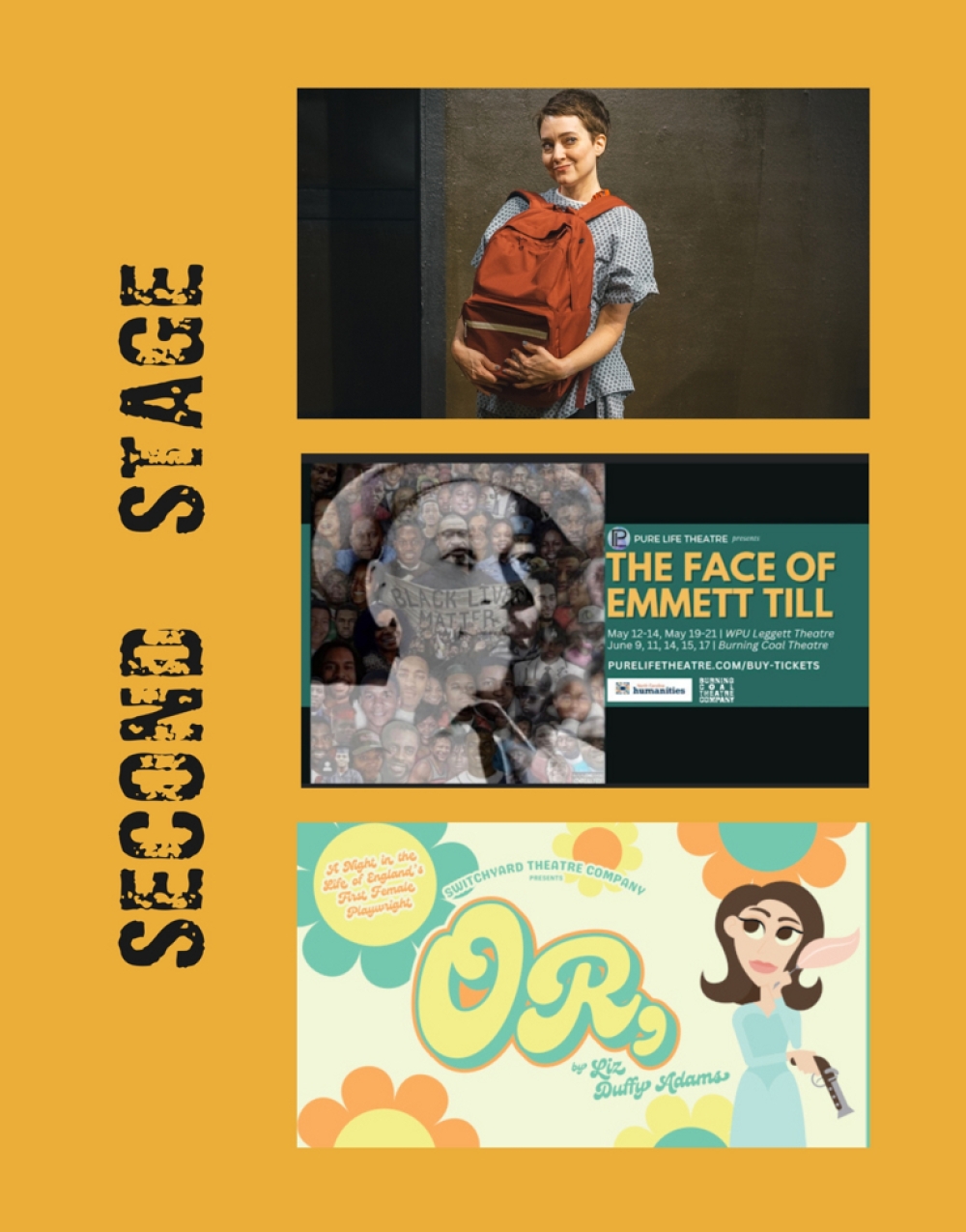 JEROME DAVIS,

ARTISTIC DIRECTOR

SIMMIE KASTNER,

MANAGING DIRECTOR
P R E S E N T S
Second Stage 2023
Ruby
Written, Performed, and Co-Produced by Susan Gross
The Face Of Emmett Till
by Mamie Till Mobley with David Barr III
Directed by Deborah Royals
Performed and Co-Produced by Pure Life Theatre
Or,
by Liz Duffy Adams
directed by Charles Machalicky
Performed by Switchyard Theatre

SERIES MASTER ELECTRICIAN:

Barry Jaked

PRODUCTION STAGE MANAGER:

Julianna Frasca

SERIES LIGHTING DESIGN:

Matthew Adelson
Ruby Program
The story of one woman's emotional journey after a miscarriage.
Cast: Susan Gross
Rehearsal Stage Manager: Zeke Rezzarday
CONTENT ADVISORY: Description of Pregnancy loss, Mention of child death, Language
The Face Of Emmett Till Program
The touching story based on the words of Mamie Till Mobley is one of the greatest examples of the courage of truth in the face of hatred.
Director: Deborah Royals
Cast: Tina Morris-Anderson, Jireh Ijeoma, Verlene Oates, Taufiki Lee, Carl Mulfinger, Jim O'Brien, Moriah Renee Williams, Christina Brown, Kurt Benrud, Raenique Dawson, Ginny Darcey, Douglas Kapp, Blake Lee, Ajani Kambòn, John Ivey, Quinn Michael Gray, Darius Hooks, Jennifer Ijeoma, Jordan "JD" Dowd, Zion Naima
Production Staff:
Scenic Design: DEB ROYALS, WENDELL SCOTT
Costume Design: JULIA GAINEY
Musical Direction: STEVEN DIGGS, JR.
Marketing: MARIA BARBER
Rehearsal Stage Manager: TIFFANI STATEN
Producers: TIFFANI STATEN, VERLENE OATES
CONTENT ADVISORY: Racial violence, description of child death
Produced by special arrangement with THE DRAMATIC PUBLISHING GROUP OF Woodstock, Illinois.
Or, Program
A quick-changing, door-slamming romp through the 1660's.
Director: Charles Machalicky
Cast: Laurel Ullman, Ryan McDaniel, Kelly McDaniel
Production Staff:
Assistant Stage Manager: Sofia Diaz
Intimacy Coordinator: Veronica Dress
Technical Director: John-Paul Middlesworth
Sound Design: Michael Parker
Lighting Design: Matthew Adelson
Costume Design: Aerial Sanders
Props/Costume Manager: Jodeya Brown
Marketing Assistant: Miranda Curtis
Producer: John Paul Middlesworth
CONTENT ADVISORY: contains sexual content, adult situations and strong language. Recommended for audiences 18+.
Tickets & Details
Second Stage Production Team
Matthew E. Adelson
(Lighting Designer)
Matthew E. Adelson has designed extensively for Burning Coal, including their recent productions of What If If Only, Air and Talley's Folly in London. Upcoming productions include: And A Nightingale Sang (Shakespeare Theatre of New Jersey), The Stones and Just Another Day (Great Barrington Public Theater), Copenhagen (Berkshire Theatre Group). Matthew is the Production Manager for the Five College Dance Department (Amherst, Hampshire, Mount Holyoke, Smith and the University of Massachusetts Amherst) and is a graduate of the Yale Drama School.
Julianna Frasca
(Production Stage Manager)
Julianna Frasca is excited to be returning to Burning Coal Theatre for the Second Stage Series after recently Assistant Stage Managing their production of The Cherry Orchard. She spent the past year stage managing for Eastline Theatre on Long Island in their productions of Angels in America (both parts), In the Next Room, and Being Earnest, a queer adaptation of The Importance of Being Earnest. Other credits include Stage Manager for Canned Laughter at the Downtown Urban Arts Festival, and Assistant Stage Manager for Malefactions at Cradle Theatre Company. Julianna would like to thank her wonderful husband, William, for supporting her while she takes the car every night for the production.
Donors
Join us in Thanking our Fuel the Fire Contributors! Highlighted with *
| | | | |
| --- | --- | --- | --- |
| PATRONS | BENEFACTORS | CONTRIBUTORS | ASSOCIATES |
| Governors Club | Bonnie Elam | Dr. Jeff and Suzanne Morrison | Kimberly Overton |
| Glynn Durham and George Drakulic | David Meeker* | Eric Hale and Anna Brown | Daniel B. Wilkinson and Katherine M. Dixon |
| Mary Louise Spain | Chris Brown | Jim Johnson and Joanne Sanford | Elizabeth Strickland |
| John Sarratt and Kathy Klotzberger | Mary Lovelock and Bob Chapman | Heather Barkley Craige | Christina Clyburn |
| Rob and Linda Grew* | Susan Parry and John Montgomery* | Ian Shields and Pat McQuaid | Stephen Fischer |
| Cheryl Rakestraw | Mary-Ann Baldwin | Philomena and Sid Harrell | John R Shutt |
| Greer and Chuck Lysaght* | Richard and Cindy Urquhart | Peter Rumsey and Barbara Wishy | Dawn Enochs |
| Carla and Don Berryann* | Cecilia Zuvic | Lisa McQuay | James Yocom |
| David and Suzanne Huff | Tom Phillips | Slee Arnold and Ken Spry | Edith Roberts |
| Paul Leone* | Carla J. Berryann | Margaret and John Calcagni | Joe Tooley |
| Susan Gross | Lori Mahl | Amy Blackwell | Julie and Dan Oliver |
| Jim and Linda Martin* | Mark and Carol Hewitt* | Julie Bagley | Kelly Farrow |
| Claudia and Gordon Brown | Andrew and Cari Grindem-Corbett | Deborah Owens | Joye Groff |
| Rick Labach* | James and Phyllis Dewar | Christopher and John McLachlan | Edie Webb |
| Target Circle Members | Barbara McGuire | Gene Cordon | Carol Winter |
| American Online Giving Foundation, Inc. | Elizabeth and Joseph Kahn Foundation | David Ranii* | Maggie and Todd Barlow |
| Susan and Ron Aycock* | Don and Kay Hobart | John and Terry Wall* | Larry Meisner |
| Lisa ANTHONY* | Terrence Sullivan | Roger E. Drake | Leslie and Jay Walden |
| Eric, Kim Schneider* | Ken Walsh | Larry Early and Renee Gledhill-Early | Martha Keravouri |
| Elizabeth King and Blaine Gerber* | Betsy Buford and Donald Mathews | Leigh, Pat and Courtney Pisano | John and Stephanie Mitchell |
| Marc and Marcia Kastner | Melanie Mintzer | Ruth Bromer and Joseph Huberman* | Tovah Wax and Lucjan Morazak |
| Smith Anderson Law Firm | Gwynn Swinson | Alexander and Carol Lawrence | Michael Babbitt |
| Martha Gerrity | Ann Miegs | Annie Lang | Doug Hale |
| Grace Gregson* | Joe Wolozyn* | | Pamela Bowden |
| The Warner Fund Inc. | Gene Wojciechowski and Jane Florence* | | Ellen Rising |
| Alec and Georgia Donaldson* | Deborah Keefe | | Amelia Warner |
| Lisa and Michael Sandman | Dorothy Lichtwardt* | | Gustavo Schmidt |
| Pamela Blizzard and Willis Lumpkin* | Andrew and Gwen Whiteman | | Charles Putterman |
| Robert and Connie Shertz* | Richard and Carol McNeel* | | Worth Dunn |
| Lisa and Larry Rubenstein | Richard and Donna Falvo | | Omar Benitez Grueiro |
| Joseph R. Wolozyn | Laura House | | Cheryl Fraser |
| Herbert Huene* | Jacobi and Jerry Daley* | | William L. Brideson |
| Freedom Forum | | | Mark Filiaci |
| Charles Meeker | | | Phyllis and Marty Demko |
| Greg Paul and Mary Hart-Paul* | | | Kathy Covert |
| The Hon. Nancy and Mr. Ron McFarlane* | | | Suzanne Prince |
| Simmie Kastner and Jerome Davis | | | Steve Kelly McCombs |
| | | | Carla Reck |
| ADVOCATE | ADVOCATE | ADVOCATE | Judith Gardner |
| Lucy Right | Robert Upchurch | Joe Simpson | Elaine Quagliata |
| Vanessa Luthringer | Greg Mills | Deborah Johnson | Jerry Abmayr |
| Francisco Chavez | Joan Parman | Alexander Payne | Samuel Jackson |
| Sarah Dameron | Pat Roos | Lisa Springle | Curtis Kasefang and Sharon O'Neill* |
| simone barbe | John and Elizabeth Gulley | Saba Mokry | Emily Ranii |
| Carolyn Miller and Carol Blackman | Barbara Diciero | Tammy Kniffin | Andree and Bill Stanford |
| Linda Cheatham | Jerry Oster and Trisha Lester | Chasity Walker | Mark and Judy Thompson |
| Angela Mahbooba | Carl Mulfinger | KATRINA BURUNOV | Robert Singletary |
| Sandy Pearce | Kameron Mills | Olivia Eney | Richard Adelman and Jane Pinsky |
| Debra and Bruce Gillingham | Albert Valletta | Stephen Jones | |
| Jim Smith* | Kathy Alman | Barbara Bossen | ADVOCATE (Cont.) |
| Rebecca Crosson | Barbara Kennedy | Mashae Brown | Margaret O'Connor |
| Susan Kelemen | Rabecca Klemp | John Wood | Tee Malloy |
| Robin Hammond | Cheri and Senthil Sundaram | Joyce A. Russell, Ph.D. | Sara Ward |
| Lowell Goldsmith | Elena Fedorova | John Murawski | Elizabeth Jackson |
| Arlene Wouters | Leah Riehl | Gary Evans | Daryl Lee |
| Susan Hochberg | Eugene Mumford | Dusan Popovic | Eddie Sheehy |
| Loretta Hicks | Steve Hess | Susan Weaver | Larry Bliss |
| Mary Van Wesep | Bill Albing | Carol Schlim | Bradley Walls |
| Marianne Allen | Jennifer Phelan | Heather Davies | Adrienne Kelly |
| Judy Massengill | Isaac Roldan | Wendy Snodgrass | Stephen Junior |
| Lily Mercer | Richard Telkamp | Bonnie Mwanda | Angus Bowers |
| Sarwat Khattak | Laura Teague | Loyd Thompson | Sally Collins |
| Erika Martin | Florence Lumsden | Kathleen Hall | Mike Tagliareni |
| melissa malouf | William Shelton | Mickey, James and Sandra Gault | Clara Williford |
| David & Julie Yick-Koppel | Melissa Thibault | Julia Tarasova | Jason Blackstone |
| Carey Forman | Tania Faulhaber | Joe and Edie Thompson | Taari Felice |
| Allan Bloom | Jill Ryan | John Cliffton | Jacob Henry Frantz IV |
| Siobhan O'Connor | Ellen Tim | Madison Doss | Sofia Buompane |
| Lil Galphin | Lee Shanks | Patricia Saling | Sharon Brown |
| John and Mary Nash Rusher* | Jonathan Kramer | Elizabeth Berngartt | Emmy Corliss |
| Rebecca Clark | Harald Ade | Jordan Lichtenheld | Jessamin Smith |
| Gerard and Elizabeth Hayes | George Delic | SHERRIE TOLLIVER | Natalie Turgeon |
| Freyja Helmer-Sindemark | Charlene Harless | Jane Pope | Suzanne Murphy |
| Bruce Ackerman | Jude Oliveri Burde | Stephanie Caplan | Russian Literature Book Club |
| Marty Finkel | Kimberly Conley | Mark Hartman | Julie Tomlin |
| Kay Dickersin | Gary Smith | Joseph Sullivan | Robin Barefoot |
| Ken and Betsy Kukorowski | Victoria Rubin | Ralph and Betsy Ramos | Brian Christoffersen |
| Elaine Bolle | Amber Smith | Nancy and Christian Fortunel | Joanna La Forgia |
| Colette Segalla | Peter Holub | Caroline Cataldi | Mary Bright |
| Jacqueline Weidner | Patricia Sprinkle | Jessie Bigler | Meghan Tanaka |
| Tammie Quick | Jo Licata | Thomas Mitchko | Sophie Shartzer |
| Thomas Haynes | Jeffery Woodruff | Bailey Jenkins | Chelsea Barnes |
| Roxana Bossen | John Hogan | Patrick Heenan | Valentina Moya |
| Bernard Gutin | Sara Carter | Sheri Erhart | Deb Bhattacharya |
| Kathy Honeyman | Sonja McKay | Tim Hoyt | Ami Harris |
| Julie Kagy | Andy Ewens | Geri LaPlaca | Vanh Vue |
| Lois Champion | Jane Hunt | | Terri Sherrill |
| Julie Bryan | James Lumsden | | |