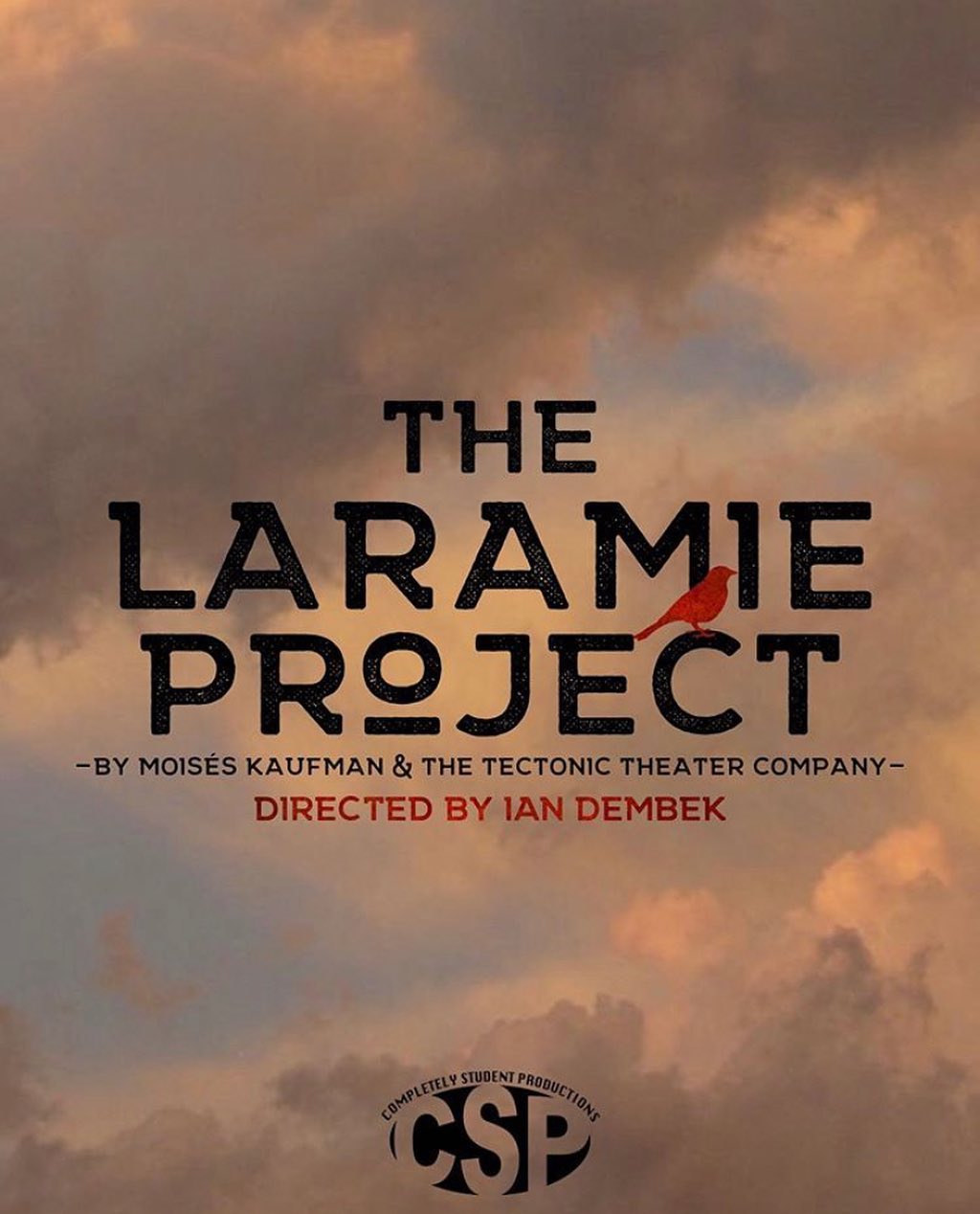 The Laramie Project

at Wagner College

by Moisés Kaufman & The Tectonic Theater Company

Directed by
Ian Dembek

Starring

Madyson Halpin
Maddie LaFerr
Sarah Ledesma
Gina Prince

Ari Paltin
Triston Qawi
Ben Sellers
Hayden Verbanas
Follow Us:
I, along with so many others, was missing theatre so much after everything abruptly shut down in March. When CSP decided to create an online season that allowed remote students the opportunity to get involved, I knew I had to apply to direct a show. When deciding which show to submit, I knew that I wanted something deep and relevant. It took a couple of tries and a failed attempt to secure rights for a different show, but I could not be happier that we were able to land on The Laramie Project. This is a show that will always be important. It is a piece of history. It exposes the hidden biases present in so many towns across America. Those biases did not start in 1998, and they certainly didn't stop then either. Times may have changed, but ideas get passed down from generation to generation. Matthew Shepard's story serves as a constant reminder of where we were, how far we've come, and how far we still have to go.We are in the midst of the most divided time in our nation's history, in the middle of a fight for equality for all oppressed minorities, during a global pandemic that has changed our way of life. I understand that no one wants to think anymore, or take in any more information. But I implore you to listen to every word of this story. You'll find the beauty within the darkness. The levity within the sorrow. The hope within the heartbreak.One of the last lines of the show asks "What's come out of this that's concrete or lasting?" After the show, I urge you to start a discussion. We may not have the power to make or enforce laws, but words hold so much power. Talk to your grandparents, your friends from home, our campus community. What steps can we take to make a difference? When we all come together, we can make this world a better place for everyone.Sit back, turn off the news for a couple of hours, and enjoy the show!
Cast
Madyson Halpin
Zackie Salmon, Amanda Gronich, Allison Mears, Romaine Patterson, Father Roger Schmit, Aaron Kreifels, Tiffany Edwards
Maddie LaFerr
Rebecca Hilliker, Reggie Fluty, Barbara Pitts, Shannon
Sarah Ledesma
April Silva, Waitress, Catherine Connolly, Zubaida Ula, Shadow, Sherry Aanenson, Eileen Engen, Sherry Johnson, Andrew Gomez, Lucy Thompson
Gina Prince
Marge, Leigh, Trish, Jen, Kristin, Minister's Wife, Eileen, Newsperson, Foreperson
Triston Qawi
Stephen Belber, Doc O' Connor, Matt Galloway, Anonymous friend of Aaron McKinney, Jeffrey Lockwood, Bill McKinney, Phillip Dubois, Conrad Miller, Rev. Fred Phelps, Juror (1&4), Russell Henderson's Mormon Home Teacher
Ben Sellers
Moises Kaufman, Dennis Shepard, Sgt. Hing, Jon Peacock, Harry Woods
Hayden Verbanas
Greg Pierotti, Philip Dubois, Jonas Slonaker, Phil LaBrie, Rulon Stacey, Gil Engen, Rob Debree, Newsperson, Judge, Cal Rerucha
Creative Team
Caitlin Conrad
Stage Manager
Dillon Burke
Assistant Stage Manager
Matt Storti
Costume/Hair/Makeup Designer
Bobbi Rene Fullerton
Technical Director & Lighting Designer
Donors
INTERESTED IN DIRECTING WITH CSP?
BE ON THE LOOK OUT FOR INFO ON OUR SOCIAL MEDIA SOON!
'THE LARAMIE PROJECT' IS MADE POSSIBLE BY GENEROUS DONATIONS BY OUR AUDIENCES JUST LIKE YOU
Please consider donating to CaitlinC1103 on Venmo, it is so greatly appreciated
Michele Pawk, Wagner College Student Government Association, and Wagner College Student Engagement and Activities Thank you for supporting CSP and student-run theatre. Our productions would not be possible without you!