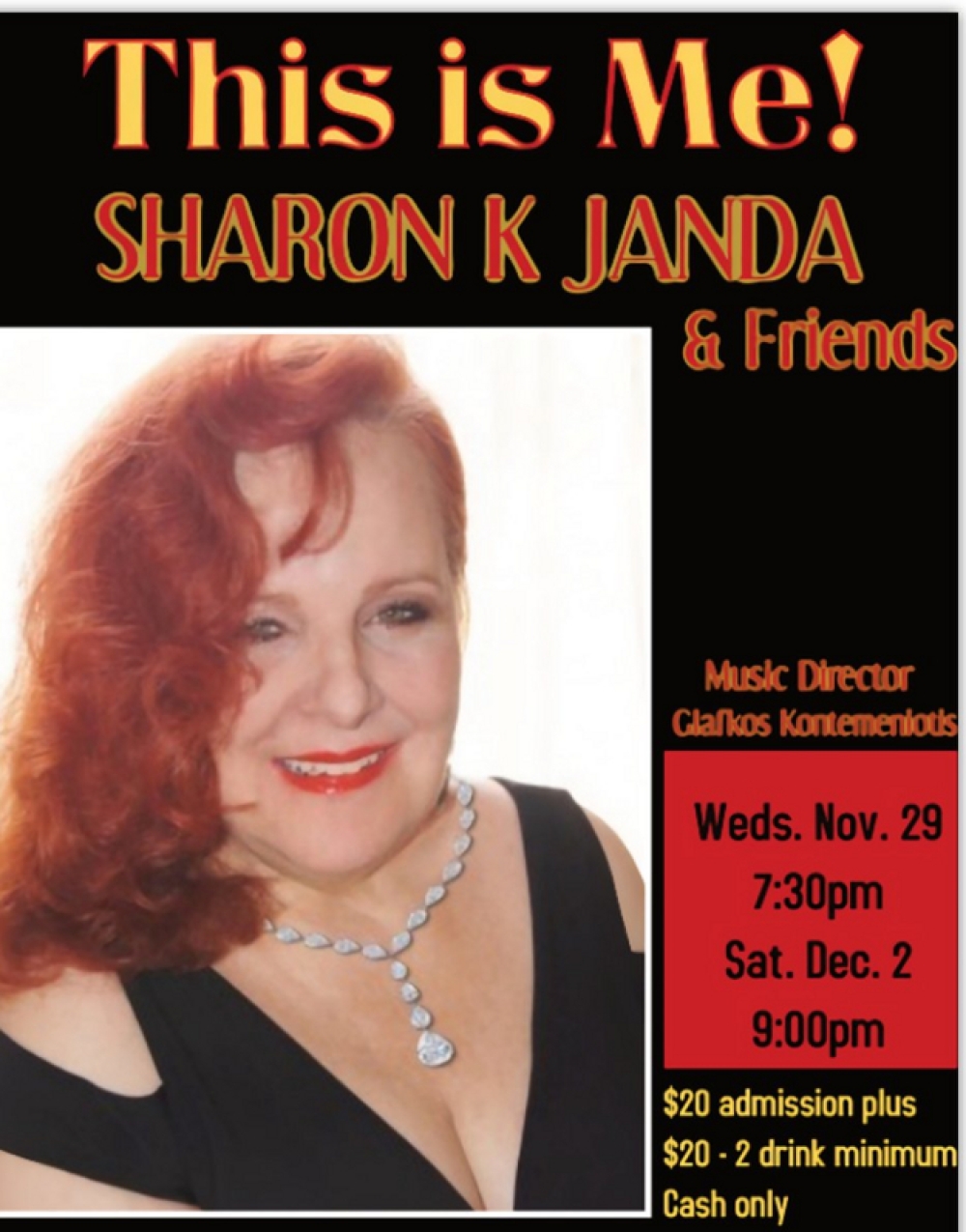 This is Me!

Sharon K Janda & Friends

Director - Mark Mindek

Musical Director - Glafkos Kontemeniotis

Weds. Nov. 29, 2023 - 7:30PM

Sat. Dec. 2, 2023 - 9:00PM

Don't Tell Mama - 343 W. 46th Street, NY, NY 10036

Tickets - $20 + $20 minimum 2 drink purchase (cash only)

Click for reservations - Nov. 29

Click for reservations - Dec. 2
Follow Us:
Cast
Sharon K Janda
Principal Vocalist
Glafkos Kontemeniotis
Musical Director / Piano
Daniel Bennett
Saxophone / Clarinet
Christopher Hoffman
Cello
Creative Team
Jaimie Froemming
Costume Stylist
Debbie Lannen
Production Manager
Meet the Company
Sharon K Janda
Principal Vocalist
Sharon K Janda has the grit of her Motown roots and the variety and magic of Broadway. Having sold out Detroit and NYC venues in the past, she once again brings her talents to Don't Tell Mama with her all new show, This is Me! Sharon K Janda & Friends. Backed by world class musicians and vocalists, Sharon takes you on a unique musical journey. Sharon is a featured singer with the Duke Ellington Center for the Arts having performed at Birdland. Sharon has also recently taken her show on the road to beautiful Puerto Vallarta for a limited engagement with plans to return in 2024. She is currently collaborating on a new theatre work that will bring a legend of the past to life.
Glafkos Kontemeniotis
Musical Director / Piano
A jazz pianist and composer originally from Cyprus, "mesmerized" by the sounds of jazz at an early age, Glafkos Kontemeniotis has been an active performer, arranger and composer since he moved to New York in 1988. A side man, pianist and arranger for many well received recordings, he has released his first recording as a leader entitled "Progress" in 2010. His second release as a leader entitled "Yugen" released in September 2019 , features a program of all original compositions and a few of New York's finest musicians, Joel Frahm, Marcus Maclaurine and Dave Meade. His work has been described as "unmistakably personal", a sound that incorporates elements and echoes from various musical and emotional experiences.
Charly Kay
Vocalist
Charly Kay is a third generation musician and entertainer with over two decades of experience in the industry. Charly is known for her powerful vocals, ability to play around with harmony/ melody and her attention to musical detail. With influences ranging from jazz all the way over to rock and nearly everything in-between, Charly has an eclectic view of how music can be sung and leans into every opportunity to make every song her very own, while still paying homage to the artists that came before her and paved the way.
Izze Stein
Vocalist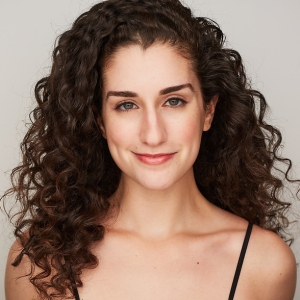 Izze Stein (she/her/hers) is a singer/songwriter in NYC. She performs regularly at Birdland, the Wallace Lounge, the Ellington, Prohibition, and the Arthouse Hotel. She also has made appearances at the Apollo, Nublu, the Flatiron Room, Smalls, the Duplex, Mezzrow, the Green Room 42, and 54 Below. Izze writes and sings her original music all over NYC; she is a Sofar Sounds artist and earlier this year released her first music video of her song, "Talk To Me."
Tony Lannen
Bass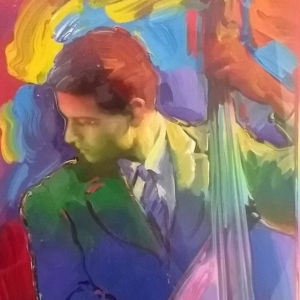 Tony Lannen has been a professional bassist since the age of 12. Originally from Detroit, MI. he has called NYC home since 2010. Tony follows in the footsteps of his mentor, renowned bassist, Bob Cranshaw and brings passion and expertise to each and every gig. His Motown roots come through as well as his classical training. Tony enjoys playing with a variety of musicians and can be heard at numerous venues throughout the NYC area.
David Gibson
Drums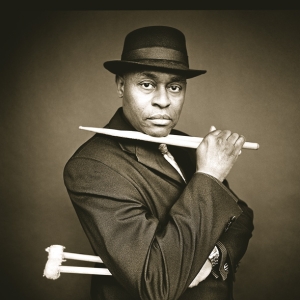 Philadelphia born musician David F. Gibson is paving his way toward that pantheon of jazz. greats. Paying all the dues required to develop his prodigious talent. Gibson has earned an impeccable reputation in the jazz world. He's one of the rare drummers who can jump into any groove and swing or stretch out dynamically. dynamically. David connects the audience to an experience of jazz as an entertaining and challenging American art form.
Daniel Bennett
Saxophone / Clarinet
Saxophonist Daniel Bennett is a touring woodwind performer and composer. The Boston Globe described Bennett's music as, "a mix of jazz, folk and minimalism." Daniel Bennett has been featured in Timeout New York, Baltimore Sun, NPR and the Boston Globe. Daniel Bennett Group was recently voted 'Best New Jazz' in Hot House Magazine. Bennett is a touring clinician and associate director of the New York Jazz Academy in Times Square. Daniel Bennett's theatrical works have strongly influenced his eclectic sound and musical storytelling as a composer. Daniel Bennett is an endorsing artist for Morgan Mouthpieces.
Christopher Hoffman
Cello
Christopher Hoffman is a cellist, composer, producer, engineer and filmmaker. He has worked with Yoko Ono, Henry Threadgill, Iron & Wine and Bleachers. He currently performs in Henry Threadgill's Pulitzer Prize winning ensemble Zooid, Anat Cohen Tentet, Kenny Warren Trio, Tony Malaby, Michael Blake, and Darius Jones. Christopher continues to create his own projects.
Mark Mindek
Director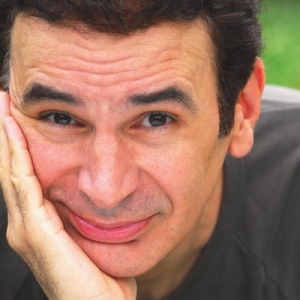 MARK MINDEK is excited to be working with Sharon Janda and her wonderful collection of song – "This is Me." He is a graduate of the Hartford Conservatory and has been teaching and performing for over 40 years as a dancer (stilt, modern, jazz, historical, ballroom), actor, and mime. He has toured nationally and internationally thanks to his work with Alice Farley Dance Theater, New York Historical Dance Company, Friends in High Places, Renaissonics, Piffaro, and I Giullari di Piazza. He is currently a dancer at the Metropolitan Opera and was stilt consultant for the Met's "Eurydice" and for Broadway's "Big Fish". He can be seen in the movies: "Enchanted", "Cradle Will Rock", "The Night Before", "Here Today" (directed by Billy Crystal) and on TV in "The Black List" (as hand double for James Spader).
Jaimie Froemming
Costume Stylist
Jaimie brings over 20 years of expertise to This is Me! She has an amazing eye for detail and color. Her patternmaking brings her creative new ideas to life. Jaimie has been Sharon K Janda's costumer designer for her previous two shows. Her Broadway credits include working on such shows as Here Lies Love, Tina-The Tina Turner Musical, and Beetlejuice the Musical.
Debbie Lannen
Production Manager
Debbie Lannen has been the production manager for Sharon K Janda's two previous shows in Detroit & New York. She currently resides in Florida. She was the Creator and Artistic Director of the Still Got It Players, a senior acting troupe for actors over the age of 50, with troupes in Michigan and Florida. Debbie is also a published author with six books and several plays to her credit. During the pandemic, Debbie created the Pass the Time Players and recorded 45 recorded stories for families to share at no cost with their family and friends.