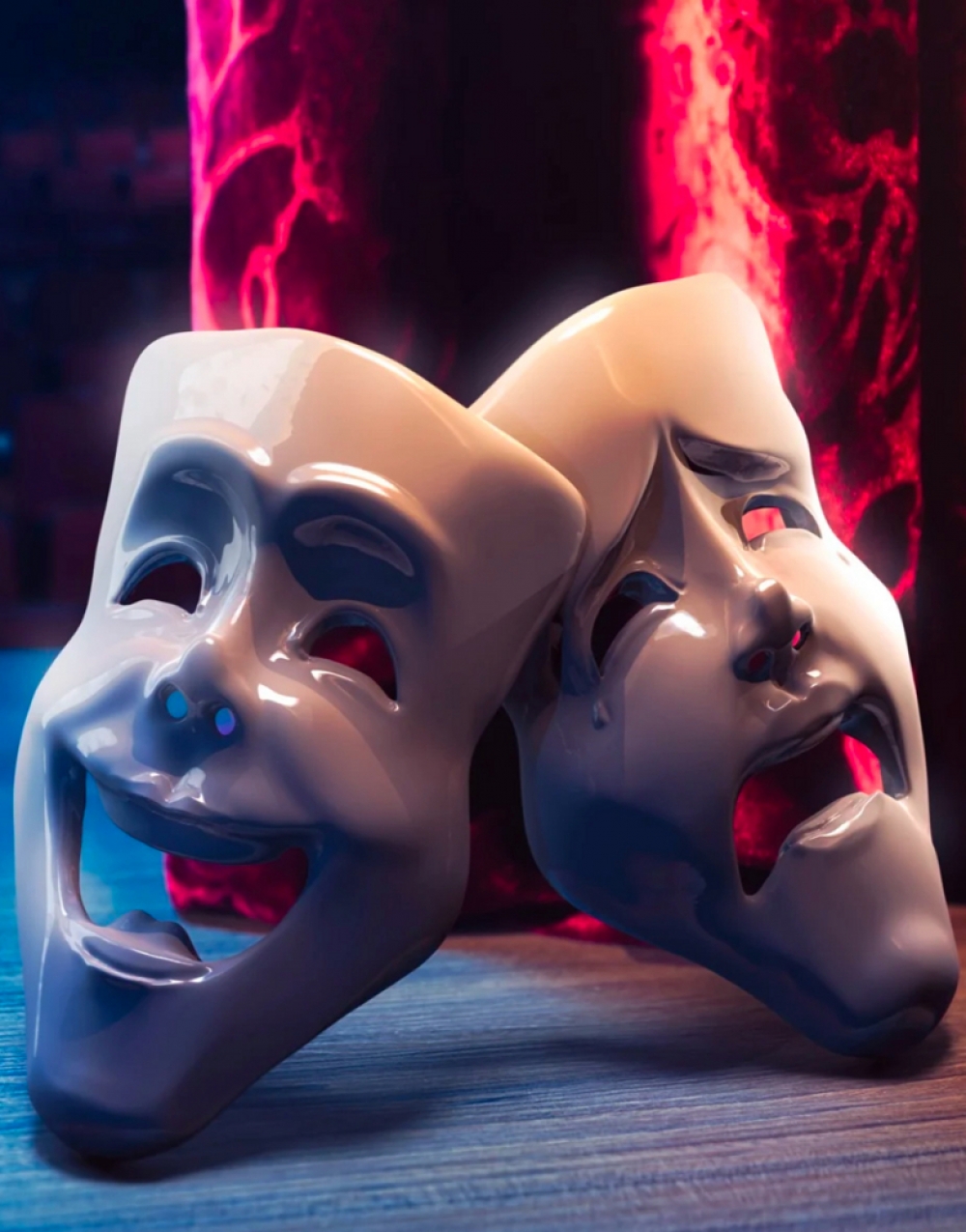 Cast
Darlene Foster
Dr. Amanda Scott
Lisa Hernandez
Office Worker - Jennifer
Shelly Rose Sherman
Actress
Decebian Hartwell / DC The Comedian
Chase (Boyfriend)
Creative Team
Angela Perkins
Director/Writer
Desmand Rosenthal
Actor (Nick Rahem)
Richelle Mayes
Cast (Joshua's Daughter)
Kenneth Sanders
Dr. Wright
Meet the Company
Darlene Foster
Dr. Amanda Scott
Darlene Foster, a native of Detroit, Michigan, is newly retired from M.D. Anderson Cancer Center in Houston, Texas. She began her acting career approximately 10 years ago by joining the drama ministry at her church. Since then, Darlene has had leading and supporting roles in eight stage plays. Darlene's goal is to continue to perform in stage plays with the hopes of one day moving to film. Darlene enjoys traveling shopping and crafting in her spare time.
Lisa Hernandez
Office Worker - Jennifer
FILM The Pickle Jar To Be Loved Defiance TELEVISION Claws Ep. 301 THEATRE Bed, Bethlehem & Beyond Somebody Else's Husband Somebody Else's Husband II Somebody Else's Husband III But, He said He loved Me The Blood Still Works Fluent Spanish, Improv, Voice Over, Commercial Drivers License: Class B license
Shelly Rose Sherman
Actress
Eminently known as "Shelly Rose" Sherman. I have 22+ years collective background with Theatre Arts, including Film, Print & Runway Modeling, dance, dramas, and musicals such as Stage Plays & Voice Narration. I started my career by performing in church shortly after starting my family in 1997. Surprisingly, my first love was sports journalism however, I always had this passion and yearning desire to be in front of crowds and the camera! I was self-motivated and with my spiritual guidance I grew to appreciate my special God given talent of Theatre and Dance, but then felt the call to blossom and share my talents on a broader spectrum. I have starred in a variety of films over the years. Notably, for "The Widow's Heart", "The Capstone Saga", and "Sorrow: The Movie". I have done commercials and countless theatre projects, one of them being the highly acclaimed stage production "A Raisin in the Sun" written by Lorraine Hansberry. In recent, I have partnered with "Plus Size African Model", a modeling organization focusing on the beauty and brilliance of all plus size women of color, and I am actively serving as a brand ambassador. I am grateful every day for the opportunities and blessings that are given. One of things that keeps me not just motivated but also humbled is the excitement about this journey of breaking barriers and being proclaimed in this industry. I am focused and ready to take the world by storm!
LaWanna White
Jesse
LaWanna White is a veteran actress, whose passion for the arts has achieved her many rolls. Ms. White has performed on many stages throughout her career. She is on the creative arts committee at her local church, where she teach youth to perform and praise dance. LaWanna has been casted in Shadow Box, Alley Ways, The Color Museum, Shout Hallelujah ,Amen Corner, Behind Closed Doors and many more. In 2014 she was inducted into the Encore Theatre Hall of Fame, under the direction of Mr. Harold J. Haynes. LaWanna is a native of Springhill, Louisiana and came to Texas and discovered that the stage was where she belong. She continued her works, making the stage her home.
Decebian Hartwell / DC The Comedian
Chase (Boyfriend)
Biography of "DC The Comedian" Pure, Humorous, High Spirited, Unlocked, and down to earth, describes the amusing talent of the one and only "DC The Comedian." Born and raised in Houston, Texas as Decebian Hartwell, Decebian was known to crack jokes and make people laugh. From family gatherings, playgrounds, turning bullying comments to jokes, and being the class clown, "DC The Comedian" have been making people laugh his entire life. Using his life story of being raised by his mother, grandmother, grandfather, uncles and aunts has allowed "DC The Comedian" to turn his struggles into laughter making his audience relate to what he has experienced growing up. While serving in the US military, "DC The Comedian" discovered his talent and his life calling of using his God given ability to make people laugh with clean comedy. Growing up in a family of preachers, "DC The Comedian" uses clean comedy to entertain the world from the pulpit to the radio. "DC The Comedian" has performed as a comedian and a host at churches, schools, banquets, parties, the Comedy Showcase, Laff Stop, Cruises, The J Spot, The Comedy Store, The Improv, co-hosted a radio show, and many others. He has performed with such well known comedians as Jonathan Slocumb, Tommy Davidson, Damon Williams, Huggy Lowdown, Chris Paul and Marcus Wiley just too name a few. "DC The Comedian" won 1st Place in Houston, Texas in The Search For The One Comedy Talent hosted by Comedian AKINTUNDE. Comedian, Host, Actor and Director are just a few gifts that God has blessed "DC The Comedian" with to entertain the world. "DC The Comedian" performs in numerous stage plays where he performs comedic and dramatic roles. "DC The Comedian" has acted in a movies with IMDB and appeared in commercials in surrounding areas and abroad. "DC The Comedian" is not only funny as a standup Comedian but has been reviewed as one of the funniest and dramatic actors on stage. "DC The Comedian" has performed on stage with actors such as Tiny Lister, Darren Dewitt Henson, Rapper T-Bone, and singer Tonex a.k.a B Slade. "DC The Comedian has been on set of Tyler Perry's "The Have and The Have Nots." Because of his amazing acting and comedy skills, "DC The Comedian" created two characters, Deacon Brotha Smoove and Sis. Okra Jackson two characters that will keep the crowd laughing and falling out of their seats. Wanting to expand his comedy, "DC The Comedian" and his wife Ursula are the owners of their own production company AAA Productions. Because of his amazing talent and love for people, "DC The Comedian" has owned and hosted his own radio show, The "DC" Show LIVE a blog talk radio show. The "DC" Show LIVE was a clean comedy talk show that was designed to keep people laughing and empowered with trendy and life related topics, special guests, and giving people the opportunity to advertise their businesses as well as their gifts and talents. Borrowing the dirt free, fresh, skills from some of the greatest humorists like Bill Cosby, Jonathan Slocomb, Sin Bad and Flip Wilson, "DC The Comedian" has this unsoiled blend down to a fine art. Bring the entire family! This act is all clean and all funny. "DC The Comedian" will have you screaming with laughter and rolling out of your seat. With three children and a wife of 30+ years as his support, manager, and motivator, he uses this flouter for most of his comic material. "DC The Comedian" will keep it real for all to hear. For more information on DC THE COMEDIAN please visit his website at www.dcthecomedian.com, facebook:@dcthecomedian and facebook:@decebianhartwell, Instagram@dcthecomedian, IMDB.com
Angela Perkins
Director/Writer
Out the Ordinary Production aim is to deliver the best in inspirational entertainment. Having passion and Integrity in our work is the heart of our company. The company was started by Angela Perkins in 2020. She left Corporate America to pursue her own business in entertainment. Angela's first production titled To Feel Loved was scheduled to film in late March 2020 but was postponed by a Pandemic that hit the nation rapidly. Later in 2020, she decided to film the project. Angela's first two short films were selected to several film festivals and won Best Family Short and a Silver Remi Award . She was ready to touch lives on a personal level by bringing live entertainment to stage. Her stage play, To Feel Loved will put on stage May 15, 2022. Angela also have acted in several Houston's stage plays, films and tv shows in Houston.
Tayia Revis
Erin
Tayia Revis made her acting debut in the hit stage production, "Daughters of the King" written and produced by Antoinette Brown of Jesus Always Bringzit Ministries in 2012. Since then, she has appeared in over 20 film and theatre productions. During her 11-year acting career, Tayia has worked alongside of actors such as E. Roger Mitchell, Keith David, Tony Vaughn, and Queen Latifah. Tayia's passion for the entertainment industry has inspired her not only to become an actress but writer an director as well. Tayia believes, to be successful in this industry you must commit and prepare yourself spiritually and mentally. By preparing she has taken acting development classes with Dale Jennings at Metro Wealth Studios in Atlanta, GA, Troy Rowland Acting Class in Houston, TX and continues to take one-on-one lessons with her current acting coach and mentor George Mc Lean, Atlanta, GA. Just to name a few, Tayia is inspired by Actress Angela Bassett, Viola Davis, and Regina King. And hopes to one day work alongside of her acting protégé Actor Denzel Washington. Demo reels can be viewed on Youtube listed, "Tayia Revis Demo Reel."
Desmand Rosenthal
Actor (Nick Rahem)
Desmand Rosenthal ia a father of four boys which fuels his passion for excellence in the arts.Desmand has received numerous awards in his 8 years on stage such as ; most improved actor, Best male vocalist, Best male actor performance, and Best male comedic performance.For all of the gifts GOD have given the only thing to say is " To GOD be the Glory".
Richelle Mayes
Cast (Joshua's Daughter)
My name is Richelle Mi' Angel Mayes. I am a middle school student, first time acting on stage. I have always dreamt of acting and performing on stage. Although I'm an introvert, I enjoy singing, writing short songs and creating dance moves. Skills: church soloist, choir member and praise dancer. I'm so excited about working with the cast and producer, thankful and grateful for this opportunity to be a cast for Out the Ordinary Production.
LaTonya Muttilib
Shannon
LaTonya Muttilib brings you Greetings all the way from Houston, Texas! She is a local upcoming actress who has graced the stage for many years with her talent! You have seen her on Amazon Prime, in Featured Short Films, Hit Stage Plays, and many Live Theater Performance's. She has starred in numerous projects by; For The King Productions, AWJ Productions, & Out of The Ordinary Productions! She has been a guest on The Brandon Holt Show, The New Vine Talk Show, & KPRC Channel 2 News! LaTonya looks forward to starring in the Hit New Stage Play To Feel Loved by Out Of The Ordinary Productions this summer! Keep ya eye out for this one!
VonFrederk
Acting Coach
A Native Houstonian I'm a singer, songwriter and Actor. Also a Radio Show Host as well as Emcee for multiple stage plays and other events. Voice Over Specialist and Entertainer .
Kenneth Sanders
Dr. Wright
Kenneth Sanders is a new actor to the Houston scene, but he is excited to be a part of this amazing production. He will be lending his acting skills and voice to bring the vision of Angela Perkins to life, and he is honored to be a part of this cast of experienced professionals.