We Can All Relate
Presented by CHS Thespian Troupe #3151
8 student-directed short plays about relationships
Directed by
Kairi Tull Ava Thierry Isaiah White Nathan Brown
Follow Us:
*indicates member of Thespian Troupe #3151
We Can All Relate is a production made up of 8 student-directed short plays. Each director was given 2 plays with different takes on a type of relationship.
---

mother/daughter: Directed by Kairi Tull*

Miss Kentucky by Allison Williams
Jean: Kairi Tull*
Shayleen: Karla Ramirez

The Unknown Part of the Ocean by Sheri Wilner
Carolyn: Jocelyn Naxi*
Sophie: Ivori Treakle
---

romantic: Directed by Ava Thierry*

The Scary Question by Wayne S. Rawley
Linda: Emma Leimbach
Brian: Conor Berry*

Post-its® (Notes on a Marriage) by Paul Dooley and Winnie Holzman
Actor: Eli Atkins*
Actress: Kaitlin Burton*
---

friends: Directed by Isaiah White*
Clark and Bruce by Bruce Kane
Clark: Dennis Lux*
Bruce: Wyatt Crutcher*
Waitress: Jasmine Gentry

The Tie created by the Performing Arts Department of The Shipley School
Paul: Nathan Brown*
Mike: Luis Mendoza*
---

student/teacher: Directed by Nathan Brown*
From the Mouths of Babes by Eva Anderson
Davey: Isaiah White*
Kimberly: Kaelyn Brassfield
Eli: Eli Cooper*
Miss Havisham: Shirley Flores

adult chicken nuggets aren't as fun by Tanner Devore*
Miss Ellie: Kairi Tull*
Hunter: Nora Larson
---

Stage Managers: Kaitlin Burton*, Dennis Lux*
Stage Crew: Ava Thierry*
House Managers: Luis Mendoza*, Ava Thierry*
House Crew: Nathanael Atkins, Carley Earle
Tech Director: Eli Cooper*
Student Directors
Kairi Tull
Student Director
Ava Thierry
Student Director
Isaiah White
Student Director
Nathan Brown
Student Director
Kairi Tull
Student Director
Miss Kentucky:
I knew from the moment I read this play that I wanted to be a part of it in some way. This play as a whole has been a bit of a rollercoaster. Due to some unfortunate circumstances we were short a lead one week before the show. I decided since I knew the show to step up and play the role of Jean, the southern, pageant mom. My confidence in taking the role wouldn't be possible without the other amazing actress in this play. The role of Shayleen was played by Karla. Karla immediately picked up on the role and knew immediately what I needed from her as Shayleen. She was the best actress I could ask for, for this role. Miss Kentucky didn't go perfectly, but I had an amazing time working on this play.
The Unknown Part of the Ocean:
When I was given the opportunity to direct this beautiful play I have to admit I was beyond excited, but a little scared. This play requires a lot of dynamic movement that the director needs to assist in. Luckily, I was given an incredible cast. The part of Sophie was played by Ivori. Though the role of Sophie was by far the most difficult to learn, they took it with full force and killed it. The role of Carolyn is played by Jocelyn. I had never seen Jocelyn in a serious role like Carolyn, especially a role that involves being sick and showing serious emotions. Boy, did Jocelyn blow it out of the water and impress me with her incredible talent. I had such a great time directing this play. Finally being able to be in charge of lights and stage directions really was a great time. I can only hope I get the opportunity to do it again.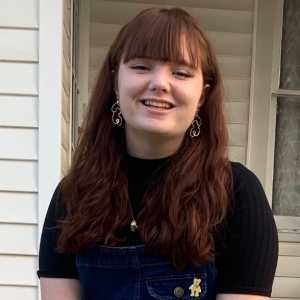 Ava Thierry
Student Director
The Scary Question:
This is my third year with the Clinton High School Theatre. This year I got my first opportunity to direct in We Can All Relate. The Scary Question had some complications due to quarantines, but the actors managed to put together an awesome act nonetheless. I've been really excited to see this ridiculous show put into action ever since auditions, and the cast managed to bring out all of the right energy to make it amazing.
Post-Its (Notes on a Marriage):
The actors got this one down right away, and we had a lot of fun at practices while trying to refine it. My first impression of this show was that it was going to be dramatic and sweet, and I think the cast members showed those qualities perfectly to give viewers a nice, heartfelt show.
Isaiah White
Student Director
Clark and Bruce:
Clark and Bruce was a fun one to work on. The two main actors, Wyatt Crutcher and Dennis Lux, I have known for a long time and enjoy watching them act. The two of them have made practices hilarious and always eventful. It is also great to see someone new to theatre joining our piece, and I always enjoy seeing the potential new actors give.
The Tie:
The Tie is a sad story, and the two actors involved, Luis Mendoza and Nathan Brown, bring out the drama of the scene excellently. It was great to work with these two; both of them are amazing actors and worked very well together. I think the feeling both of these characters have will speak out to many people, and I'm glad to share this well-written short play with others.
Nathan Brown
Student Director
From the Mouths of Babes:
This play was definitely my number one choice to direct. Just being able to have something that was this over the top comedic is exactly what I'd want out of something like this. Especially considering how quickly my cast took the script to the next level with phenomenal acting, in my opinion. I was most familiar with Isaiah White, who plays Davey. Isaiah and I debuted in the same show together, Clue, where he played Wadsworth, the butler, and (spoilers) was an amazing surprise antagonist. He was obviously my top choice to cast as Davey, so I recommended him to Lisa vehemently. This absolutely isn't to take away from the rest of the cast who performed better than I could've hoped. Many of them were newer to being on the stage, but still, the show wouldn't have come together without them. I couldn't be happier with how From The Mouths of Babes turned out, and I hope you enjoy it, too.
adult chicken nuggets aren't as fun:
This play is a bit more unorthodox than the others. Firstly, this play wasn't at auditions and we weren't given the scripts until it was already cast. This is with good reason, as it was written by a Clinton Theatre Alumnus, Tanner Devore. I walked into the first rehearsal, and the only thing I knew about the play was that it handled "sensitive topics". I was thrilled to see Nora Larson and Kairi Tull on my cast list for this play. I've seen Kairi Tull in particular take on many brilliant roles, but I was excited to see her in this role after years of joking about her being an English teacher. I saw wonderful chemistry between these two, on stage and off, and I was frankly blown away. It was so relieving being able to go from working on From The Mouths of Babes, which had lots of blocking, multiple tone changes, and lots of quick back and forth, to just being able to sit with two of my friends and put together a touching scene about a kid and her teacher. While this play definitely doesn't have as many bells and whistles as the others, it's definitely earned its place on the stage in my eyes.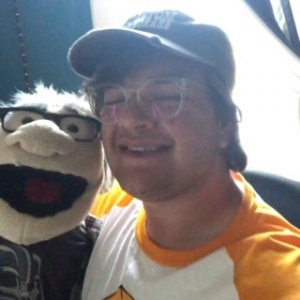 Tanner Devore*, writer of adult chicken nuggets aren't as fun
(Thespian Troupe #3151 Alumnus)
Tanner Devore is currently pursuing his BA in Acting with an emphasis in Directing at Concordia University. He had the absolute pleasure of working with the creative team for We Can All Relate as a playwright. Currently residing in Southern California, he hopes to pursue film acting, playwriting, and own a beach dog. Or several.
Learn More About Stage Mag