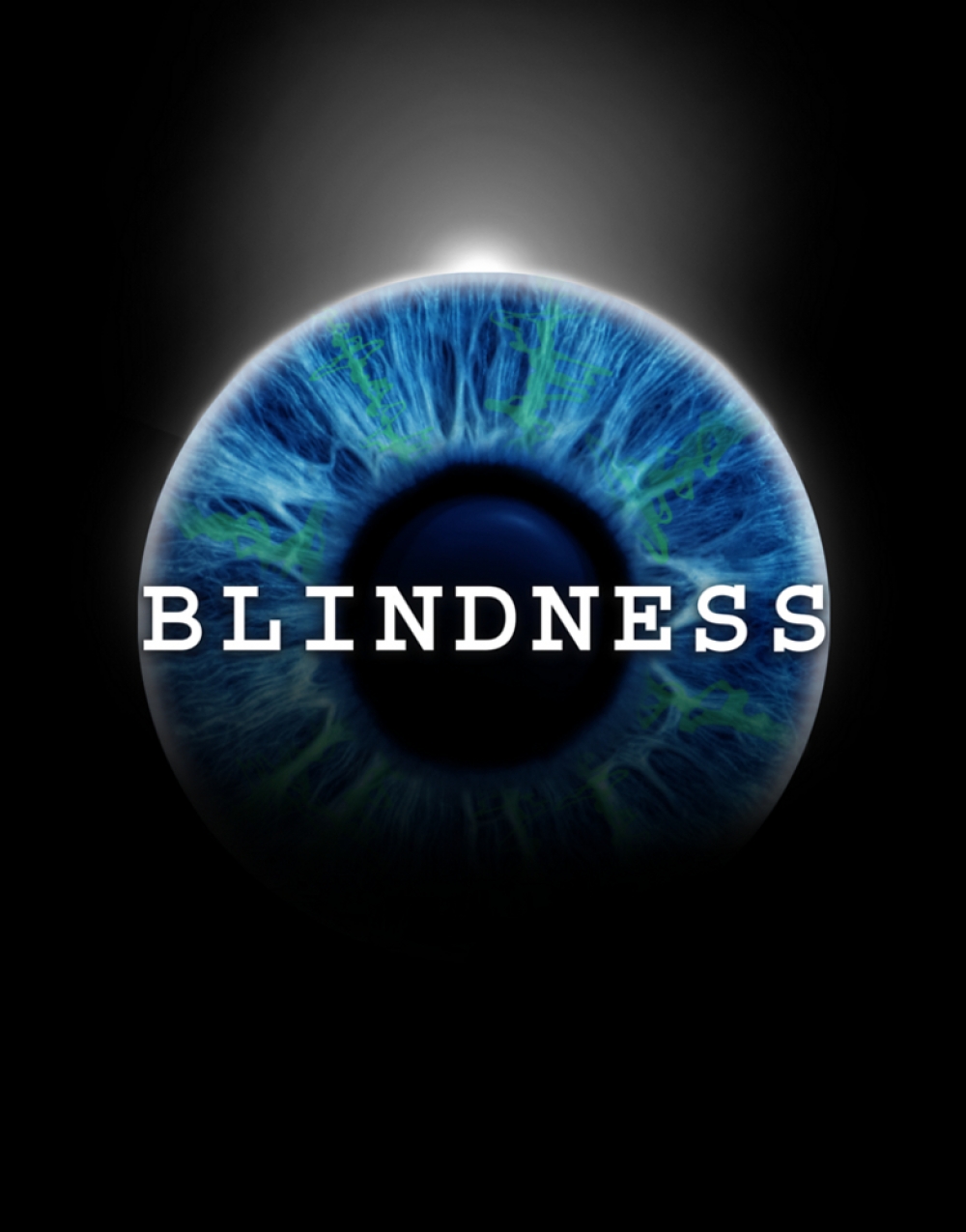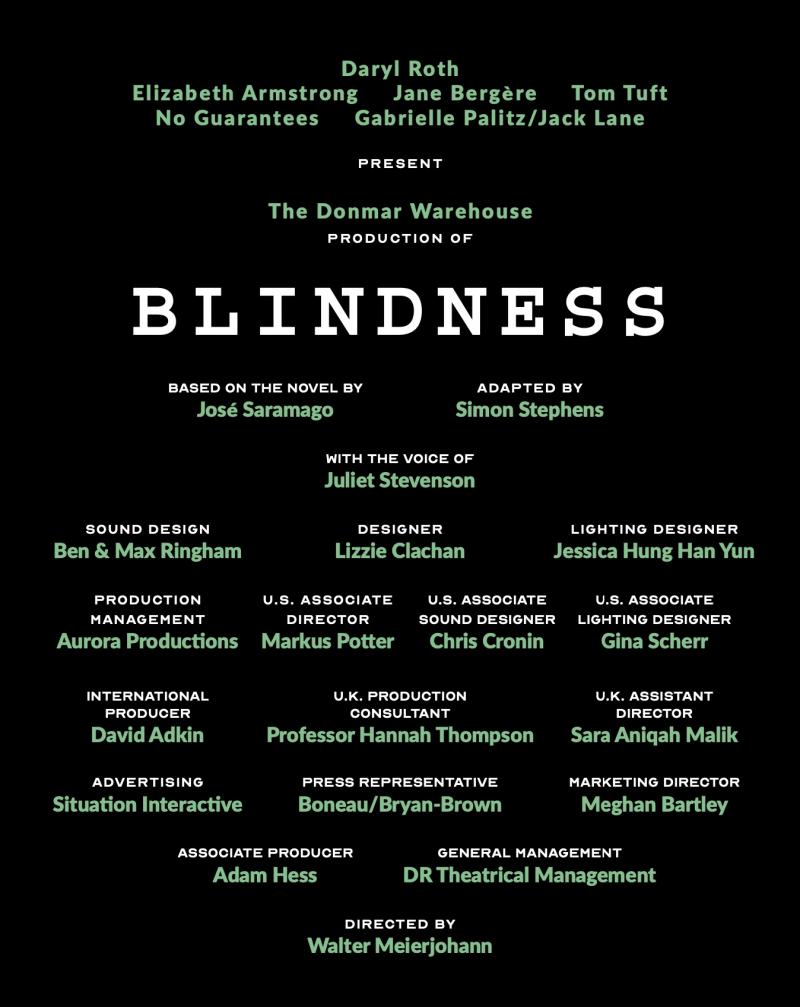 Follow Us:
ABOUT BLINDNESS
Blindness is a socially distanced sound and light experience. Through spellbinding storytelling narrated by Olivier Award winner Juliet Stevenson, it unveils the gripping story of a world changed forever in the blink of an eye, reminding us that from the darkness, we will all emerge stronger.
Blindness's sold-out premiere at the Donmar garnered glowing reviews and brought appreciative patrons together to witness its urgent and timely message. Just as it was presented in London, attendees in New York will hear the narrative unfolding around them through binaural headphone technology while surrounded by immersive lighting and atmospheric design, and experience together – safely – the importance of community in our present moment.
COMPANY
JULIET STEVENSON
Voice of the Storyteller/Doctor's Wife
SIMON STEPHENS
Playwright
JOSÉ SARAMAGO
Original Author
WALTER MEIERJOHANN
Director
BEN and MAX RINGHAM
Sound Designers
JESSICA HUNG HAN YUN
Lighting Designer
MARKUS POTTER
U.S. Associate Director
CHRIS CRONIN
U.S. Associate Sound Designer
GINA SCHERR
U.S. Associate Lighting Designer
SARA ANIQAH MALIK
U.K. Assistant Director
SITUATION INTERACTIVE
Advertising
MEGHAN BARTLEY
Marketing Director
DR THEATRICAL MANAGEMENT
General Management
AURORA PRODUCTIONS 
Production Management
ELIZABETH ARMSTRONG
Co-Producer
NO GUARANTEES
Co-Producer
GABRIELLE PALITZ
Co-Producer
DAVID ADKIN
International Producer
THE DONMAR WAREHOUSE
Original Producer
Multimedia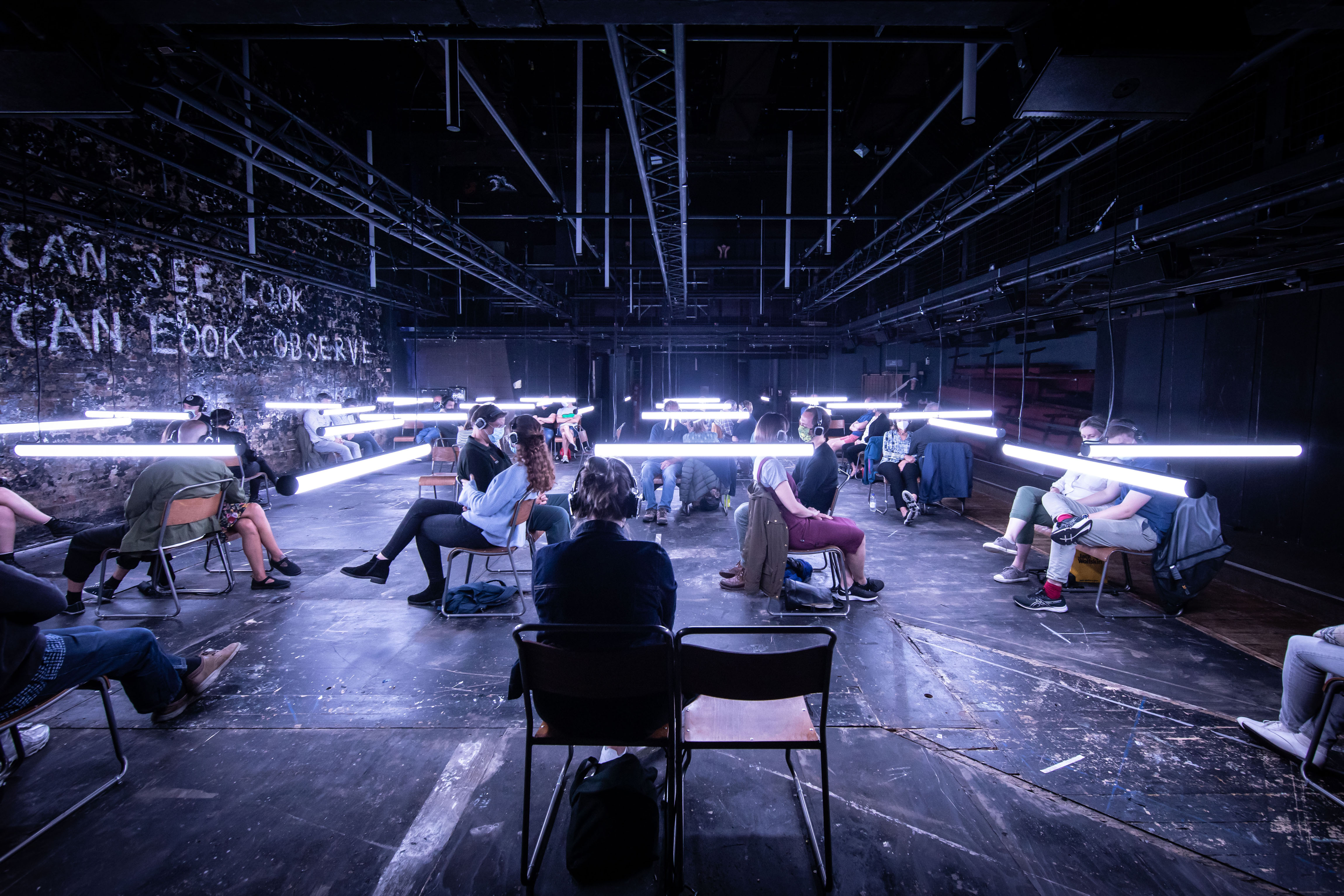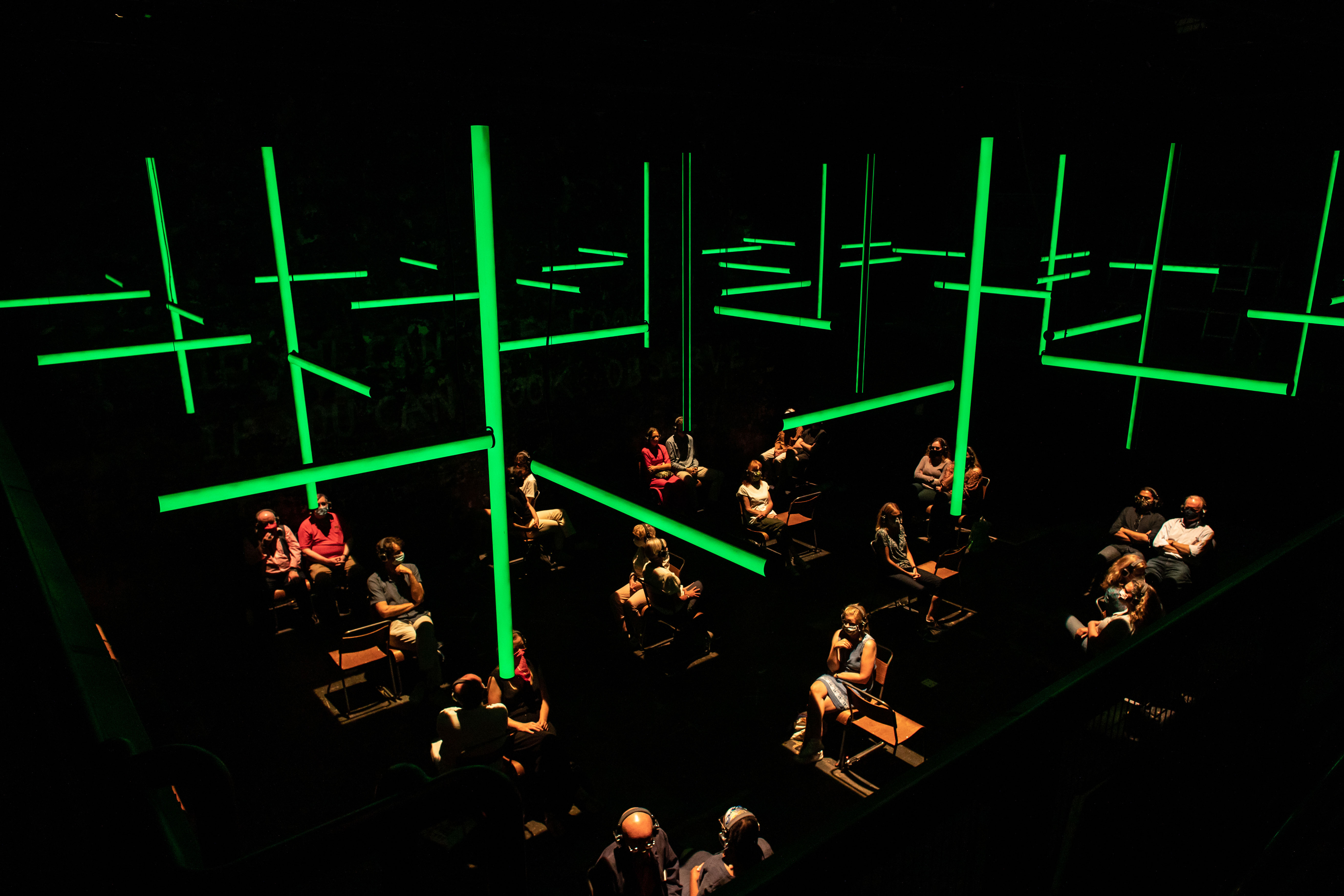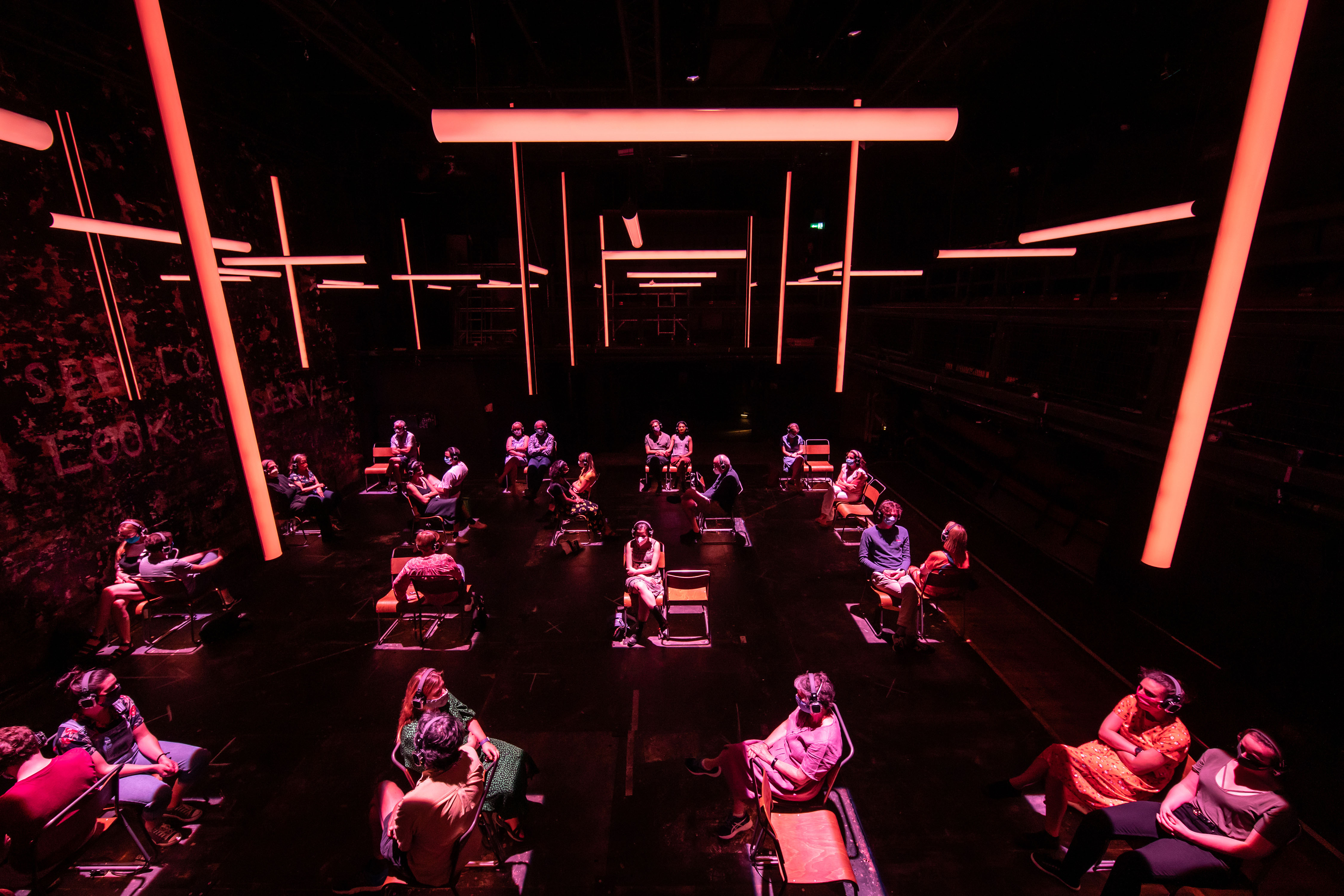 STAFF FOR BLINDNESS
GENERAL MANAGEMENT
DR THEATRICAL MANAGEMENT
Kyle Provost, Grant A. Rice, Adam Hess
Emily Currie, Christophe Desorbay, Samantha Grubner
PRESS REPRESENTATIVE
BONEAU/BRYAN-BROWN
Chris Boneau
Michelle Farabaugh, Imani Punch
ADVERTISING
SITUATION INTERACTIVE
Damian Bazadona
Jeremy Kraus, Rian Durham, Mara Milgrom
Stephanie Sciandra, Nikki DeGisi, Jacqui Thomas
MARKETING DIRECTOR
Meghan Bartley
PRODUCTION MANAGEMENT
AURORA PRODUCTIONS
Ben Heller, Liza Luxenberg, Ryan Murphy,
Chris Minnick, Luke Ricca, Steven Dalton,
Martijn Appelo, Michael Gurdo,
Tor Rametta, Jack Rhea, Cori Gardner
COMPANY MANAGER
Bob Brinkerhoff
LITERARY MANAGER & EXEC. ASSISTANT TO MS. ROTH
Megan Smith
ASSISTANT TO MS. ROTH
Christophe Desorbay
RUN CREW A
Tor Rametta
Vadim Malinsky
RUN CREW B
Michael Gurdo
John Chapman
LIGHTING PROGRAMMER
Grant Wilcoxen
PRODUCTION LEGAL COUNSEL
Lazarus & Harris LLP
ACCOUNTING
Marks Paneth LLP
BANKING
City National Bank
PAYROLL
Falcon Paymasters
INSURANCE
Owens Group

STAFF FOR DARYL ROTH THEATRE
ARTISTIC DIRECTOR
Daryl Roth
GENERAL MANAGER
Erika Feldman
BOX OFFICE TREASURER
Kelsey Kennedy
MANAGER OF FACILITIES & PRODUCTION
Kyle Brodie
HOUSE MANAGERS
D. Ajane Carlton
Jessica Torres
ASSISTANT HOUSE MANAGERS
Kelly Webb
Samantha Colon
USHERS
John Bracken, Lillian Cole, Louise Crossan, Alyssa Finfer,
Benjamin Grubner, Rebecca Hoi, Anjelica Mitlisky,
Veronica Perez, Tristan J. Schuler, Kristina Tannenbaum
PORTERS
Abel Lozado
Tammy Rosser
STAFF FOR THE DONMAR WAREHOUSE
ARTISTIC DIRECTOR
Michael Longhurst
EXECUTIVE DIRECTOR
Henny Finch
SENIOR PRODUCER
Caroline Dyott
DIRECTOR OF MARKETING
Abby Corfan
CASTING DIRECTOR
Anna Cooper CDG
PRODUCER
Nick Morrison
SPECIAL THANKS
Allison Lee, Daniel Cain, Daniel Vardaro
WARNING
The photographing or sound recording of any performance or the possession of any device for such photographing or sound recording inside this theatre, without the written permission of the management, is prohibited by law. Violators may be punished by ejection and violations may render the offender liable for money damages.
FIRE NOTICE
The exit indicated by a red light and sign nearest to the seat you occupy is the shortest route to the street. In the event of a fire or other emergency please do not run – WALK TO THAT EXIT.

Thoughtless persons annoy patrons and endanger the safety of others by lighting matches or smoking in prohibited areas during the performances and intermissions. This violates city ordinance and is punishable by law.

In the event of Fire, please proceed quietly to the nearest exit. Exits are located where you entered the Theatre Complex. There is no smoking anywhere in this Theatre or in the Theatre Complex, including, lobby, stairways and restrooms.