COCK

at Holden Street Theatre

written by
Mike Bartlett

Directed by
Darrin Redgate

Starring

Stephen Schofield
Maya Carey


David Daradan
James McClusky-Garcia





Follow Us:
Following the success of "Next Fall" and "An Unseasonable Fall of Snow" and hot off the heels of the recent sold out and critically acclaimed West End production in London, Boyslikeme Productions presents the Adelaide premiere of Cock, for a limited 2-week season at Holden Street Theatres from 30th November 2022.
When John Takes a break from his boyfriend, he accidently meets the girl of his dreams. Filled with guilt and indecision he decides there is only one way to straighten this out…. Mike Bartlett's metrosexual play about love and longing provides us with who we are and who we want to be. John's refusal to fix his identity disturbs and disrupts the lives around him in this contemporary tale of sex without nudity and struggle without violence. It's a punchy story that takes a candid look at one man's sexuality and the difficulties that arise when you realise you have a choice.

Recommend for a mature audience over 16 due its course language and adult themes.
Directors Notes
Mike Bartlett's script is, in a word, delicious. It has such precise rhythm and pacing with 4 great roles who all get their chance to shine. During the rehearsal process we spent a lot of time talking about the rhythm and precise language Bartlett uses to ensure we paid due respect to his script.
I chose to produce and direct this story for the Adelaide stage due to its relevance and topical nature around the labels that our society has, to a large extent, become obsessed with. The pressure our protagonist is put under to label his sexuality has adverse effects on himself and everyone around him. Whereas if the other characters had, as John so eloquently puts it "Why is what I sleep with more important than who I sleep with," not forced the issue perhaps some of these relationships would have had more positive outcomes.

A recent news story about a wonderful young British actor, Kit Connor, (famous for his recent role as Nick on the Netflix hit "Heartstopper") really brought this home for me. The pressure this 18 year old was put under by both fans and media to reveal his sexuality in real life was relentless, forcing Kit to label and come out perhaps well before he was ready or willing to do so. No one should be put under such scrutiny and pressure. I long for the day when we can all just be and whatever that is, is of no importance to anyone.
Bartlett sets us the challenge of staging this play with no scenery, no furniture, no props and no miming. It is, as Bartlett says, a play for actors about their words and actions that shouldn't be distracted by such materialistic things. Just how do you stage a dinner party for 4 under those strict conditions?
My sincere admiration, respect and thanks to such a caring and hard- working cast. All have approached the work so openly and had a lot of fun. Hopefully we have laughed all the funny bits out in the rehearsal room, and hopefully you find them as funny as we did.
Sadly Stefanie Rossi who was originally cast to play W was unable to perform in the show due to illness, we wish her a speedy recovery.

Have a great time at Cock. Laugh, be excited and be heartbroken all in the space of 100 minutes. Thank you all so much for your support.

Keep up to date with our production (reviews, photos, comments) on our Facebook page www.facebook.com/cockadelaide


Creative Team
Darrin Redgate
Director and Designer
Alexandra Roberts
Head of Set
Sarah Gooda
Lighting Design and Operation
Meet the Company
Stephen Schofield
John
Stephen graduated from Adelaide College of the Arts in 2019. Shows he worked on during study include Too Much Light Makes the Baby Go Blind: 30 Plays in 60 Minutes (Tim Overton), Julius Caesar (Nick Garsden), Fury (Jo Stone), La La Luna (Paulo Castro), Titus Andronicus (Charley Sanders), Darlinghurst Nights (Michael Hill), Road (Chris Drummond). Recent theatre credits include Bumming with Jane (Hannah Catherine Productions) and One-Man-Show The Wilkins Trilogy Part 1 (Palmerstone Productions, Adelaide Fringe). Stephen has a number upcoming creative projects in the works including Boxing Day Test by Michael Hill scheduled at The Goodwood Institute Theatre for Fringe 2023.
David Daradan
M
David Daradan has been a professional actor for 18 years performing in a number of productions across all mediums. He has trained under many notable and highly esteemed teachers and studios such as one of New York's finest, Lynette Sheldon Actor's Studio, Melbourne Actor's Lab's Peter Kalos and mentored by Australian Actor Andy McPhee. In the 2020 season of the Adelaide Fringe, he performed in Hartstone Kitney's Australian Premiere production of Brian Parks' 'Enterprise' to critical acclaim. In 2021, he performed a "heart-rending" portrayal as 'Howie' in David Lindsay Abaire's "Pulitzer Prize Winning" play 'Rabbit Hole' directed by Joh Hartog. More recently in 2022, David was a part of the highly praised "tour de force" ensemble production of Shakespeare's 'Twelfth Night' with Shakespeare South Australia, where, he played 2 roles of Sir Andrew Aguecheek and Sebastian. On Television, he is a series regular on the upcoming fantasy series 'Warpath Chronicle' by New Blood Studios. On film, David is known for his work as the lead role on Nima Raoofi's S.A feature film 'Charlotte' which was awarded Best Feature Film at the 2017 South Australian Film Awards.
Maya Carey
W
Maya graduated from Adelaide College of the Arts in 2022. During her time there, Maya refined her skills in a wide variety of training and was entrusted with many challenging roles, including Lala in Clark in Sarajevo (Yasmin Gurreeboo), Herminone and Shepherd in The Winter's Tale (Jen Innes), Sally in Last Days (Paulo Castro), Bernadette in Lemons Lemons Lemons Lemons Lemons (Clara Solly-Slade), and Janet in OfficeLife360 (Jo Stone). Maya also has a passion for developing new works, first collaborating with Finnegan Krukemeyer to create his award-winning play A Hymn to the Hateful in 2019, which Maya also performed in. Maya will appear in two upcoming Adelaide short films: The Family Friend (Tomiya Hills) and The Last Voice (Manson Renfrey).
James McCluskey-Garcia
F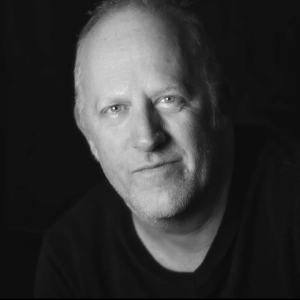 James was actor trained at The Centre for the Performing Arts (AC ARTS) under David Kendall and Isobel Kirk and has worked professionally in theatre, film, television, and voice-over. Notable theatre credits include The Barber Of Seville, La Boheme, (Opera Australia), Another Country, (Belvoir St), King Lear, Macbeth, Othello, (Quasimodo Productions), Much Ado About Nothing and Julius Caesar (Shakespeare By The Sea), Calendar Girls, (Holden St), The Phantom Of The Opera, Mary Poppins, 12 Angry Men, Reservoir Dogs, Educating Rita, A Doll's House, Avenue Q, Kinky Boots, Julius Caesar, A Man For All Seasons, and as Juan Peron in Evita and Thenardier in Les Miserables. Film and television credits include Fat Pizza, Breakers, The Night We Called It A Day, Garage Days, Wanted, The Buglers Call, Tooth 4 Tooth, Pine Gap, Psychosis, Fate Of The Night, The Stranger and Roadkill. James was dialect coach for Love Letters, Gold Coast Little Theatre and The Producers, Marie Clarke Theatre. As an acting teacher he has taught Shakespeare and audition techniques at Adelaide City Library, IpSkip Productions and Type Talent. James is very excited to be back at Holden St and to be working with such a stellar cast in Cock.
Darrin Redgate
Director and Designer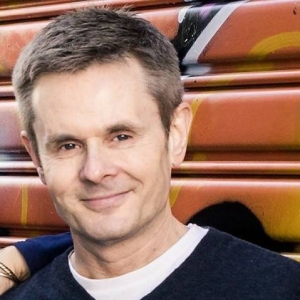 Darrin studied acting at both the University of Technology and the Australian Academy of Dramatic Art where he graduated with a Diploma. Darrin's stage roles include 'Ubu', 'Annie's Coming Out', 'Gross Indecency', 'Retro', 'Heir Raising,' the lead role of Clarrie in 3 seasons of Barry Lowe's 'Seeing Things' and as Adam in the Sydney and Melbourne seasons of 'Next Fall.' Rehearsed play readings also include 'Love Valour Compassion' 'A Prehistoric Ritual' and 'Boys in the Band'. Darrin has also appeared in some forgettable low budget feature films and several television commercials. He spent a couple of years on radio including his own late-night show and host of the 1990's Sydney gay radio program 'WILD GALS'. Darrin moved to Adelaide 2 years ago, this is his third show at Holden Street after he Directed the critically acclaimed 'Next Fall' in 2021 and 'An Unseasonable Fall of Snow' at Fringe this year.
Alexandra Roberts
Head of Set
Alexandra (Xandra) Roberts had much association with the theatre early on in her life, from primary school plays to dancing lessons to outside productions. Her true calling came at 12 years old, helping with the set and props for the 2012 Into the Woods Pembroke middle school musical. She continued to work on every middle school musical with Pembroke for the rest of her schooling, working also as an actor for "AIDA" and as a set designer for "Peter Pan". Even after graduation she volunteers for their musicals, now with a more educated eye. Her love for the theatre carried her towards the Adelaide College of the Arts, where she specialised in Set construction, technical drawing, prop building and stage scenery. She has since graduated and has gone on to build and paint sets for several productions, including 2022 Fringe festival's "Naomi", Broadway's "Moulin Rouge" and 2021 Boyslikeme Production "Next Fall". Alexandra hopes to help directors and designers realise their dreams, creating worlds and enrapturing audiences for her entire career.
Sarah Gooda
Lighting Design and Operation
Sarah has worked in technical theatre for the last 20 years, including stage management, lighting, sound and AV. Originally from the UK, Sarah has lived in Australia for nearly 13 years. She has worked on the Edinburgh, Adelaide, Melbourne, Brisbane and Dublin fringe festivals, the Katherine Flying Fox Festival, Alice Desert Festival and Woodford Folk Festival, as well as holding in-house positions in several theatres and working on corporate events. Lighting designs include How Long is a Piece of String (Theatreworks Melbourne), A Passage To India (Genesian Theatre, Sydney), The Hipster (Little Bang Brewery Adelaide), The Art of Lies and Obfuscation (MC Showroom Melbourne), The Drunkards (Alex Theatre Melbourne), 20,000 Leagues under the Sea (Roma Street Parklands Brisbane), Just Say I Do / The Inner Monologues (Bleeding Heart Gallery Brisbane), Not how Chaucer wrote it (Rabbit and Cocoon Gold Coast), Jetlag (Gasworks Theatre Melbourne), The Six Wives of Timothy Leary (Riverside Studios London), The Magic of Eurovision (UK tour) and The Nutcracker (UK & Ireland tour). Sarah is also a musician and lives with her dog Tilly, 7 cats and numerous tropical fish.
Multimedia
Stephen Schofield as John, David Daradan as M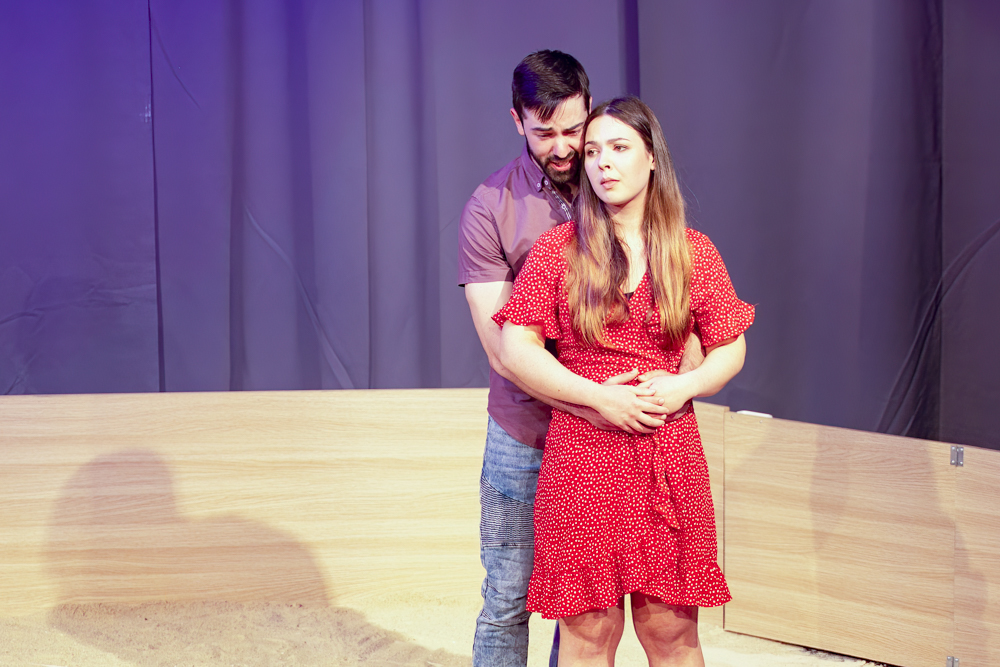 Stephen Schofield as John, Maya Carey as W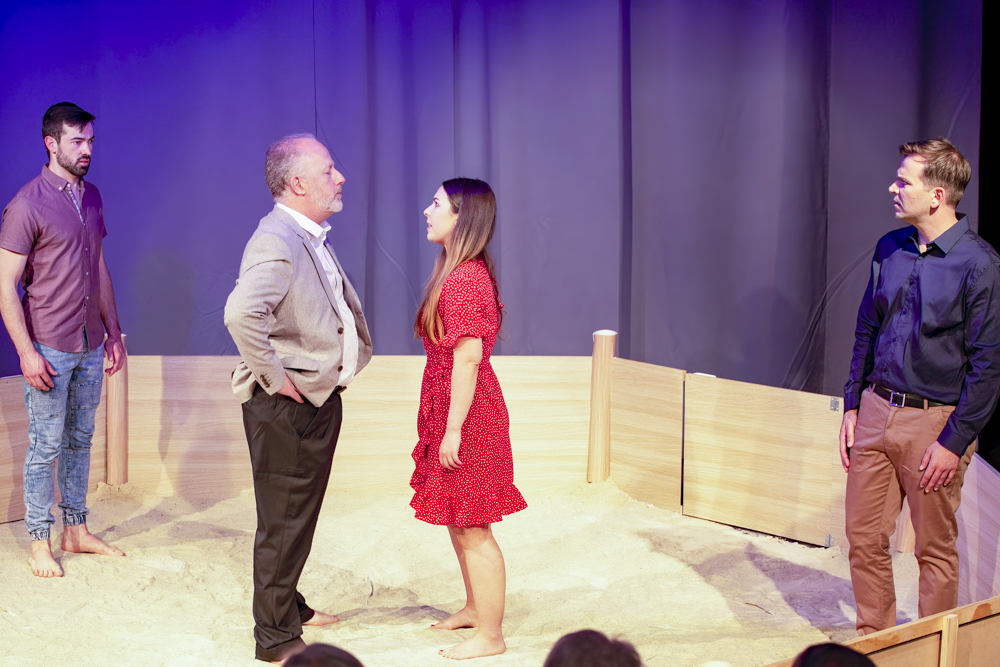 Stephen Schofield as John, James McClusky-Garcia as F, Maya Carey as W and David Daradan as M