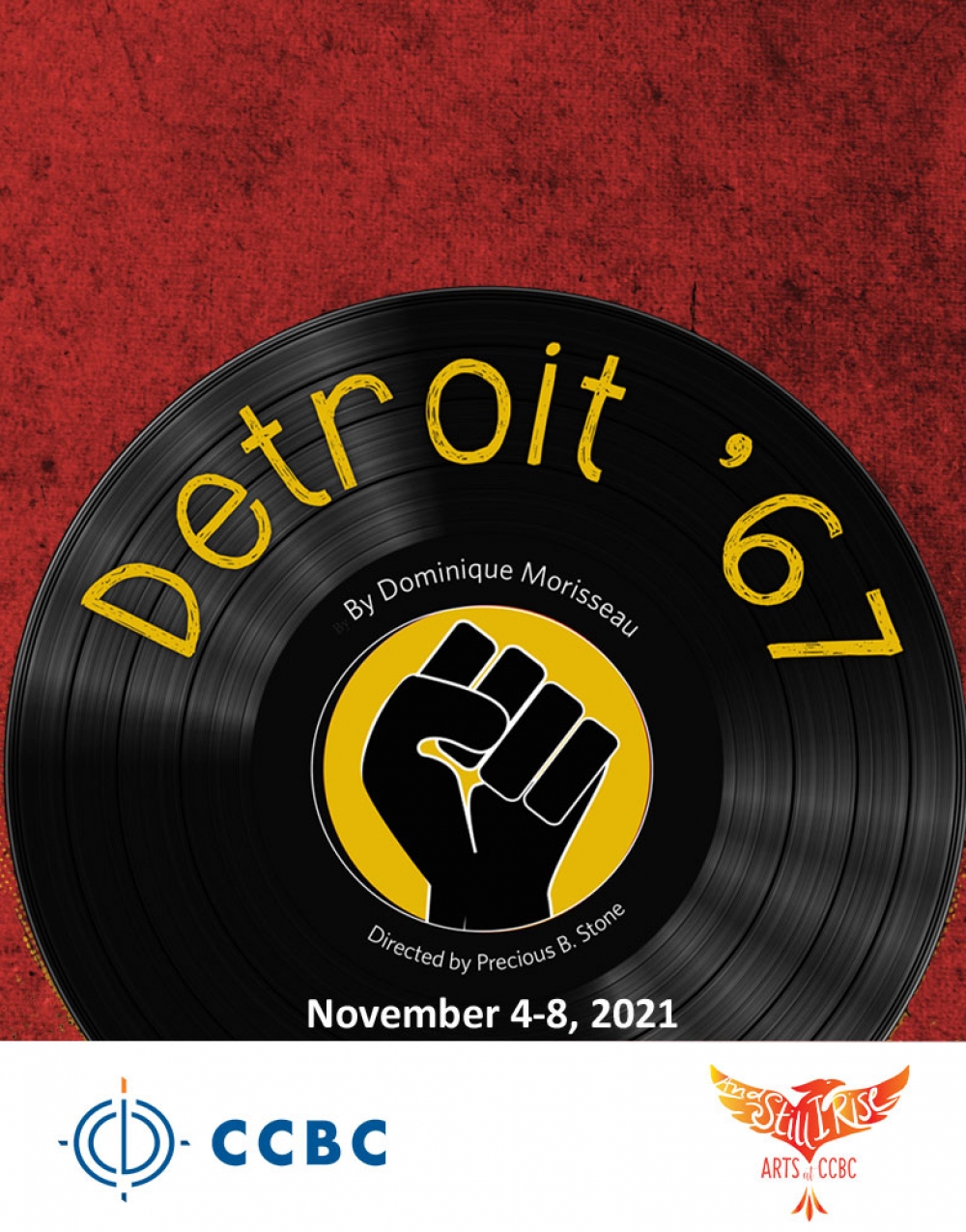 The Arts at CCBC presents

Detroit '67

by Dominique Morisseau
Directed by Precious B. Stone

CCBC Catonsville, Center for the Arts Theatre

Production Team

Lighting/Scenic/Sound Design
Technical Director
G. Maurice "Moe" Conn

Costume Design
Sharlene Michelle

Sound Engineer
Nick Logue
Stage Manager
Mone't Howard

Cast

Shaterra Hatchett
Godfrey Bardu
Safkia Millington
Ja'min Williams
Jennifer Casagrande

"Detroit '67" is presented by arrangement
with Concord Theatricals on behalf of Samuel French, Inc. www.concordtheatricals.com
The videotaping or making of electronic or other audio and/or visual recordings of this production and distributing recordings or streams in any medium, including the internet, is strictly prohibited, a violation of the author(s)'s rights and actionable under United States copyright law. For more information, please visit: https://concordtheatricals.com/resources/protecting-artists

ASL interpretation provided by CIRS/HASA
Follow Us:
DIRECTOR'S NOTE
"I don't wanna lose my son's future to no bar. Too shaky. I want him to have something solid." -Chelle, Act I
Throughout Detroit '67, Chelle is cautious. She believes that approach has been keeping her safe and secure. When her brother Lank proposes spending their modest inheritance on a bar, Chelle cannot imagine taking such a risk. Lank, on the other hand, sees the risk as an opportunity for reward. It is a step out of their comfort zone and into an uncertain future.
As the play progresses, events in Detroit threaten Chelle's cocoon. Styles are changing. New technologies are on the market. Social and political upheaval are making their way through their city and around the country. Chelle's only refuge is her frozen-in-time safe place, the basement in her family home.
Detroit '67 was first produced in 2013. Since that time, social changes in the U.S. have advanced at a fast pace, similar to the 1960s. There has been activism around the killings of Freddy Gray, Breonna Taylor, George Floyd, and others, as well as political upheaval. The Covid pandemic forced people around the world into isolation. Like Chelle in her solidly grounded basement full of memories and emotions, we are ultimately not immune to what happens in the shaky, outside world. As it was in 1967, change is constant.
Precious B. Stone
Director
Cast
Jennifer Casagrande
Caroline
Production Staff
Precious B. Stone
Director
G. Maurice (Moe) Conn
Scenic/Lighting/Sound Designer/Technical Director
Sharlene Michelle
Costume Designer
Mone't Howard
Stage Manager
Dominique Morisseau
Author
Marshall Gibbs
Substitute Stage Manager
Nick Logue
Sound Engineer
Michelle Harrison
Sound Board Operator
Ean McChesney
Light Board Operator
Dahjn Gomez, Owen Taliaferro
Run Crew
Teresa Folks, Marshall Gibbs, Dahjn Gomez, Daquan Harrison, Shaterra Hatchett, Ean McCesney, Owen Taliaferro
Set Construction/Paint Crew/Lighting Crew
Dahjn Maria Gomez
Specialty Make-up
Anne Lefter
Production Coordinator
Brad Norris
Production Manager
Katie Simmons-Barth
Production Photographer
Cathy Kratovil
Communications Assistant
Lisa L. Boeren
Box Office Manager
Thom Purdy
Box Office Staff
Meet the Company
Shaterra Hatchett
Chelle
has been in theatre since her freshman year of high school. She performed in The Great Gatsby and Antigone in high school. Her first CCBC production was Joe Turner's Come and Gone in the fall of 2018. In the fall of 2019, she was part of the ensemble that devised Clean Slate. Directing is her ultimate goal.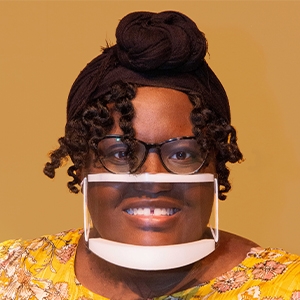 Godfrey Bardu
Lank
is making his stage debut. He is excited for this opportunity and looking forward to many future projects.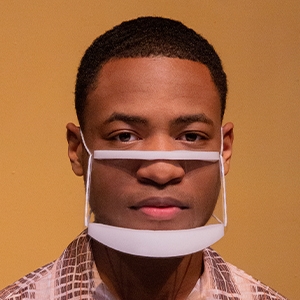 Safkia Millington
Bunny
a returning CCBC student, has finally decided to dive into her passion of acting. Her last role was Feste in Shakespeare's Twelfth Night in high school. She is excited to be on stage again and back in action. She plans on transferring to Howard University's Theatre program to obtain her Bachelor's degree.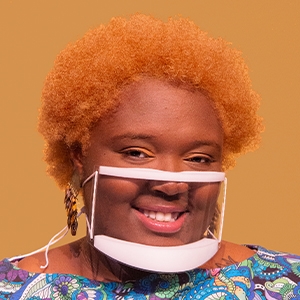 Ja'min Williams
Sly
is a CCBC alumnus coming back to the stage. A declared theatre major, he's been in previous plays, such as A Raisin in the Sun as Joseph Asagai, Hamlet Lost/Found as Laertes, and Romeo and Juliet as Romeo. He's also been in other productions, such as Neighborhood 3: Requisition of Doom (Steve), Laughter on the 23rd Floor (Lucas), Once on this Island (Armand), and Les Miserables (Javert). Ja'min would like to thank all of his family and friends for their continued support as well as his cast and crew mates. He sends all his love and wishes for a great production.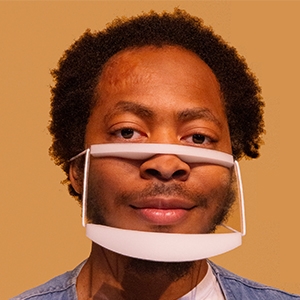 Jennifer Casagrande
Caroline
is a first-year Theatre Performance major at CCBC. She appeared in the Spring Arts festival earlier this year, writing for and acting in the Neofuturist short plays. She is excited to be back on stage for Detroit '67. This will be Jennifer's first play, as she has only appeared in musicals during her grade school years, her favorite being Songs for a New World. She plans on transferring to a four-year university to pursue a Bachelor's in Performing Arts after completing her AFA at CCBC.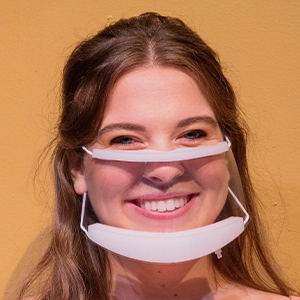 Precious B. Stone
Director
received a BA in Film and Theatre Studies from Yale University, an MA in Folklore from the University of North Carolina at Chapel Hill, and an MFA in Drama with a concentration in film and video production from the University of North Carolina at Greensboro. Precious has directed numerous main stage productions, including The Colored Museum, The Children's Hour, Las Meninas, The Amen Corner, The Bald Soprano, A Raisin in the Sun, and Choir Boy. Precious also produces and directs dramatic and documentary videos, including the award winning The African Textile Collection of Mrs. Mattye Reed; the shorts Name Journey and Across the Atlantic, which have been screened at festivals in the US and abroad; and Mary Burrill's Aftermath: Connecting with the Past through Drama, a documentary about the African American experience during World War I as seen through the 1917 play Aftermath. Precious is an Associate Professor in the departments of Communication Arts and Performing Arts & Humanities at CCBC.
G. Maurice (Moe) Conn
Scenic/Lighting/Sound Designer/Technical Director
is in his eleventh year with CCBC where he is the full-time Technical Director and Designer at CCBC Catonsville's Center for the Arts Theatre. He has an MFA in Scene Design and Technical Theatre. Moe has been doing technical theatre since 1993, as a Designer, Technician, Technical Director, and Educator. He served as the Technical Director for five summers at Cockpit in Court where he continues to design both lights and sets. He has also designed for Vagabond Players in Fells Point. Moe has received multiple nominations for Best Scene Design from Broadway World.com and received Best Scenic Design from the MD Theatre Guide's Readers' Choice Awards. When not backstage, Moe volunteers with "Behind the Scenes" which provides financial support for theatre technicians in need throughout the entertainment industry. He also helps coordinate the Long Reach Long Riders charity motorcycle ride, (www.LRLR.org) to benefit Broadway Cares/Equity fights AIDS and Behind the Scenes, two theatre-based charities.
Sharlene Michelle
Costume Designer
is a writer, singer-actor, dancer, costume designer and make-up artist. She has worked as the Costume Designer for several productions for Morgan State University, Coppin Repertory Theatre, Fells Point Corner Theatre, The Strand Theatre, Single Carrot Theatre and other local theatres: There was a Boy, The Bluest Eye, Crowns, Jitney, The Color Purple, For Colored Girls Who Have Considered Suicide When the Rainbow is Enuf, In the Blood and Sojourners, to name a few.
Mone't Howard
Stage Manager
is a Theatre major at CCBC. She appeared in Playgue at CCBC Essex. Although she enjoys acting she is very excited to explore the tech side of Theatre, and plans to transfer to a four-year university after CCBC.
Dominique Morisseau
Author
Click here to read about the author.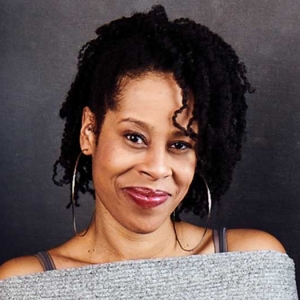 Marshall Gibbs
Substitute Stage Manager
Nick Logue
Sound Engineer
Michelle Harrison
Sound Board Operator
Ean McChesney
Light Board Operator
Dahjn Gomez, Owen Taliaferro
Run Crew
Teresa Folks, Marshall Gibbs, Dahjn Gomez, Daquan Harrison, Shaterra Hatchett, Ean McCesney, Owen Taliaferro
Set Construction/Paint Crew/Lighting Crew
Dahjn Maria Gomez
Specialty Make-up
Anne Lefter
Production Coordinator
Brad Norris
Production Manager
Katie Simmons-Barth
Production Photographer
Cathy Kratovil
Communications Assistant
Lisa L. Boeren
Box Office Manager
Thom Purdy
Box Office Staff
Special Thanks

Dr. Sandra Kurtinitis
CCBC President
Dr. Joaquin Martinez
Provost & Vice President of Instruction
Dr. William Watson
Dean, School of Arts & Communication
Professor Nick VanHorn
Chair, Performing Arts and Humanities
Dr. Rebecca Ocampo
Arts Pathways Coordinator
Dr. Anne M. Lefter
Director, Performing Arts
Johanna Lawrence
Administrative Support Assistant, Performing Arts
Cathy Kratovil
Communications Assistant, School of Arts & Communication
Doug Heinle
Designer, CCBC Creative Services
Janice L. Short
Interim Coordinator, Theatre Arts, Morgan State University
Oriana Montes
CCBC alumna, Interim Stage Manager
CCBC School of Arts and Communication
Dr. William Watson, Dean
Professor Will Niebauer, Chair, Arts and Design
Professor Nick VanHorn, Chair, Performing Arts and Humanities
Professor Michael Walsh, Chair, Communication Arts
Dr. Anne Lefter, Director, Performing Arts

The Arts at CCBC
Dr. Anne Lefter, Director
Johanna Lawrence, Assistant to the Director
G. Maurice "Moe" Conn, Technical Director
Jason Randolph, Technical Director
Marc Smith, Technical Director
Nicole Buckingham Kern, Galleries Coordinator
Lisa Boeren, Box Office Manager
Brad Norris, Production Manager
Emilyann Craighead, Galleries Assistant
Eva Grove, Costume Assistant
Thom Purdy, Box Office Assistant
Cathy Kratovil, Communications Assistant

Theatre at CCBC
Julie Lewis, coordinator, faculty director
Damon Krometis, coordinator, faculty director
Terri Raulie, faculty designer
Tom Colonna, faculty director
Precious B. Stone, faculty director
Zach Hartley, faculty director