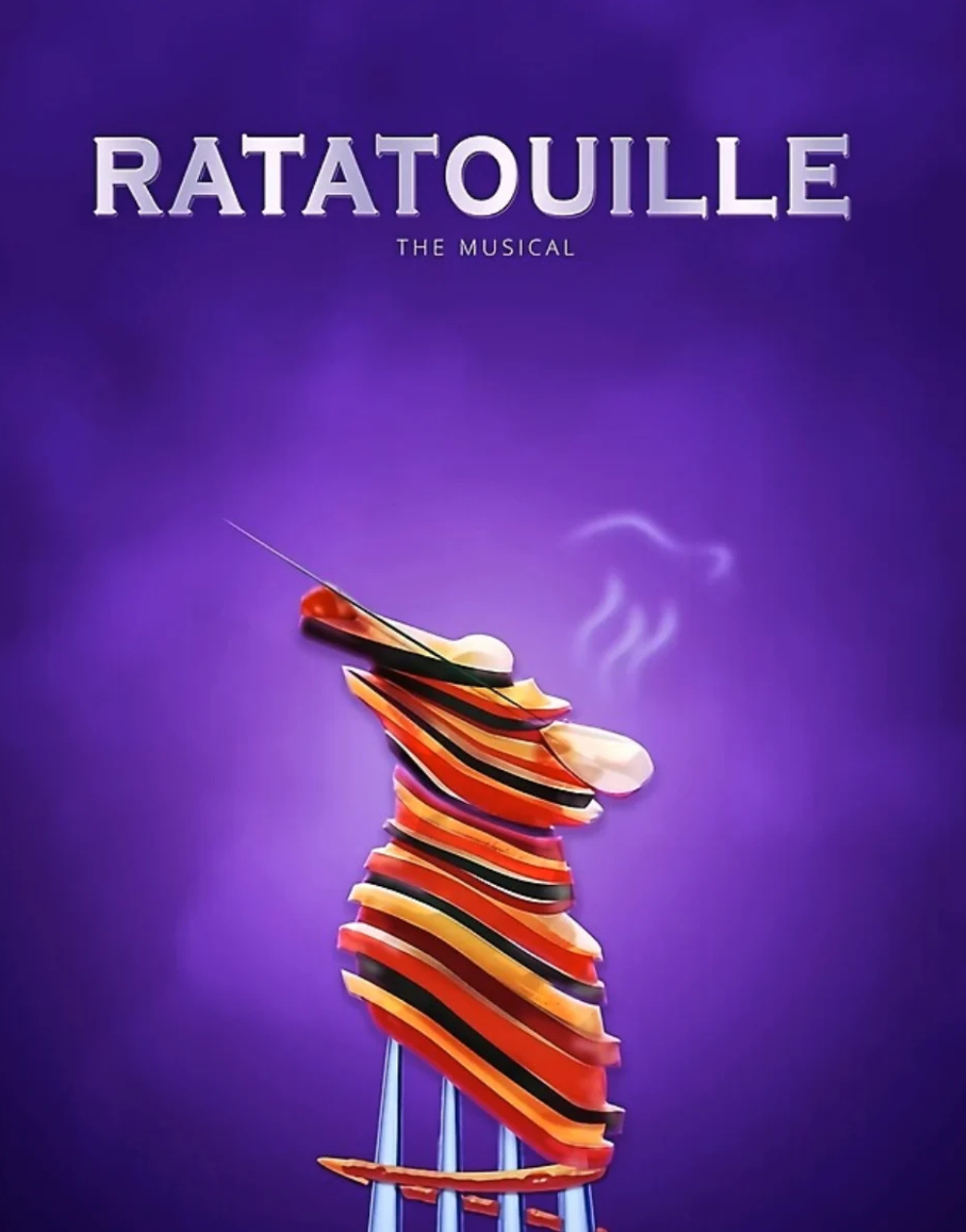 Ratatouille the Musical

From the minds at TikTok

Based on the Pixar film

Created by
@e_jaccs

Orchestrations by
@danieljmertzlufft

Cover Art by
@siswij

Starring

Kevin Chamberlin

Andrew Barth Feldman

...and many more!
Song List
ACT 1
Anyone Can Cook - @malindamusic @chamberlin_kevin
The Rat's Way Of Life - @blakeyrouse
Trash Is Our Treasure - @fettuccinefettuqueen
Remy's Dream - @valiantly_vanna
A New Life In Paris - @not__angiee
Anyone Can Cook (Reprise) - @rjthecomposer
The Soup - @dontcallmeallie
Team With You - @hyedenx @jtcambria
Linguine's Song - @andrewbfeldman_ by @fozzyforman108
Tango - @blakeyrouse @aaacacia_
The Recipe To Success - @thecameronshow @rjthecomposer
Remy And Me (Emile's Song) - @rjthecomposer
The First Kiss - @lifehasmanydoors_edboy @nateperlmeter
Rat-Patooie - @ryandavidjacobs @ewanhasatiktok

ACT II

Rodent In The Kitchen - @localstupidlesbian
Carnage (Trash Is Our Treasure Reprise) - @fettuccinefettuqueen
Anton Ego's Warning - @cameronfoxmusic
I Knew I Smelled A Rat - @sophiajamesmusic
Just A Rat - @vinpiano
Broken Dreams - @jeromejarambe
The Truth - @e_jaccs @ladydianasuk
Colette Comes Back - @ladydianasuk
Ratatouille - @rjthecomposer
Thank The Chef - @e_jaccs
His Review - @jaredbgoldsmith
We Will Remember Your Name - @danieljmertzlufft @momopeach02
Cast
Remy
Originally voiced by Patton Oswalt
Emile
Originally voiced by Peter Sohn
Django
Originally voiced by Brian Dennehy
Alfredo Linguini
Originally voiced by Lou Romano
Auguste Gusteau
Originally voiced by Brad Garrett
Colette Tatou
Originally voiced by Janeane Garofalo
Chef Skinner
Originally voiced by Ian Holm
Anton Ego
Originally voiced by Peter O'Toole
Creative Team
Daniel Mertzlufft
Orchestrator
Shoebox Musicals
Set Designer
Jess Siswick
Graphic Designer
How Em Jaccs' RATATOUILLE Musical Became Theatre TikTok's Latest Trend
TikTok has become the latest Internet obsession, with videos for anyone's interests. The theatre community is one such interest that has created a name for itself: "The Theatre Side of TikTok" or simply "Theatre TikTok."
Sometimes trends that come from popular Theatre TikToks, like the Aladdin or Newsies choreography challenges, go viral and soon enough everyone is taking part whether they're familiar with the original source or not.
Enter Em Jaccs, a 26 year-old from New York, who loves to post her own musical numbers with fun Disney twists. One of those numbers would eventually take off into a Ratatouille musical phenomenon, based on the 2007 Pixar film.
A self-proclaimed rat queen, Em first posted the lyrics a capella on August 10. At the time of this post, it has over 350,000 views.
Since then, with the help of a few other TikTok creators, the dream of a Ratatouille musical continued to grow, each idea more hilarious than the last
We got to chat with Em, the one who started this hilarious craze.
BroadwayWorld: Where did the idea come from?
Em: Music has always been a huge part of my life. Since I was a child, I have always walked around making up random songs about people, household items, and characters I like. These were always private of course and mostly just to annoy my family. However, during the quarantine I discovered TikTok. I've spent way too many hours over these past few months browsing through videos, enjoying the latest popular songs and trends. Late into the quarantine in August, I felt a particular longing for my favorite place on earth, Disney World. So I had been reading an article about the new Ratatouille ride in EPCOT. Using the article as inspiration, I just began singing this on-the-spot song around my house about Remy. I found it particularly catchy and couldn't get it out of my mind, so I decided to post a funny slideshow compilation of Remy with my song in the background.
I was really trying to make it as cheesy as possible with multiple crazy effects. I even accidentally added a picture of Remy's Dad which fans quickly pointed out. But we have to respect the man who gave Remy life anyway, so it works! I just wasn't too fond of how my voice sounded so I sped up the recording so my voice sounded a little more cartoon-like. And if you've heard the song, don't worry - I am aware that a rat cannot physically be the classic French stewed vegetable dish, ratatouille. I just liked the ring to it in the song! I like to think that in the lyric about Remy being ratatouille, the ratatouille is really more of a symbol for dreaming big and achieving greatness. Everyone should go out and try to be "ratatouille" in their own lives!
How does it feel to see your song blow up and become the latest trend on TikTok?
This whole experience has truly rocked my world. I never thought in a million years a short song I posted back in August would create such a buzz and inspire so many creators. As someone who has always dreamed to be a part of the Broadway world, this small taste has brought me such joy and excitement. Seeing the notifications pour in of new followers, fan comments, and tags in new songs and ideas has honestly been the highlight of 2020 for me. I give credit for the blow up to so many various creators. It all started with a creator, @_victoriap17_ , who used the song in a video that caught the attention of TikTok legend Brittany Broski (@brittany_broski). From that, the exposure grew and creator Rocky Paterra (@rockysroad) behind the amazing "I'm an Accountant" song tagged arranger, @danieljmertzlufft. It was Daniel that took my song and created a spellbinding musical theater version with instrumental and choir voices. And thus, the idea for a virtual Ratatouille musical via Tik Tok was born. So this trend has definitely been a group effort.
Which new song or take on the idea has been your favorite?
I am living for all the creative song ideas that have been popping up on my For You page. Of course it all started with @danieljmertzlufft's musical theater interpretation that actually made me shed a tear. One of the first original song ideas I saw came from RJIsSpiraling (@rjisspiraling)'s Sondheim-esque "Anyone Can Cook." It was so emotional and inspirational that I was hooked! Since that first one, I now see tons of videos per day with new creative Ratatouille musical songs of all different styles. Otherclaire (@cincinnatusstrikesagain)'s "A Rat is a Rat," a feature for Remy's father, Django, even inspired a song of my own! Andrew Heidorn (@andrewmheidorn)'s emotional plea to Remy was so beautiful and Alexandra Naranjo (@alexnaranjostuff)'s spicy song for Colette would be a showstopper. Whenever I hear the melody of my original song infused in a creator's composition, I truly feel so honored and excited. These and so many other amazing creators have even inspired me to draft new songs as well, such as "I am Remy," "Final Moments," and my newest song, "You're on Your Own."
Who would be in your dream cast if this were to one day make it to Broadway?
This experience has caused me to think often about Ratatouille making it to Broadway and I actually have pondered quite a bit about the casting. For the superstar role of Remy, I would hope the industry could bring in a newcomer. Someone brand new getting their breakout role in the musical would be in the true spirit of "ratatouille." As for our human sidekick Alfredo Linguini, I agree with many fans that Ben Platt could give the role the heart and soul it deserves. When I picture Colette, all I see is Carmen Cusack. I'm a huge Bright Star fanatic and Carmen Cusack fan. I think she could give Colette the spicy attitude the character emanates. James Monroe Iglehart would make a great powerhouse Gusteau overseeing his restaurant from beyond. Remy's mother would need to be a key player early in the story to highlight a tragedy in Remy's early life as I predict her having died since she is not mentioned or seen in the film. I see no one else for this role other than Phillipa Soo. I love literally everything she does and her voice could give the role of the mother the light, soaring quality I envision. I would also be honored if Remy's Dad, Django, could be portrayed by Brian Stokes Mitchell. Ever since I heard him singing in the Prince of Egypt musical film as a child, I hear a father-like quality in his voice. He could bring the anger to Django's character early on and the fatherly love as the story progresses. I would also love Martin Short to play Skinner. While Skinner is more of a villainous character, I think there is potential to bring in some comedic elements to his villainy and Martin Short would surely deliver.
Watch some more of our favorite Ratatouille the Musical TikToks and make sure to give Em a follow on the app HERE!
VIDEO: Kevin Chamberlin Hops on the RATATOUILLE Musical Trend on TikTok
Three-time Tony nominee and TV star Kevin Chamberlin is joining in on the popular TikTok trend of Ratatouille the Musical.
Chamberlin has cast himself as Gusteau, the renowned and talented chef that helps Remy follow his dreams. In his original song, Anyone Can Cook, he's donned a chef's hat to complete the character. At the time of this article, the video had already received 2.2 million views.
The Ratatouille the Musical trend came from one creator's account and has sparked thousands of concept songs, along with stage designs and program artwork.
Check out Kevin's video below!
READ: How Em Jacc's RATATOUILLE Musical Became Theatre TikTok's Latest Trend
Kevin Chamberlin's Broadway credits include three-time Tony and Drama Desk nominee for Seussical, Dirty Blonde and The Addams Family, The Ritz, Chicago, Triumph of Love, My Favorite Year. His film credits include the upcoming The Prom adaptation on Netflix, Team Kaylie, Wonder Park, The Emoji Movie, Die Hard With a Vengeance, Road to Perdition, In & Out, Christmas With the Kranks. His TV credits include "Modern Family," "Heroes," "Jessie," "Grace and Frankie."
VIDEO: Joe Iconis Joins in on the RATATOUILLE Musical Trend on TikTok!
Broadway composer Joe Iconis is joining in on the popular TikTok trend of Ratatouille the Musical, along with Kevin Chamberlin and more.
The Ratatouille the Musical trend came from one creator's account and has sparked thousands of concept songs, along with stage designs and program artwork.
Check out Joe's video below!
READ: How Em Jacc's RATATOUILLE Musical Became Theatre TikTok's Latest Trend
Joe is a writer and performer. As a composer - lyricist - book writer, he has authored the musicals Be More Chill (Broadway, Two River Theater), Broadway Bounty Hunter (Barrington Stage Company), Bloodsong of Love (Ars Nova), The Black Suits (Center Theater Group), ReWrite (Urban Stages), Theaterworks USA's The Plant That Ate Dirty Socks and We The People, and the currently in development Hunter S. Thompson Musical (for La Jolla Playhouse) and Love In Hate Nation. Albums: Be More Chill (Original Cast Recording), Things To Ruin (Original Cast Recording) and The Joe Iconis Rock and Roll Jamboree all available on Sh-K-Boom/Ghostlight Records. Joe's songs appeared on Season 2 of NBC's "Smash" and the New York Times called him "the future of musical theater." His concert act, Joe Iconis and Family, frequently plays Feinstein's/54 Below, The Laurie Beechman Theater, Weston Playhouse, and other venues around the country. He has been nominated for two Drama Desk Awards, a Lucille Lortel Award, and is the recipient of an Ed Kleban Award, a Jonathan Larson Award, an ASCAP Harold Adamson Lyric Award, a Doris Duke Grant, and a MAC John Wallowitch Songwriting Award. Joe is deliriously inspired by Robert Altman, Dolly Parton, Martin Scorsese, Sardi's, The Rolling Stones, whiskey, The Muppets, and The Family of artists he frequently surrounds himself with.
VIDEO: Broadway Producer Ken Davenport Wants to Produce the RATATOUILLE Musical in Latest TikTok
Broadway producer Ken Davenport is the latest Broadway name to join in on the popular TikTok trend of Ratatouille the Musical, along with Kevin Chamberlin, composer Joe Iconis, and more.
The Ratatouille the Musical trend came from one creator's account and has sparked thousands of concept songs, along with stage designs and program artwork.
Check out Ken's video below!
READ: How Em Jacc's RATATOUILLE Musical Became Theatre TikTok's Latest Trend
BWW Blog: Could TikTok Be The Future of Musical Theatre?
If you haven't heard about it by now, there's a new movie being adapted into a musical: Ratatouille. Well, not officially, but the Gen Z'ers of TikTok have spent the last month or so writing a musical adaptation for the 2007 Pixar film. It all started when TikTok user Em Jaccs posted a video of herself singing the now-title song. The sound took off, and became even more popular when TikTok user @danieljmertzlufft posted a video where he added to the original song, making it a massive ensemble number with a full orchestra fit to be a show closer. The trend caught on like wildfire. Now, the "Ratatousical" has nearly a full story's worth of songs, including ballads, duets, tangos, villain songs, story concepts, Playbill designs, and even an overture. While it isn't Broadway-bound (yet), this raises an important question: could this be the future of musical theatre?
The concept of the Ratatouille musical seems far-fetched, especially with how it was made. But the truth is, it really isn't. Let's look at Spongebob Squarepants: The Broadway Musical. This not only made it to Broadway, but was nominated for 12 Tony Awards. Additionally, each song in Spongebob was written by a different artist. True, the songwriters were all well-known musicians such as Panic! At the Disco, Cyndi Lauper, Sara Bareilles, John Legend, and David Bowie, which is different than random Gen Z'ers on TikTok. Still, though, it was an unlikely concept, an adaptation from material meant for kids, and was a collaborative effort. Especially in the time of COVID-19, TikTok may be the best way to collaborate.
We have already seen a large gathering of the theatre community on TikTok. Beloved Broadway stars such as Kristen Chenoweth, Ryan McCartan, Jordan Fisher, and Renee Rapp are just a few examples of members of the theatre community that have active TikTok accounts. Especially since all live performance venues are closed, the platform gives actors an opportunity to interact with their fans and perform for a large audience. The duet feature has played a big role in TheatreTok as well. Some music accounts post themselves playing a piano accompaniment part, with other users duetting to sing the part. It helps people find true talent and gives a platform to singers from around the world, especially during a time when they can't perform elsewhere.
The Ratatouille musical itself has actually benefited from duets too - a lot of users add on to songs to create a singing duet, or to add harmonies to instrumental parts. TikTok has allowed people from around the world to participate in the same project as essentially create an entire musical based on one funny idea. Part of this is definitely because pandemic lockdowns have given people more free time, and theatre kids miss Broadway so much that they are willing to consume any new musical content that they can. Will the Ratatousical make it to Broadway? Probably not. But is a TikTok collaborative musical ever going to be produced? I think it is very possible. I can't guarantee that it will necessarily be high art or successful, but the idea of it is really fun to think about. As the times change, theatre will too, and this may be an opportunity to make musical theatre more inclusive in its creation and performance. Only time will tell, but I will say this; if by some miracle Ratatouille: The Musical does make it to Broadway one day, I will be first in line to buy tickets.
BWW Blog: Remy the Ratatouille - The Tik Tok Musical Craze
Remy may be the next Disney star to shine on Broadway, or at least on TikTok. For the past month, musical theatre fans have been collaborating on TikTok to compose and write a musical based on Disney Pixar's Ratatouille. People are not only creating new songs, but they are also designing sets and costumes as well as covering the viral songs as an attempt to audition for the production. One TikToker (@siswij) even designed Playbill art (featured in the cover image) for a Ratatouille musical. Although the logistics of the project are not entirely worked out, and the project is in no way associated with The Walt Disney Company due to legal matters, there are plans to first create a concept album then put on a virtual production.
The obsession over Ratatouille all began when Em Jaccs (@e_jaccs) wrote and sang a love ballad about Remy:
After this song went viral, Daniel Mertzlufft (@danieljmertzlufft) composed an ensemble version of the piece that could be the show's finale:
Tik Tokers are writing songs not only about Remy, but also for Colette, Linguini, and other characters. For instance, Blake Rouse (@blakeyrouse) wrote a Ratatouille Tango where Colette teaches Linguini about cooking in a restaurant. Watch his performance as Linguini with another Tik Toker (@aaacacia_) as Colette:
Even Broadway stars like Kevin Chamberlin, best known for playing Betram on the Disney Channel show Jessie and originating the role of Horton in Seussical, are writing and performing songs. Watch Chamberlin take on the role of Gusteau in his song "Anyone Can Cook":
With a growing repertoire and fanbase, designers began to draft set models, costume sketches, and more. One account that has not ceased to come up on many people's For You Page is Shoebox Musicals (@shoeboxmusicals). The theatre fan behind this account has built stage models by hand that perfectly recreate iconic shows including Wicked, Beetlejuice, and Mary Poppins. These stage models are dynamic as they imitate all the technical abilities of a normal Broadway theatre. This account has produced multiple models of set ideas for Ratatouille that have garnered hundreds of thousands of likes and comments:
Josh Abram, a graduate of Saginaw Valley State University with a BA in Musical Theatre and Communications, has taken the lead on this project. If you want to get involved, follow RatatouilleTheTikTokMusical (@ratatouillemusical) on Tik Tok and email him at RatatouilleTheTikTokMusical@gmail.com. Tik Tokers are encouraged to tag the account on their videos with concept art, original song ideas, or design models. Prospective actors and designers with intentions to email Josh's team are encouraged to include a resume, portfolio, or links to their website and other materials. In addition to the search for a creative team and cast, the project is also looking for legal advice.
Tik Tokers have a long workshop process ahead of them to develop a Ratatouille musical, and somehow gain legal rights to creating this project. With the upcoming addition of Remy's Ratatouille Adventure Ride to Epcot in Walt Disney World, the current creative team hopes this project may be able to take the stage in one of the Disney Parks. Major publications such as BuzzFeed, Rolling Stone, the New York Post, and the Guardian have also given recognition to the project which may spark the interest of Disney Theatrical Productions. Additionally, celebrities have recognized the project including Patten Oswalt, the voice of Remy in the film, and Brad Bird, the director of the film. People all over the world have clearly demonstrated that they will do what it takes to bring French cuisine and Disney's favorite rat to Broadway.