Light Mode
Large Font
Save Program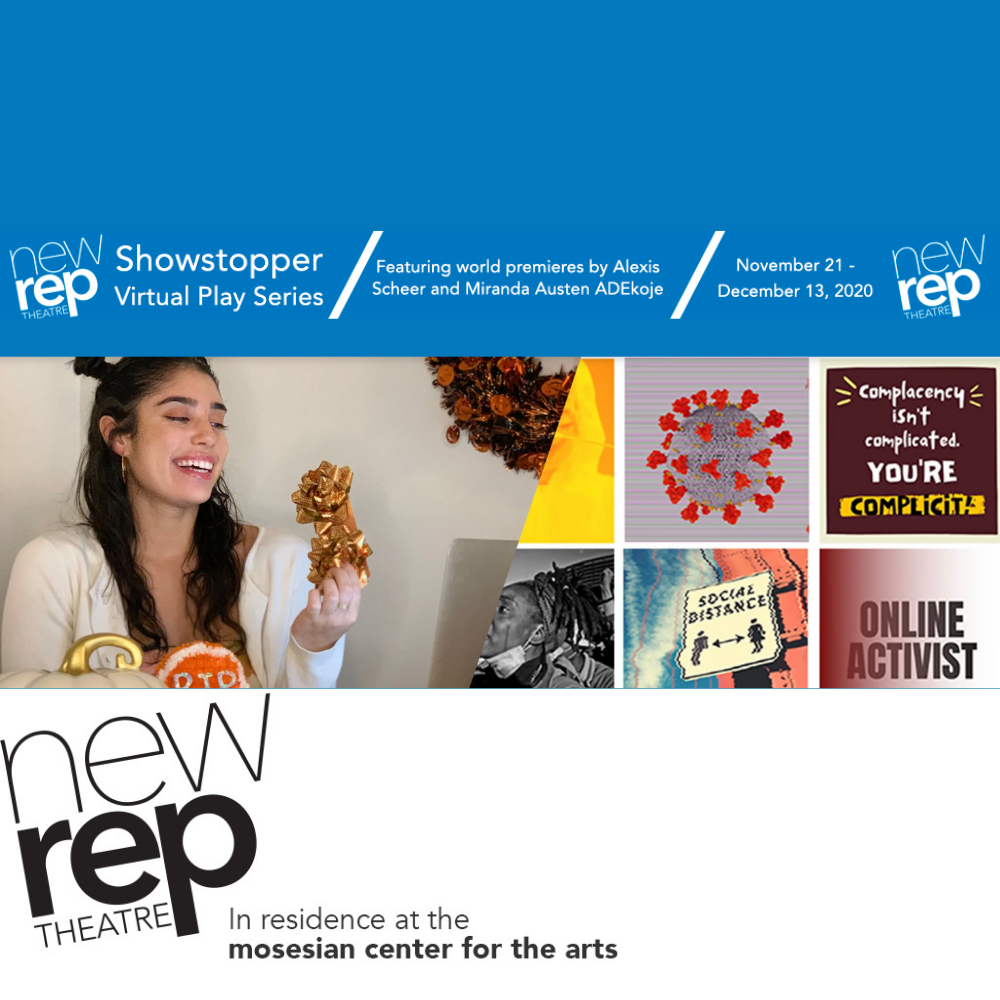 Advertisement
Showstopper Virtual Play Series
---
A Very Herrera Holiday
By Alexis Scheer | Directed by Sarah Shin
Lifestyle blogger Emma Herrera is live on Zoom to walk you through her favorite seasonal drinks and crafts, and perhaps let some relationship frustrations slip—after all, who isn't looking for a little space from their spouse these days? But there's a lot of rum in that coquito, and something's weird about the homemade wrapping paper… A Very Herrera Holiday is a darkly comedic look at an influencer who may be sharing more than festive fun.
---
[keyp-ing]
By Miranda Austen ADEkoje | Directed by Dawn M. Simmons
Monica Jenae is a freelance commercial producer. In a moment of intense frustration, she does an Instagram live hoping her baby will stay asleep as she waits for her black, male film crew to return from a COVID rapid testing site in the suburbs. As she bleeds her story out and the internet's comments pour in, the gnarled, twisted strands of racism, privilege and inequity in the noose of the global pandemic tighten, giving her followers a front row seat to the suffocating effects of white supremacy.
---
Founded in 1984, New Rep is an award-winning professional theater located on the historic arsenal on the Charles campus, a vibrant cultural hub in Watertown, Massachusetts featuring ample free-parking and restaurant dining.
PERFORMANCE & OUTREACH
In residence at the Mosesian Center for the Arts, New Rep stages contemporary and classic plays and musicals, including world premieres, that awaken the heart, challenge the mind, and expand the human spirit. We mount productions in two fully accessible performance spaces: the state-of-the-art 340-seat mainstage theater and the intimate 90-seat blackbox theater, which provide excellent views from every seat.
CONNECTION & EXPLORATION
New Rep embraces theatre as the basis for enduring connections with our community. Through entertaining, innovative, and thought-provoking live theatre performed at the highest standards of excellence, we seek to spark community conversations about the crucial issues of the day. Our spotlight symposium series and post-show talk-abouts provide opportunities for audiences of all ages and backgrounds to explore a play's themes with esteemed experts and seasoned dramaturgs. Advocacy & action New Rep has long been an active advocate for the arts and a major voice in the national dialogue defining the role of theater in our culture. Under the bold new leadership of Artistic Director Michael J. Bobbitt, New Rep is now at the vanguard of a momentous drive to develop anti-racist theater practices in the greater Boston community. We aim to create an authentic sense of belonging for artists and audiences alike.
---
---
---
---
Meet the Company
Multimedia






Earlier this year, New Rep Artistic Director Michael J. Bobbitt joined BroadwayWorld's Industry Pro to discuss being an Anti-Racist Instiution

---
---
CORPORATE DONORS
Amazon.com
Andover Cultural Council
The Arsenal Project
Artemis Yoga
ArtsBoston
AT&T
Athenahealth
Big-Picture Framing
Blue Cross/Blue Shield
Boston University
Boxford Cultural Council
Brilliant Pictures, Ltd.
Broadway in Boston
Brookline Commission for the Arts
Burlington Cultural Council
City of Cambridge
Cambridge Arts Council
Cambridge Cultural Council
Capaldi Limited Partnership
Caridossa
Carver Cultural Council
Catering with Distinction
Commander's Mansion
Dedham Cultural Council
Donald Fulton
Fidelity Charitable Trust
Eastern Bank Charitable Foundation
Esther B. Kahn Foundation
Fastachi
Fiorella's Cucina
Foundation for MetroWest
Framingham Cultural Council
The Fuller Foundation
GHR Foundation
Google
Granby Cultural Council
Gregory E. Bulger Foundation
Hammond Real Estate
Hudson Cultural Council
Hull Cultural Council
IBM Matching Gifts Program igive.com
Irving House
J. Stallone Realty Group
Keller Williams Realty
Lawrence & Lillian Solomon Fund
Legit Band
Marcus-Ekstrom Family Fund
Marlborough Cultural Council
The Marshall Home Fund
Mass Humanities
MASSCreative
Massachusetts Cultural Council
Massachusetts General Hospital
Milford Cultural Council
National Endowment for the Arts
National New Play Network, Ltd.
North Light IT
Partners Healthcare
Premier Bartending & Beverage Service
Regina Pizzeria
Allston Roy A. Hunt Foundation
Residence Inn by Marriott Boston/Watertown
Saugus Cultural Council
Seasoned with Soul
Sensational Foods
Shrewsbury Cultural Council
The Shubert Foundation
Sensational Foods
Spindler Confections
Sotheby's Realty
The Spirited Gourmet
Stanley B. Kay Stockyard
Sudbury Cultural Council
Town of Sudbury
The Village Bank
Vantage Graphics
City of Waltham
Waltham Cultural Council
Town of Watertown
Watertown Community Foundation
Watertown Commission on Disability
Watertown Cultural Council
Watertown Savings Bank
Westford Cultural Council
WGBH
The William H. Harris Foundation
Individual Donors
At New Repertory Theatre, we strive to build a community of theatre lovers and advocates that is people-first. From this point forward, we will not be doing tiered donor listings in the spirit of equity. From the bottom of our hearts, we would like to thank each and every donor on this list. Without your support, we would not be able to do what we do. For more information, or to become a New Rep donor, please contact Robbie Flanagan at 617-923-7060, x.8212, or robbieflanagan@newrep.org.
Anonymous (40)
Carlos & Alisa Kahn Ridruejo
Jon Abbott & Shari Malyn Beverly W. Abegg Leonard & Rita Aberbach Marty Ahrens & Gary M. Madison
Mark & Carolyn Ain Lillian Sober Ain Bob Airasian
Naomi Allen
Albie Alvarez-Cote & James Cote
Katie Ames
Danny Amir
Adam Amsterdam
Colin & Melody Anderson
Mary Antes
Janet Armstrong
Joanne Arnish
Gwen Art
Robert & Linda Asher
Bennett Aspel & Joyce Plotkin
Laurent Audoly
Jane Audrey-Neuhouser
Nina Avergun
Christina Aylward
Jeannine Ayotte
Sandi Williams
Eric Bailey
Patricia Baillieul
Dina & Brad Baker
Atissa Banuazizi
Emily Barclay & John Hawes
Michael Barros
Leslie Bass
Henry & Sue Bass
Joseph Bates & Kristin Loeffler
Caroline Bays
Barbara Becker
Kathleen & Theodore Postol
Lawrence Bell
Pamela Belleman
Lynne Stein Benzion
Edward Berger
Richard Berger
Robert Berk
Lois Landau Berman
Harris A. Berman, MD & Ruth Nemzoff
Frank Bernstein
Paul & Linda Bicknell
Elizabeth Bjorkman
Jared Blake
Howard Rossman
Lynn Bloom
Michael J. Bobbitt
Edward Boesel
Mariel Bossert
Mark Ashley Boyle
John & Kathleen Bradley
Ashley Branum
Stephen & Lisa Breit
Charles Breitroser
Andrew Brilliant & Carol Palmer
Bill & Maria Brisk
Phyllis & Jerry Briskin
Michael Broad & Grace Massey
Phyllis Brody
Heidi Brooks
Roberta Brown
Janet Brown
Nancy Brown
Robert Brown
Danielle Buckman
Ruth Budd
Gregory Bulger & Richard Dix
Julie Buring
Gail Bursell
Scott Burson
Judi Burten & Kevin Soll
Paul & Catherine Buttenwieser
Ann Buxbaum
Elizabeth Cabot
Mary Kate Caffrey
Myfanwy Callahan
Anne S. Campbell
Ronald & Elizabeth Campbell
Judi Taylor Cantor
Jane Capaldi
Lauren Capitani
Donald & Sondra Caplin
Marty Carlock
John Carlow
Jane & Christopher Carlson
Ralph Casale
Susan Case
Judith Chaffee
Maria Chandler
Judith Chasin
Miriam Chernoff
George Chism
Catherine & Earl Christie
Anna Clark
Bonnie Clendenning
Amy Coburn Gaudet
Linda Cocca
Nancy Cockerham
Bruce Cohen
Jacqueline Colby
Susan C. Collings
Joel Colodner
Frederick Colson & Suzanne Turcotte
Chris Connolly
Lisa Cordeiro
Patricia Elen Costello
Kevin Cranston
Holly Crary
Marcy Crary & Tim Hall
Ken & Nancy Crasco
Dorothy D. Crawford
James & Linda Crawford
Harvey Creem
Harold Crowley
Sandra Cullison
Charlene Cunniffe
Dorothy & Robert Curtiss
Margaret Ann Brady & Robert Dall
Alissa Daniels
Virginia L Danielson & James F Toth
Veronica Darer
Lloyd David
Barry David
Nancy Davidoff Kelton
Michael & Beth Davis
Frances Davis
Richard Daynard
Brett Dean
Alexis Dearborn
Margarita Dekoli
Jaclyn Dentino
Joyce Desize
Tori Devine
Paula Dickerman
Sharon Dickinson
Mary Dill
James Dill
Arthur & Nicky Dimattia
Vesna Dimitrijevic
Claudia Doherty
Anthony J Donato
Rachael Donnelly
Eric Donohue
J. Patrick & Susanne Dowdall
James Doyle
Owen Doyle
Margaret Drain
Maria & Arthur Drane
Laura & Michael Dreese
Janet & Dan Dubner
Doug Dulaney
Thembi Duncan
Priscilla Cogan & CW Duncan
Pierce Durkin
Nancy Eagen
Glenn Edelson
Robert Edward Zaret & Jean Holmblad
Mary-Ellen Efferen
Barbara Egan
Drew Egger
Jeff Einsen
Bob & Peggy Ellertsen
Jane & David Ellis
Lee & Amy Ellsworth
Gail Elson
Jim Rebitzer & Kathleen Engel
Inge Thorn Engler
Miriam Enos
Howard Epstein
Karen Ernst Connolly
Sandra Eskin
Barbara Estabrook
Janet & Mark Fagan
Harold & Susan Farkas
Edith Fenton
Es Ferguson
Anthony Fernandez
Heather Ferrari
Joseph & Lissa Ferreira
Aidan Finnan & Carolyn Thall
Mitchell & Carol Fischman
Sue Fish
C Nancy Fisher
Glenda & Bob Fishman
Robert Fitzgerald
Anna Fitzloff
Judy Fitzsimmons
Margaret & Warren Flint
Delia C. Flynn
Christopher Flynn & Daniel Newton
James & Sharon Foley
Carol Forbes
Gita & David Foster
Eugene Freuder
Patricia Freysinger
Leslie Friedman
Tali Friedman
Rosemarie Mullin & Thomas Friedman
Nancy & Richard Fryberger
Ralph Fuccillo & Paul Newman
Donald Fulton
Kurt Gaertner & Priscilla Geigis
Frank V. Gages
Sandra Galejs
Nancy Galligan
Joan Gallos & Lee Bolman
Willard Gannon
Peggy Gardiner
Annkatrine Gates
David & Karen Gaylin
David Siegel & Erika Geetter
Florence & Seymour Gellerman
Ernestine Gianelly
Katharine Gibson
Catharyn Gildesgame
Don & Pam Giller
Miriam Gillitt
Jade Gingerich
Herbert Gish & Alfreda Piecuch
Nyla Gislason
Ellen Glanz & Richard Berger
Pam and David Glass
Judith Glixon & Nelson Caldwell
Patricia Glowacki
Cynthia Price Glynn
Robert Goisman
Sheila & Howard Goldberg
Johnny Goldin
Barry Goldin & Alice Lichtenstein
Vivien Goldman
Phyllis Goldman
Ron Goldman
Sandra Goldsmith
Max & Bea Goldsmith
Donald Peter Goldstein MD
Marjorie Goode
Dina Goodfriend
Elyse Goodman
Jodi Goodman
John Goodman & Virginia Jordan
Laurie Gorlick
Ross Ozer & Scott Gortikov
Mark & Janet Gottesman
Harriet Gould
Patti Gould
Jonathan Grand
David Grebber
Hallie Greenberg
Richard Greene
Michael Greene
Howard Cohen
Garth & Lindsay Greimann
Christopher Griffith
Katherine Grindeland
Nancy E Grissom
Kiki & Jim Gross
Tod & Jacqui Gross
Shari & Mitchell Grunes
Stephen Gundersheim
Carol Sue Hai
Alexis Halbert
Todd Michael Hall
Christina & Chip Hall
Rona S. Hamada
Joanne Hammil
Jay Hanflig
Diane Hanscom
Ilana Hardesty & John Emery
Jonathan Harris
Laura and Bill Hartman
Robert Harvey
Michael & Sharon L. Haselkorn
Nile Hawver
Peter Haydu & Dona Sommers
Marcia Head
Drew Heckman
Ari Herbstman
Joel Hersh
Margaret Herzig
Mary Hickey
Liz Hiser & Charlie Hoban
Kathleen Hodges
Jane Holden
Alice Holt
Henry Hoover
Jane Hopkins walsh
John Hostage
Alexander Houser
Elisabeth Howe
Catie Hsieh
Sallie Craig Huber
Jean Humez
Charles & Shirley Hurwitz
Nora Huvelle & David Lubin
Othon Iliopoulos
Virginia Inglis
Jennie Israel
Liliane Klein
Bruce Jackan
Cerise Jacobs
Margaretha Jacobson
Henry & Martha Jacoby
Sandy Jaffe & Jay Blitzman
Mrinalini Jaikumar
Julie Jakubowski
Claudia James
Anita Jamieson
Judit Jane-Valbuena
Carol J. Jensen & Steven P. Willner
DWayne Johnson
Abby Johnson & Chris McKown
Donna Johnston
Christopher Jones
Steven Jones and David Langer
Cynthia Kagno & David Wittenberg
Peter Kalil
Jeffrey & Judith Kalla
Janet Kamenstein
James Kane
Judy Kaplan
Howard Kaplan
Fern R Kaplan
Eva Karger
A. Kassim and G. Jones
Farida Kathawalla
Yetta Katz
Shiri Katz-Gershon
Stanley B. & Joanne Kay
Beth Kemler
Eric and Tyler Kemp-Benedict
Barbara Keough
Nancy & Jon Kerbs
William & Rheta Keylor
Doreen Killkelley
William Kirby
Ben Klass
Richard & Ronnie Klein
David & Chris Kluchman
Edgar A. Knudson & Louis P. Mula
Paul Koch & Patti Marcus
Kevin K.
Jeff Kolodney
Martin & Phyllis Kornguth
Ellen Kranzer
Kirstin Krinsky
Maureen Kruskal
Walter Kuhn & Beth Alpern
Becky Kung
Edie Lah
Carol Lamb
Kathleen Lampert
Misia Landau
J. Casey Lane & Adrienne Norris
Kevin Larocque
Mary Jo Larson
Pam LaRue
Leonard & Ruthann Laster
Anne Lauriat
Elsa Lawrence
Alice Lawson
Marsha Lawson
Mariya Layurova
Elizabeth Learner
Virginia Leavy
Paul & Mary Lee
Carolyn Lee
Shannon Lee Jones
Chirstine & David Letts
Ronnie Levin
Paul & Randi Levine
Jillian Levine
Elaine P. Levine
Nancy Levine
Rachel Levine
Bradley & Kristen Lewis
Vivien Li
Ed & Marcia Lidman
Lawrence Lieb
Reuel & Malvina
Liebert Wendy
Liebow & Scott Burson
Brooke & Paul Lipsitt
John Little
Joel & Deborah Litvin
Jessica Locke
Rick Lombardo
Susie & Chuck Longfield
Leonta Longman
Margaret Lowe
Chafen Lu
Kathy Lubar & Georger Kinder
William & Sheila Lukesh
George & Lynn DuVal
Luse William & Anastasia Lyman
Wendy L. and Robert MacDonald
Ross & Alison MacDonald
June Mackenzie
James Doyle, Meg Macri & Seamus Doyle
Lori Mahler
Ben Mahnke & Elisa Derby
Noreen & Ted Major
Margaret Mallory
Larry Manchester & Kathleen O'Connor
Halcyon C. Mancuso
Richard & Candace Mandel
Eric Mankin & Carol Yun
David Kovacs & Alisa Marshall
Robert Mashal & Shawna Giggey Mashal
Dr. Jackie Masloff
Joan S. Mathews
Brett Mattingly
Charlo Maurer
Earl & Denise May
John McCormack
Kevin McCormick & Jane McKeon
Nancy McCusker
Cynthia McDonagh
Mary McDonough
Peggy McDormand
Lilian McGrail
Adrienne McGrath
Matthew McGuirk
Monique McIntyre & Gregory E. Brown
Elizabeth McKay
Carol McKeen & John Dunton
Jan Donohoe McNamara & Charles McNamara
Josephine McNeil
Thomas & Deborah Melone
Karole Mendelsohn
Mary Mercier
Stanley Mescon & Val Treloar
Peter J. Metz
Susan Mickey
Arielle Miles
Steve Miller
Karen Miller
Margaret & Alan Miller
Roberta Miller & Alan Medville
Emily Miller Mlcak
John Miner
Martha Minow
Avalon Minton
Maureen Mintz
Ross Ozer
Dorothy Mohr
Lynne & Rick Montross
Timothy & Deborah Moore
Michael J. Moran
Susan Moriarty
Eliott Morra
Robert & Celia Morris
Viola Morse
Caroline Mortimer
Ann & Tom Mottl
Victoria Moule
Eleanor Mullen
Edmond Murad
Joe Murphy
The Michael Bobbit Fan Club
Eva Guinan & Lee Nadler
Laurie Nash
Susan Nason
Danielle Naugler
Kelly & Don Naugler
William Neely
Leslie Nelken
M.B. Nelting
Nadine Nesbitt
Sarah Newhouse & Steve Mikulka
Richard & Judy Nicholas
Steve & Judi Nichols
Chris Noble & Chris Farrow Noble
Tom Norris
Margaret & Stephen Ober
Antonio Ocampo-Guzman & Doug Lockwood
Suzanne Freudberg
Jerry Olderman
Bridget O'Leary
Danny Omalley
Olaperi Onipede
Anne O'Sullivan
Carol & Gene Ott
Melanie Overley
Jack Paradise
Maurics E. Parent
Doris Partan
Lowell Partridge
Bob & Jackie Pascucci
Vivian Aliotta
Ellen Penso
Joan Perera
Roy and Jean Perkinson
Ellen Perrin
Jan Perry & Paul Landrey
Joy & A.W. Phinney
Pamela & Philip Jay Pierce
Ian Pilarcyzk
Ronald Piretti
Joyce Plotkin
David & Donna Podolsky
Elizabeth Pollock Bancroft Poor
Barbara Poplack
Lisa Portscher
Jeff Poulos
Jeff Poulos & Brad Peloquin
William & Helen Pounds
Bruce Price
Suzanne Priebatsch
Judy, Kevin & Ken Proctor
Jennifer Proctor
Natalia Prynkno
Baron Pugh & Rob Fagnant
Laura Punnett
Carolyn Pyburn
John A Quatrale
Michael Quinn
Rosamond Rabinowitz
Joan Rachlin
Heather Radovich
Marie Raduazzo
Lisa Rafferty
Nancy Raphael
Andy Rappaport
R. Lynn Rardin & Lynne A. O'Connell
Madis Raukas
David Ray
Katharine & William Reardon
Carol Redfield
Jeanette Reed
Joan Regan
Suzanne Ricco
Jack Rich
Sharon Rich & Nancy Reed
Cilicia Rios
Ilyse Robbins & Glen Mohr
Patricia Robinson & Henry Finch
Peter & Sandra Roby
Elizabeth Rose
Mona & Phil Rosen
Janet B Rosen
Glenn Rosen & Ann Dannenberg
Judith Rosenberg
Jean Rosenberg & Peter Southwick
Dawn & Mike Rosenberg
Eva Rosenberg
Seth Rosenberger
Ann Ross
Joseph Rotella
Arnold & Linda Roth
Pauline & Robert Rothenberg
Rose Rothstein
Nicole Rudolph
Barbara & Jeremy Ruskin
David & Terri Russell
Ruth Ryals & James A Cornie
Joanne Ryan
Lora Sabin & Jonathan Hecht
Anush Sahakian
Maria E. Saiz & Athelia A. Tilson
Debby Saltzman
Leslie Sargent
Serge & Tanya Savard
Carolyn Saxon
Andrew Scheff
Jody Scheier
Karl Scherrer
Jeffrey Scherz & Rachel Mele
John & Lily Schlafer
Alvin Schmertzler
Naomi Schmidt
Tamar Schneider
Nancy Schon
Chuck Schwager
Martha Scott
Charlotte Seeley
Stephen & Peg Senturia
Orit Shaer
Lyn Shamban
Joy Shane
Glenn Shane
Reva Shapiro
Lisa & Stephen Shapiro
Abby Shapiro
Jill Shaw
Chris Shearer
Harriet Sheets & Dave Brown
Evelyn Shen
Cynthia Shulman
Candelaria Collins
Harvey & Rita Simon
James Singleton
Susan Skelley
Carole Slattery
Charles Small
Beverly Smith
Gloria Smith
Joel Snider
Kate Snodgrass
Bonnie Clendenning Snyder
Wendy Sohn
Rachael Solem
Jeffrey Song
Ruth Spack
David & Kristen Spector
Elizabeth Grady & Duncan Spelman
Barbara Spivak
Kathy St. George
Ricky Stacy
Linda Stantial
Nancy Stauffer & Jeffrey Hughes
Martha Stearns
Bob & Bobbie Steinbach
Elizabeth Stone
Kate Stookey
Susan Stott
Lisa Stott
Alan J. Strauss
Phyllis Strimling
Ted & Emily Sturr
Herman & Joan Suit
Katie Sullivan
Marilyn Swartz-Lloyd
Bernie Sykes
Paul Syrakos
Ildiko Szabo
Sheila Tamkin Simons
Derek Tarson
Pamela Taylor
Chris Thayer
Beth Thiemann
Joyce Thomas
Judith Thomson
Martin & Carol Thrope
Greg Thumith
Crystal Tiala
George Purefoy Tilson
Frank Tipton
Catherine Tomey
Soozen Tribuna
Jo Trompet
Barbara Truscello
Dawn C. Tucker
Evan Turissini
Hillary Turkewitz
Robert and Leslie Turner
Evelyn & Joel Umlas
Mark & Janis Urbanek
Elaine Vaan Hogue
Dennis & Karen Vaccaro
Joyce Van Dyke
Darshna Varia
Rick & Eileen Vincent
Lydia Volaitis
Kathleen & Ted Wade
Richard Walker
Melanie Wallace & Andre Martin
Jean Walsh and Graham Davies
Barbara Wands
Lawrence Wangh
Patricia Warner
Leslie Warshaw
Rick & Alice Weber
Miriam Weil
Amy & Irwin Weiss
Josh Weiss
Margaret Wermer
Denise Wernikoff
Ellen Westheime
Eveline Weyl
Jerry Wheelock & Elizabeth Wood
David & Sharon White
Nancy White
Roberta Williamson
Melody Winnig
Nancy Richmond Winsten
Debra Wise
Howard Wishnie
Marcy Bennett Wolke
Julie Wolkoff
Benjamin Wolozin & Danielle Murstein
Sarah Wolozin
Maryann Wyner
Todd Yard
Rebecca Yturregui
Mona Zeftel
Debra Zides
Michael Zimmer
Sally Zoppo
Elizabeth Zorowitz
Sarah Zuckerman
Gifts to New Repertory Theatre, received and recorded between 8/17/2020 and
9/17/2020.
We apologize if we inadvertently omitted or misspelled your name. Please contact our Individual Giving Manager, Robbie, with corrections at 617-923-7060, x.8212 or robbieflanagan@newrep.org