Showtime: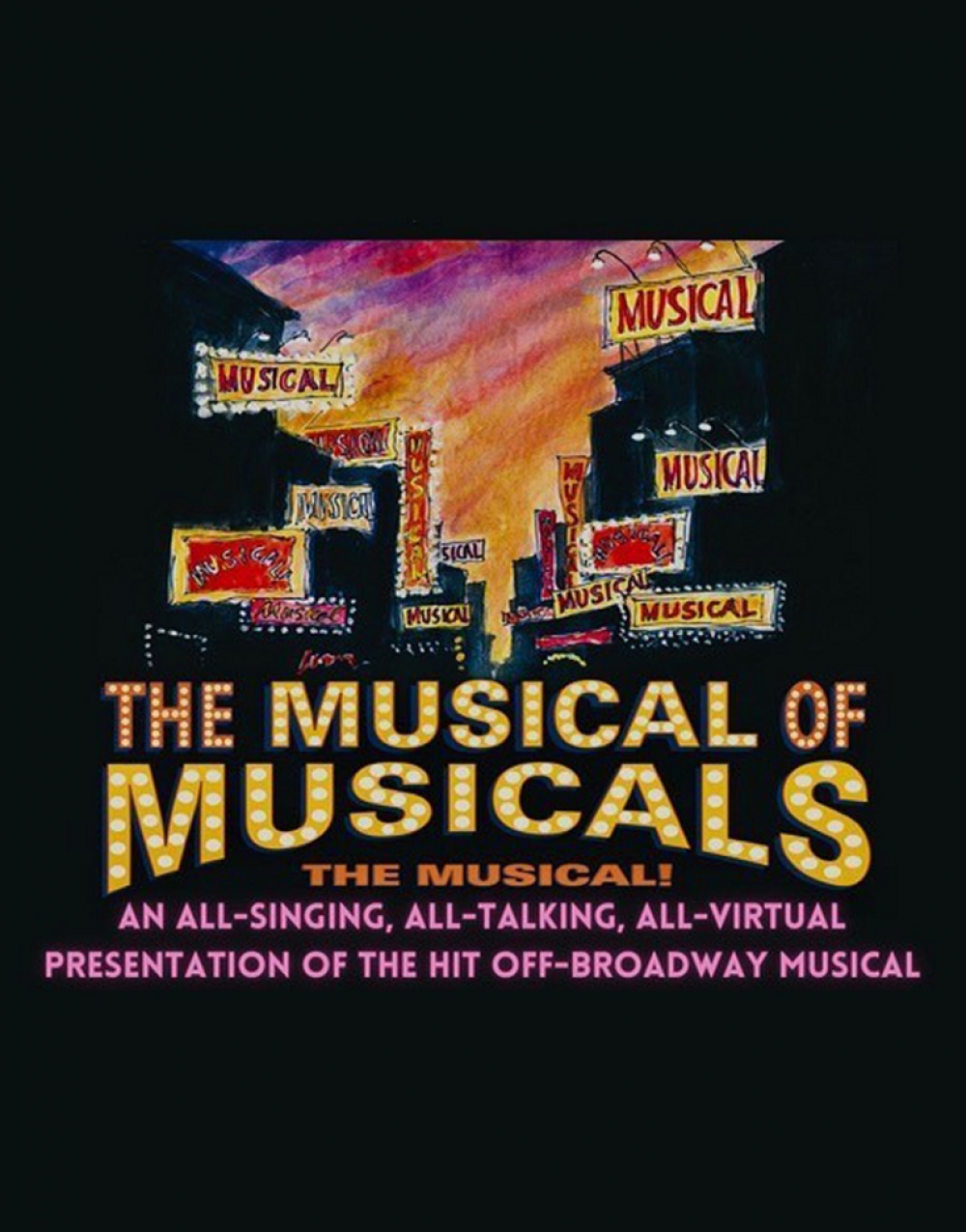 The York Theatre Company

Tom D'Angora, Michael D'Angora and Tim Guinee present...

THE MUSICAL OF MUSICALS
(THE MUSICAL!)
…AND MORE

a benefit for the York Theatre Company

Directed by:
Tom D'Angora
Michael D'Angora
Music Direction & Arrangements by:
Deniz Cordell
Artistic
Supervision by:
Pamela Hunt
Associate Music Director:
Annie Pasqua

Music by:
Eric Rockwell


Book by:

Joanne Bogart
Eric Rockwell

Lyrics by:
Joanne Bogart

Starring:

Christy Altomare
Colleen Ballinger
Alexandra Billings
Betty Buckley
Charles Busch
Robert Creighton
André De Shields
Ana Gasteyer
Richard Kind
Kevin Smith Kirkwood

Beth Leavel
Telly Leung
Jose Llana
Kelvin Moon Loh
Patti LuPone
Lesli Margherita
Andrea McArdle
Lauren Molina
Brad Oscar
Christine Pedi
Randy Rainbow
Jelani Remy
Chita Rivera
Soara-Joye Ross
Jackie Sanders
Ethan Slater
Sarah Stiles
Michael West
Lillias White

This event is presented through The Theatre Authority, Inc.
The Musical of Musicals (The Musical!) is presented by arrangement
with Concord Theatricals. http://www.concordtheatricals.com
Follow Us:
The Cause
After a Lexington Avenue water main break in early January caused a massive flood in their space, The York Theatre Company has been forced to temporarily relocate for the first time in nearly 30 years while their home undergoes major remediation. The York is spread among various storage facilities across the tri-state area, and their plight caught the attention of producing trio Tom D'Angora, Michael D'Angora, and Tim Guinee, who had recently stepped in to raise funds to save the West Bank Cafe and Birdland Jazz Club. The trio wanted to help and, donating their time, have taken on The York as their next project.

DONATE TODAY!
The Show
Rockwell and Bogart's The Musical of Musicals (The Musical!) was chosen by Tom and Michael as the perfect show for this event. A loving parody and homage to Broadway's Golden Age, it is made up of five hilarious mini-musicals telling the same story in the style of legendary musical theatre writers: Rodgers & Hammerstein, Stephen Sondheim, Jerry Herman, Andrew Lloyd Webber, and Kander & Ebb. The Musical of Musicals (The Musical!), which The York helped develop and create, received its Off-Broadway premiere there in 2003 where it enjoyed an extended run. Melanie Herman and The York transferred it to New World Stages in 2005 for a 500-performance commercial run. The original cast album is on JAY Records.
Creative Team
Michael D'Angora
Co-Director
Deniz Cordell
Music Direction/Arrangements
Annie Pasqua
Associate Music Director
Pamela Hunt
Artistic Supervisor
Joanne Bogart
Lyrics/Book
James Morgan
The York Theatre Company Producing Artistic Director
And Special Guests
Iain Armitage, Lewis Black, Matthew Broderick, Giancarlo Esposito, Joel Grey, Perez Hilton, Megan Hilty, Jane Krakowski, Amanda Lopez, Darlene Love, Audra McDonald, Debra Messing, Isaac Mizrahi, Julianne Moore, Jinkx Monsoon, Mandy Patinkin, Bernadette Peters, Martha Plimpton, Anthony Rapp, Mercedes Ruehl, George Salazar, Brooke Shields, Renée Taylor, John Tartaglia, Ben Vereen, and writers Gerard Alessandrini, Sara Bareilles, Debra Barsha, Nell Benjamin, Douglas J. Cohen, Gretchen Cryer, Nancy Ford, Amanda Green, Sheldon Harnick, Erik Haagensen, Joe Iconis, Tom Jones, Peter Kellogg, Richard Maltby, Jr., Alan Menken, Laurence O'Keefe, Stephen Schwartz, Marc Shaiman, David Shire, Charles Strouse, Stephen Temperley, John Weidman, David Yazbek, and Maury Yeston.
With remarks from Former Secretary of State Hillary Rodham Clinton.
Breakdown
Opening Number
CORN
Narrator - Victoria Clark
Big Will- Jelani Remy
June- Christy Altomare
Jidder- Richard Kind
Mother Abby- Ana Gasteyer
---
A Little Complex
Narrator- Patti LuPone
Billy- Telly Leung
Juene- Lauren Molina
Jitter- André De Shields
Abby- Alexandra Billings
---
Dear Abby
Narrator- Andrea McArdle
William- Kelvin Moon Loh
Junie Fay- Sarah Stiles
Mr Jitters- Charles Busch
Abby- Lillias White
---
Aspects of Junita
Narrator- Betty Buckley
Bill- Jose Llana
Junita- Lesli Margherita
Phantom Jitter- Brad Oscar
Abigail Von Schtarr- Beth Leavel
---
Speakeasy
Narrator- Chita Rivera
Willy- Randy Rainbow
Juny- Colleen Ballinger
Jutter- Ethan Slater
Fraulein Abby- Jackie Hoffman
---
Tribute to the late Lovette George (Drama Desk nominated original star of Musical of Musicals) by Audra McDonald
With remarks from Former Secretary of State Hillary Rodham Clinton.
About The York
The York Theatre Company is the only theatre in New York City—and one of very few in the world—dedicated to developing and fully producing new musicals and preserving neglected, notable shows from the past. For over four decades, York's intimate, imaginative style of producing both original and classic musicals has resulted in critical acclaim and recognition from artists and audiences alike. Under the guidance of Producing Artistic Director James Morgan since 1997, The York has focused on new musicals in its Mainstage Series—most of them world, American, or New York premieres—by some of the field's most esteemed creators and has also helped launch the careers of many talented new writers.
Well over 40 cast recordings from York Theatre Company productions are now available on CD, including its acclaimed revival of Closer Than Ever (2013 Off-Broadway Alliance Award for Best Revival); commercial transfers of such York premieres as The Musical of Musicals (The Musical!), Souvenir (Tony Award Nomination for actress Judy Kaye), and Jolson & Company, and revivals of Pacific Overtures and Sweeney Todd (four Tony Nominations including Best Revival) have all showcased the importance of The York and its programs
Recent New York premieres have included Marry Harry, A Taste of Things to Come, and Rothschild & Sons. The critically acclaimed musical Yank! received its Off-Broadway debut at The York in 2010, and subsequently to rave reviews in London—as did York's Rothschild & Sons. The hit musical Cagney received its York premiere in 2015, transferring to the Westside Theatre for over 15 months. In 2017, Desperate Measures_ received a total of 15 award nominations (and three wins) that included "Best Musical" from the Lucille Lortel, Outer Critics Circle, Drama Desk, and Off-Broadway Alliance and subsequently transferred across town to New World Stages. The York is the recipient of a special Drama Desk Award for "Developing and Producing New Musicals" and, more recently, a special Outer Critics Circle Award for "50 Years of Producing New and Classic Musicals."
Guestbook
What is your favorite memory of an experience at the York Theatre Company?