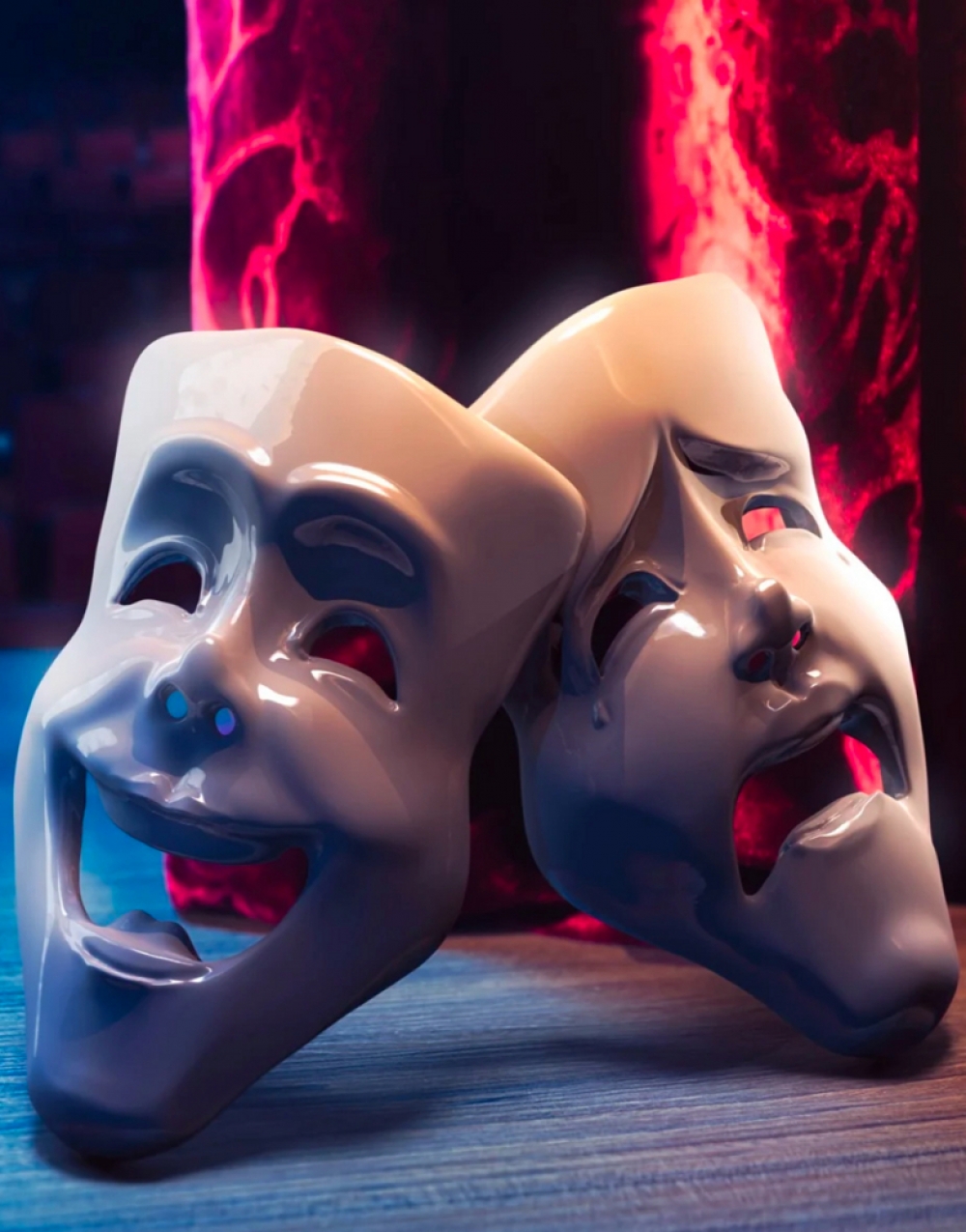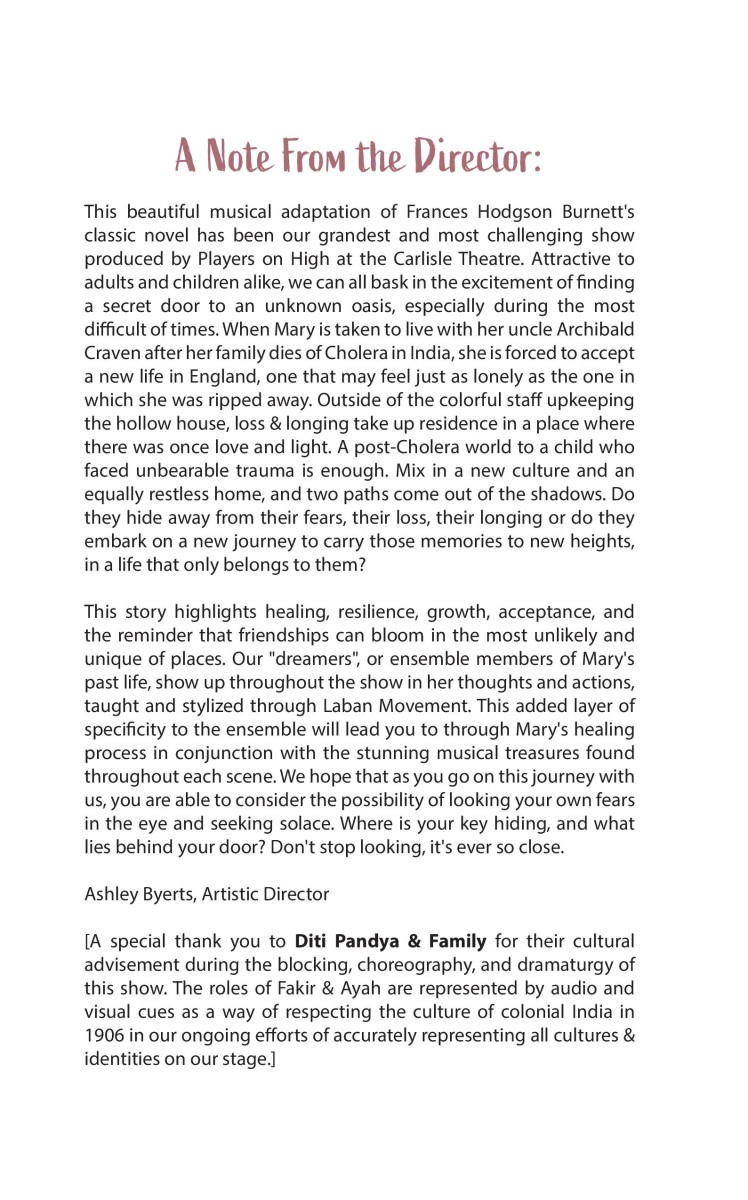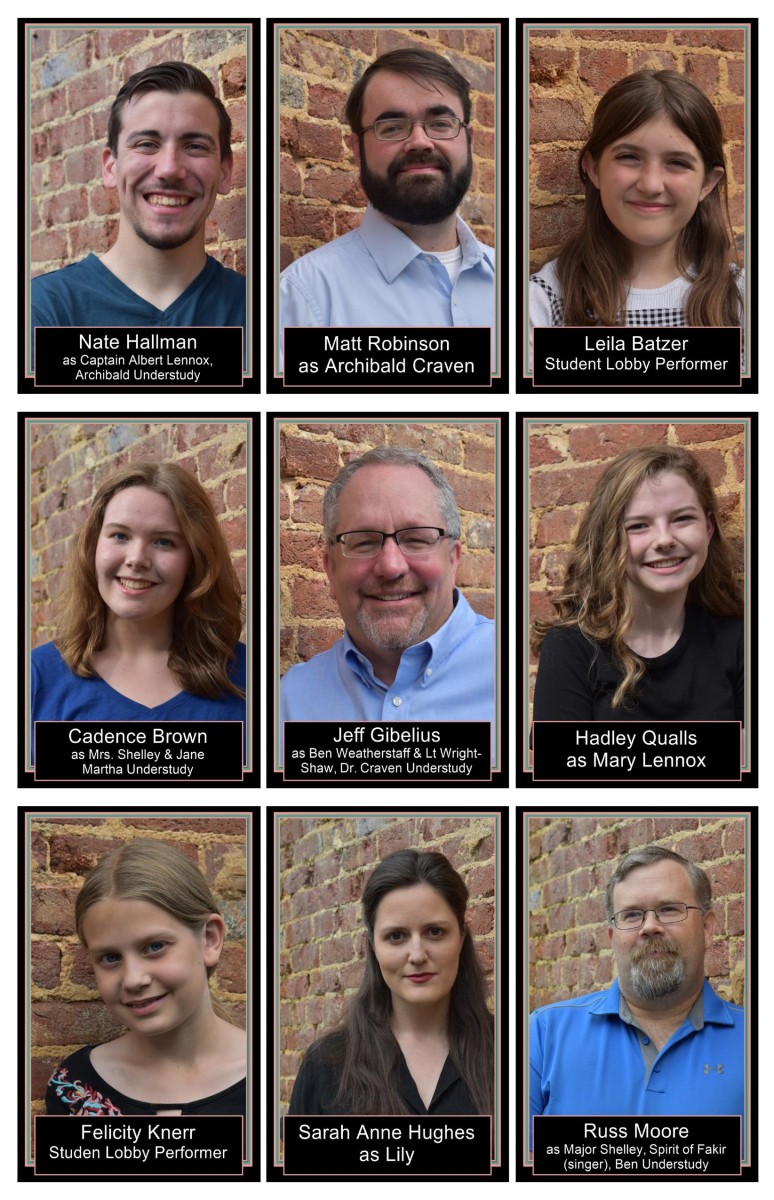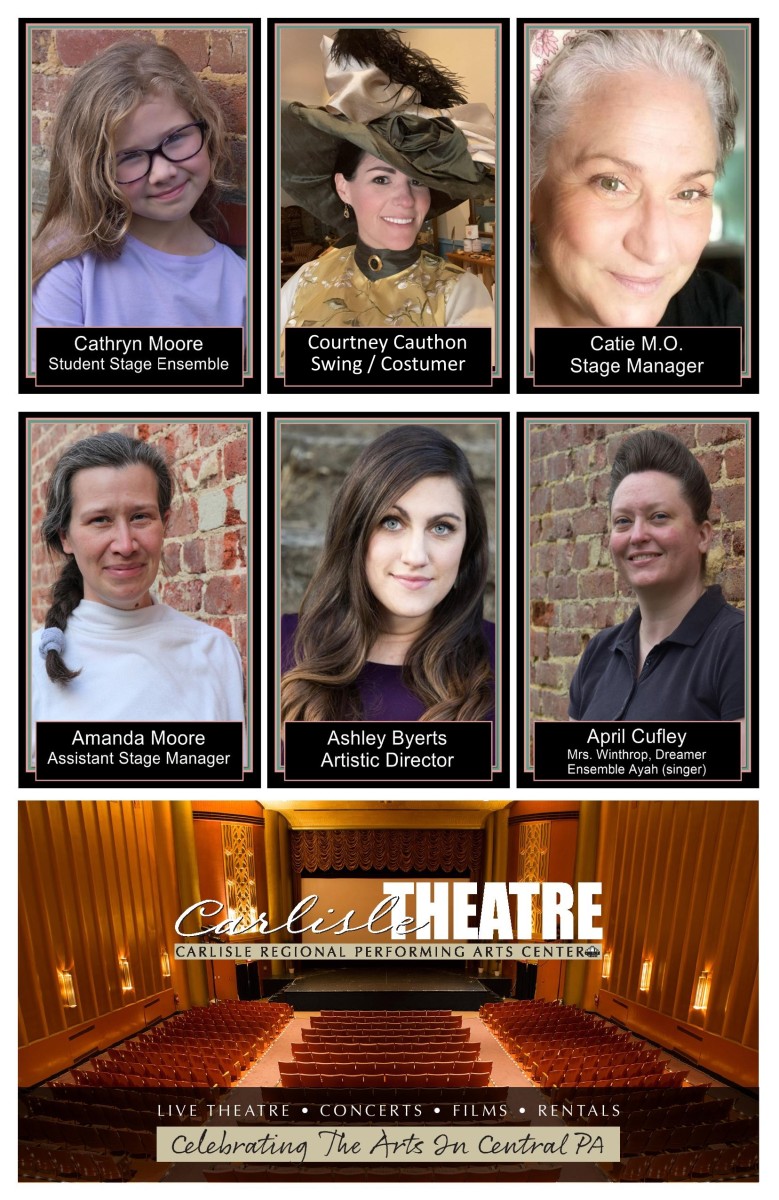 Meet the Company
Mary Adams
Mrs. Medlock, The Housekeeper
Mary is a business manager and tax accountant who moonlights as a theatre performer.  As a college student, she was a member of the Georgetown Thespians and performed at Stage One in Washington, D.C.  From 1983 to 2001, she was a regular in the Carlisle Hospital Follies kickline.  She has been in several Carlisle theatre productions, including Annie, Once Upon a Mattress, and Sister Act.  Her most recent role was pre Covid as "Marilla" in Anne of Green Gables.  She is excited to join the cast of The Secret Garden,and offers a big thank you to Ashley for including her in the show!
Margaret Baldridge
Stage Children's Ensemble/Dance Soloist
Margaret is nine years old and is thrilled to be performing with Players on High! She just finished her fifth year of Musical Theater, Tap, and Jazz classes. Singing and making people laugh makes her so happy. Since Margaret was tiny, she has been telling her family that she wants to be a Broadway actress and has been making up characters and putting on shows at home for anyone that will watch! When she's not on the stage, you can find her playing outside or running her lemonade stand for Project Share! 
Leila Batzer
Lobby Performer
Leila will be starting 6th grade at Wilson Middle School in the fall. She has appeared on stage six times, three of them were musicals. She is having a lot of fun as a lobby performer for Secret Garden.
Cadence Brown
Mrs. Shelley/Jane
Cadence is 17 years old and has just graduated high school from Common Wealth Charter Academy. She will be attending Shippensburg University in the fall! She is very excited to be back on the Carlisle Theatre stage after recently performing as "Myrtle Mae" in Harvey!  Some of her favorite roles include: "Myrtle Mae" Harvey, "King Julien" Madagascar Jr., "Tessie" Annie, "Twin #1" Peter Pan, and ensemble Joseph and the Amazing Technicolor Dreamcoat.  Cadence wants to thank her amazing family for always being there to support her and cheer her on! She also wants to thank the production team for all their hard work! Enjoy the show!
Torrence Brown
Ensemble
Torrence is so excited to be back with Players on High, this time choreographing, understudying, and performing in the show! Torrence is going into her Sophomore year at Shippensburg University majoring in Early Childhood Education with a double minor in Theatre and Reading. Some of her favorite roles have included "Olive Ostrovsky" in The 25th Annual Putnam Spelling Bee, "Dorothy Gale" in The Wizard of Oz, "Anne Shirley" in Anne of Green Gables the Musical, "Violet Beauregarde" in Willy Wonka, "Yvette" in CLUE, and many more! Recently, Torrence has been cast in her first professional production, playing "Betty" in Footloose at Totem Pole Playhouse in July! Torrence is a member of Concert Choir at Shippensburg University and she also nannies for three 4-year-olds! 
April Denise Cuffley
Mrs. Winthrop/Dreamer/Voice of Ayah
April studied Music Education and Performance at York College of Pennsylvania between 1997 and 2004. She began participating regularly in theater in 1992 and music in 1987. Secret Garden: The Musical is her first production with Players on High. Her fondest theatrical moments are singing and dancing as an ensemble member in L'il Abner (also portraying "Hope - A Dogpatch Wife"), Anything Goes, and Brigadoon (also as a featured dancer) and portraying "Violet Beauregarde" in Charlie and the Chocolate Factory. She has played the violin and piano and also has training in the dance styles of jazz, hip-hop, and lyrical ballet in addition to writing songs and song lyrics. April sends out a special thank you to her family and friends for their life-long support and encouragement of her talents in the theater arts and music. She is also grateful for all the encouragement, support, and knowledge instilled in her from all the music and theater instructors she has worked with over the years. April hopes to pursue and attain a Music Therapy Degree in the near future. She has worked as a Licensed Massage Therapist and Cosmetologist having attained professional diplomas from The Baltimore School of Massage and Empire Beauty School and is Reiki I certified. In her free time, she enjoys long walks in nature and analyzing the mysteries of life. Tonight she portrays Mrs. Winthrop and sings as "Ayah".
Lydia Findlay
Stage Children's Ensemble/Dance Soloist
Lydia recently moved to Camp Hill from Bellevue, Washington, where she had the pleasure of studying drama and improv for four years. She loves voice lessons and aspires to become an operatic soprano virtuosa. But her truest obsession is ballet, which she currently studies at Central Pennsylvania Youth Ballet and Pennsylvania Ballet Academy. She has performed in 7 plays and 8 ballets. Her favorite role was "Aphrodite" in Game of Myths. She's excited to play "Little Red Riding Hood" in a family reunion production of Into the Woods this summer.
Jeff Gibelius
Ben Weatherstaff/Dreamer/Lt.s Wright & Shaw
The Secret Garden is Jeff's fourth production with Players on High and his first musical. Most recently he was the "Ghost of Christmas Present" in A Christmas Carol. When not acting or playing pickleball, he enjoys being a husband, dad, and pastor in Carlisle (Second Presbyterian Church). He would like to thank his family for their support.  
Nate Hallman
Captain Albert Lennox
Nate is thrilled to be making his debut with Players on High! He is going into his senior year at Shippensburg University, where he majors in Early Childhood Education. Most recently, he played" Leaf Coneybear" in Chambersburg Community Theater's production of The 25th Annual Putnam Spelling Bee. Nate is also excited to be making his debut at the Playhouse at Allenberry in July in their production of the Wizard of Oz! Nate would like to thank Ashley, Catie, and Michelle for giving him this opportunity, and his friends and family for always supporting him and encouraging him! 
Tanner Holtry
Colin Craven
Tanner is a new, but active member of the acting community. His first show was in the 2021 production of The Wizard Of Oz for Big Spring High School. He is in the 6th grade and this will be his second show. Secret Garden is his first production working with Players on High. His favorite roles have included being "Colin Craven" in The Secret Garden" and being a "Flying Monkey" in The Wizard Of Oz. After his first experience, on the set of Wizard, Tanner knew he had a future on the stage. He wants to thank all of the people who encouraged him to continue doing theater and helped him get the courage to start doing it in the first place.
Sarah Anne Hughes
Lily Craven
Sarah is thrilled and grateful to perform this dream part with Players on High. Past roles include "Adina" The Elixir of Love, "Esther" Meet Me in St. Louis, "Maria" The Sound of Music, and "Young Heidi" Follies. She studies voice with Amy Yovanovich in Harrisburg, where she lives with her partner, Matt Cragle, and poodle mix, Rudy. Sarah can be seen this fall as Pirelli in "Sweeney Todd" at Hershey Area Playhouse. She'd like to thank Ashley, Michelle, Catie, and the entire cast and crew for their hard work and dedication.
Malinda Jenkins
Ensemble
Malinda has been acting since she was six years old when she appeared in her school's production of Snow White and the Seven Dwarfs. Since then, she has done three other shows including The Secret Garden. In sixth grade, she played "Scuttle" in The Little Mermaid, and in ninth grade, she played "New Postulant" in The Sound of Music. She was also selected to sing in the Massachusetts Junior District Choir in 2019. The Secret Garden is her first production with Players on High. She would like to thank her family and all of her previous choir teachers and directors for their kindness and support.
Felicity Knerr
Lobby Performer
Felicity recently finished fifth grade at Grace Baptist where she has enjoys acting, singing, reciting, and memorizing, and narrating year-round since she was in kindergarten. She loves to sing and write stories and plays in her free time. This is her first time participating in a musical. 
Dave Lang
Dr. Neville Craven
Dave is happy to return for his 4th performance with the Players on High, where he has played "Dr. Chumley" in Harvey, "Ebenezer Scrooge" in A Christmas Carol, and "Richard Feynman" in QED. He was very active in the virtual theater scene over the past few years, with 28 virtual shows under his belt. Dave has also performed locally at Lebanon Community Theater in A Funny Thing Happened on the Way to the Forum and Hershey Area Playhouse's The Homecoming, The Mystery of Edwin Drood, and The Little Mermaid. He enjoys competitive ping-pong and is an avid board gamer. Dave studies vocal performance at Roger Lentz Studio.
Rhea Luckie
Stage Children's Ensemble
Rhea will be going into 6th grade and Secret Garden is her first experience participating in any theatre.
Stephen Luckie
Dickon/ Dreamer/ Major Holmes
Stephen has no formal education in theatre and has not participated in a production since he was in high school 20 years ago. Secret Garden is his first production with Players on High.
Jesse Miller
Lobby Performer
Jesse is 11 years old and is a fourth-grade student at West Shore Christian Academy.  He was in It's a Wonderful Life audio play as "Young George Bailey" with Players on High in 2020. This is his second play at the Carlisle Theatre.
Lydia Miller
Lobby Performer
Lydia is a 13-year-old home school student who enjoys crafting and art.  She performed as "Janie Bailey" in the Players on High audio play"It's a Wonderful Life in 2020 and as a dancer/chorus member Cat, Frog, and Goose in West Shore Christian Academy's musical Honk in 2021. Lydia would like to thank Teresa Oscilowski for teaching her Irish dance with the Rebel Heart Irish Dancers and showing her that hard work and fun can mix.
Titus Miller
Lobby Performer
Titus is 8 years old and attends West Shore Christian Academy. He has performed as "Zuzu" in It's a Wonderful Life audio play with Players on High 2020 and as "Fluff" (the Ugly Duckling's brother) in the musical Honk at his school in 2021.  He especially loves performing for a crowd and singing around the house. Titus looks forward to many more performances in the future.  
Alyanna Montegomery (they/she/he)
Alice
Alyanna just finished their freshman year at Carlisle High School and is so excited for the opportunity to perform as Alice, a dreamer, and Rose's friend, as well as understudying "Mary Lennox". Their favorite shows they've been in the past have been "Tom Snout" the wall in Carlisle High School's production of a Midsummer Night's Dream, "Mickie Mahoney" in The 25th Annual Putnam County Spelling Bee also at CHS, and "Nancy" in Oliver! at Wilson Middle School. They would like to give a huge thanks to Michelle Trefren, the musical director of this show, all of their family, and especially their mother, Dani, and their best friend Greta Weirich. They wouldn't have as much confidence and skill to go out and perform as they do now without all of those who support them and help them learn and grow as a performer.
Cathryn Moore
Stage Children's Ensemble
Cathryn is a second-grader at Bellaire Elementary. She is returning to the Carlisle Theatre and Players on High after playing the part of "Tiny Tim" in A Steampunk Christmas Carol this past December. In her spare time, Cathryn loves to sing, dance, and play with her friends. She lives in Carlisle with her parents, her sister and brother, and two cats.
Russell A. Moore
Major Shelley/Voice of Fakir
Russ is really excited to make his Players on High debut in the Secret Garden, and for being able to share the stage for the first time with his youngest daughter Cathryn.  The Secret Garden also marks his return to the stage after a 20+ year hiatus.  He was previously seen as "Doody" in Grease for the Wentworth Institute of Technology Theater Troupe, as well as performing in the ensemble for the Regal Players performance of Oklahoma in Waltham, MA.  Additional credits include ensemble roles in Mame and The Boyfriend with the Arlington High School Drama Club.  He would like to thank his wife Amanda and children Cathryn, Aaron, and Abigail for all of their support.
Hadley Qualls
Mary Lennox
Hadley is a student at Harrisburg Academy and has performed in a number of productions in Central Pennsylvania and Maryland. Some of her favorite roles include "Tomika Spencer-Williams" in School of Rock (Harrisburg Academy), "The Ghost of Christmas Past" in A Christmas Carol (Players on High), "Kelsi Nielsen" in High School Musical, Jr. (Theatreworks Live), and "Jojo" in Seussical Kids (Keystone Youth Theatrics). In her spare time, Hadley enjoys baking, playing soccer, and participating in Quiz Bowl competitions.
Joey Robertson
Stage Children's Ensemble
Joey has appeared in many school and youth theatrical productions, including A Charlie Brown Christmas, Peter Pan, Mary Poppins and Cinderella. He is excited to be making his debut at the Carlisle Regional Arts Center in "The Secret Garden: The Musical" as a member of the children's stage ensemble. Joey looks forward to starting 9th grade this fall at Carlisle High School and hopefully returning to the stage in future Carlisle Regional Arts Center productions.  
Matthew A. Robinson
Archibald Craven
Matthew is quickly gaining attention as one of the most talented singers in the Central Pennsylvania region.  With his rich baritone voice, musicality, and commanding presence, he has become one of the most sought-after vocalists in the region. Mr. Robinson has performed throughout the region performing such musical theater roles as "Javert" Les Misérables, "King Charlemagne" Pippin, "El Gallo" Fantasticks, "Caiaphas" Jesus Christ Superstar, "Mr. Boddy" Clue: The Musical, and "Bill Sikes" Oliver!. As "Caiaphas" in Jesus Christ Superstar, Matthew performed to critical acclaim and was described as making "…anyone who loves serious bass singing cheer.  He's got the chops, as well as the nuances to make an audience imagine a speaker whose pronouncements indeed carry gravitas." Robinson was also met with critical acclaim in his reprisal of "Bill Sikes" Oliver! with Oyster Mill Playhouse. "…Robinson is truly menacing in his role, and his interactions…are complex and terrifying, …the tension between "Nancy" and "Bill Sikes" is palpable, bringing the scene to its terrible climax." With his innate versatility, Robinson has performed an expansive repertoire of operatic roles and in oratorio.  Some notable operatic roles include "Sergeant Meryll" Yeoman of the Guard, "The Judge" Trial by Jury, and "Simone" Gianni Schicchi.  Notable oratorio performances include Mozart's Coronation Mass in C, Haydn's Paukenmesse, Beethoven's Symphony No.9, Vaughan Williams' Dona Nobis Pacem, and Haydn's Creation. An active recitalist, Matthew coordinates and performs a fall recital series across various genres at local venues along with renowned tenor Christyan Seay and accompanist Daniel Dorty. Matthew continues to expand his repertoire, versatility, and practice of vocal performance in both sacred and secular avenues.  Robinson consistently contributes to the enhancement of worship at local churches weekly. Matthew A. Robinson attended Boiling Springs High School and Messiah College, extensively studying vocal performance with Dr. Damian Savarino.
Samantha Jo-Ann Shuma
Claire Holmes
Samantha is a senior Film and Musical Theatre major at Messiah University and is extremely excited to perform as "Claire Holmes." She has previously performed on campus as "Francis Seacole" Much Ado About Nothing and "Dame Carruthers" Yeoman of the Guard. This being her first musical, she looks forward to sharing this story with you all. Many thanks to our director and to the cast and crew for their wondrous efforts in getting this whole show off the ground. Samantha feels blessed to be working with such talented people! She would also like to thank her friends and family for their support.
Jess Teter
Martha
Jess recently graduated from Indiana University of Pennsylvania with her Bachelor's degree in Music Education. Secret Garden is Jess's first production with Players on High, but hopefully not her last! She has been in many other theater productions throughout her life. Some of her favorite roles include "Paulette Bonafonte" in Legally Blonde: The Musical, "Mrs. Lovett" in Sweeney Todd, "Beggar Woman" in Sweeney Todd, and "Berta" in Figaro! Figaro! Figaro! She first would like to thank the entire cast and crew for creating a warm and welcoming environment for her when she first joined Players on High - she "simply does not know" what she would do without them! Finally, she would also like to thank her friends and family for the endless love and support they have shown throughout her life. Break a leg everyone!
Logan Weaver
Ensemble/ Nurse
Logan is making an appearance in her third stage production and first-ever musical, supporting the cast from the ensemble. After entering the world of choral singing in the fourth grade and continuing to sing in various non-professional contexts throughout her life since, she is proud to be a part of this musically complex and fun show, and even more enjoyable cast. Much appreciation goes to her husband, for his encouragement and patience throughout the weeks of many rehearsals and busy evenings.
Kirsten Weirich
Rose Lennox
Kirsten is an incoming freshman at Susquehanna University, where she will be majoring in theatre studies with a double minor in music performance and arts administration. Some of her favorite past credits include: "Logainne Schwartzandgrubenierre" The 25th Annual Putnam County Spelling Bee, "Lady Larken" Once Upon a Mattress, "Beth", "The Best Christmas Pageant Ever", "Annie" Chicago, and "Cassie" 13. She would like to thank the cast and crew for all of their hard work, as well as her family and friends for their constant support. Lastly, Kirsten would like to dedicate her performance to her own Lily - her Aunt Karen - who passed in April 2021. She is deeply missed.
Michelle DiBona Trefren
Musical Director
Torrence Brown
Choreographer
Catie MO
Stage Manager
Catie MO volunteers as Player's on High's resident Stage Manager and has over 40 years of experience in theatre. She is helming PoH's first Stage Manager's Intern Program. Interested?! Fill out a volunteer form online at carlisletheatre.org! See you backstage!
Amanda Moore
Assistant Stage Manage / Assistant Costumer / Front of House
Amanda Moore, who is Player's on High's first Stage Managing Intern serves as Assistant Stage Manager and is extremely proud to be joining this production. She is returning to the Carlisle Theatre after working as the Assistant Stage Manager for the Players on High production of Harvey,and helping with costuming during A Christmas Carol. Amanda lives in Carlisle with her husband, three kids, and two cats. She would like to thank her husband for helping to keep everything running, and the Director and Stage Manager for giving her the opportunity to learn more about the theater.
Corey Eslinger
Light Design
http://eslingerlighting.com/
Matt Hinton
Sound Design
https://www.allsoundpro.com/